Small plates: bananas and doughnuts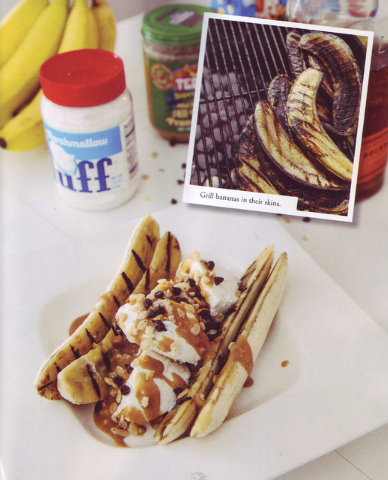 DINING OUT
O FACE DOUGHNUTS, JOHN E. CARSON BUILDING, 124 S. SIXTH ST.
O Face Doughnuts, which opened in April, is one of several businesses in the Downtown Project's John E. Carson Building, formerly the John E. Carson Hotel. It's owned by Sonny Ahuja, who formerly had Bleu Gourmet in northwestern Las Vegas. The pastry chef and general manager is Crystal Whitford, late of Spago and Bouchon. O Face serves various coffee drinks, including lattes, cappuccinos and cold-brew coffee, plus chai tea and hot chocolate, but its specialty is its doughnuts, both customary and offbeat, sweet and savory. It has a retro '70s theme, with burnt-orange countertops, copper lighting fixtures and counter seating for 10. Here's a sample of the menu:
Doughnuts to be eaten in hand: Creme-fraiche-glazed, old-fashioned, chocolate old-fashioned, chocolate-glazed, chocolate-glazed with sprinkles and vegan vanilla- and chocolate-glazed, $1.25 each.
Fork-and-knife doughnuts: Apple-bacon fritter, Boston cream, cinnamon roll, Mexican chocolate, bacon-maple, Key lime, lemon-rosemary meringue, s'more, strawberry shortcake, cereal (now Cap'n Crunch), Irish-glazed, Nutella-glazed, peach with spicy pecan brittle, or vegan rosewater with roasted pistachios, Almond Joy or apple pie, $2.25 each.
Savory: Caprese (with roasted tomato, mozzarella and basil), smoked salmon (with dill cream cheese and capers), pizza (with marinara and pepperoni), Monte Cristo (with sliced ham, Gruyere and raspberry jam), $3.75 each.
Beverages: Americano coffee, $2.75 for 8 ounces, $3.25 for 12 or $3.75 for 16; press coffee, $1.75, $2.25 or $2.75; cold-brew coffee, $3 for 12 ounces, $3.75 for 16; chai tea, $2.95, $3.50 or $3.95; hot chocolate, $2.95, $3.50 or $3.95.
Hours are from 7 a.m. to 5 p.m. weekdays, 8 a.m. to 5 p.m. weekends. Call 702-476-3223 or visit www.ofacedoughnuts.com.
NEW BOOKS FOR COOKS
ELVIS' GRILLED BANANA SPLIT
¼ cup butter
¼ cup packed brown sugar
¼ cup really good bourbon (Elvis would want it that way)
¾ cup chunky peanut butter
¼ cup marshmallow fluff
1 tablespoon vegetable oil, for grilling
4 slightly ripe, freckled bananas, skin on, cut in half lengthwise
1 pint vanilla ice cream
½ cup crisped rice cereal
½ cup chocolate chips, preferably mini
Prepare the grill for hot two-zone grilling. Pile unlit charcoal on one side of the grill. Fill a chimney with charcoal. Stuff two sheets of newspaper in the bottom of the chimney and light it. When the coals are fully engaged — you should see flames peeking over the top — pour them over the unlit charcoal. Cover the grill and open the vents all the way. (If using a gas grill, light the gas and adjust the temperature on one side of the grill to high.)
When the temperature reaches 350 to 400 degrees, clean the grill grate. Melt the butter in a small saucepan directly over the fire, swirling the pan, until the butter browns and develops a nutty smell. Add the brown sugar, stirring until it is mixed thoroughly.
The next step takes a lot of caution because you're playing with fire: Very carefully, add the bourbon. Slide the pan to the cool side of the grill and slowly give it a stir. Using a long-handled lighter, carefully light the liquid; you should get a burst of flame. Let the flame burn out; stir well. Add the peanut butter and marshmallow fluff, stirring until warm and fully combined. Leave the pan on the cool side of the grill, stirring occasionally, while you grill the bananas.
Brush the oil on the cut sides of the bananas, set them directly over the fire and grill for 2 to 4 minutes, until golden brown. Flip the bananas and grill for 1 minute more, until the skin just begins to separate from the flesh. Transfer the bananas to a plate and let cool for 1 to 2 minutes.
To serve, turn the bananas out of their skins into bowls. Scoop ice cream between the bananas. Drizzle generously with the peanut butter sauce and garnish with the crisped rice cereal and chocolate chips.
Makes 4 large dessert servings, 8 if you're watching your figure.
Recipe from "Grill to Perfection" by Andy Husbands and Chris Hart, with Andrea Pyenson (Page Street Publishing; $21.99)
— Heidi Knapp Rinella