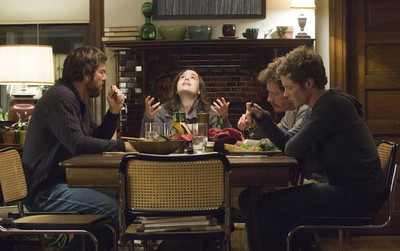 It's smart, all right. Just not as smart as it thinks it is.
But at least "Smart People" musters enough smarts to keep us rooting for its endearingly brainy screw-ups to use their heads already — and start paying attention to their hearts.
It helps that those screw-ups are played by appealing performers more than capable of finding the humanity beneath their characters' multiple quirks.
That in turn helps maintain momentum (thematically, if not literally) while "Smart People" spins its wheels. Which it tends to do, a bit more often than necessary.
Then again, "Smart People" is the type of meandering movie where we wonder along with the characters. They wonder where they're going; we wonder where the movie's going.
With meandering this gentle and pleasant, however, a good time should be had by all. All, that is, who welcome a movie in which the biggest "action" scene involves a guy trying to scale a chain-link fence — and failing, painfully and miserably.
Which makes perfect sense, considering how misery and pain serve as constant companions to professor Lawrence Wetherhold (Dennis Quaid), who teaches literature at Pittsburgh's Carnegie Mellon University.
The good professor — actually, he's not so good, considering his arrogance, ill humor and total lack of interest in anyone but himself — has been in an extended funk ever since his beloved wife died.
He's never been the same. Consequently, neither has anyone else in his family.
Certainly not his daughter Vanessa ("Juno's" Ellen Page), a whip-smart, stingingly sarcastic high school senior whose idea of a good time is folding leaflets at the Young Republican Club. And definitely not his son James ("A History of Violence's" Ashton Holmes), a CMU student — and budding poet — who prefers dorm life to the oppressive atmosphere at home.
Two characters, however, arrive to shake up Lawrence's life — and the rest of the family's. First, Lawrence's adopted brother Chuck ("Sideways' " Thomas Haden Church) appears, broke and adrift as usual, seeking safe harbor.
Next, Lawrence tries to retrieve his briefcase from his impounded car and suffers his most undignified fall, putting him into contact with emergency room doctor Janet Hartigan (Sarah Jessica Parker).
She's in the emergency room, in part, because she never quite recovered from her freshman lit class. Or, more precisely, from the critical barbs professor Wetherhold unleashed while reading her final essay.
No more than a passing grade will be awarded for guessing that the current curmudgeon and his ex-student soon find a meeting of the minds — to say nothing of other body parts.
But if "Smart People" never goes anywhere particularly unexpected, at least it's smart about following a well-trodden path.
In his screenwriting debut, novelist Mark Jude Poirier ("Goats," "Modern Ranch Living") creates several compelling characters who, if not startlingly original, provide a solid anchor for the movie's emotional conflicts.
There may be too many of them to receive equal treatment (Lawrence's son gets rather short shrift), but that's a minor quibble compared with the script's virtues — which include withering, drop-dead dialogue that makes "Smart People" almost as witty as its characters. (Not as witty as those in that other burned-out-Pittsburgh-professor movie, 2000's "Wonder Boys.")
Also marking his big-screen debut, award-winning commercial director Noam Murro lingers lovingly over those characters, occasionally sacrificing storytelling pace.
Whether that's a drawback or an advantage depends, in part, on your willingness to go along with "Smart People's" too-smart-for-their-own-good people, who need time (and, perhaps, a swift kick in the pants) to get over themselves — and get on with their lives.
Happily, "Smart People" has actors at least as smart as their roles. (Or smarter — I kept wondering what the wonderful Christine Lahti was doing in a truncated supporting part, other than briefly lighting up the screen with her peerless comic timing and vibrant presence.)
Some of these actors offer variations on a theme. If you loved Page as Juno, you'll love her as Vanessa, who turns to her freewheeling Uncle Chuck as a role model who's far livelier, if not nearly as respectable, as her emotionally unavailable father.
And if you loved Church as "Sideways' " rampant id, you'll appreciate his similarly sly work as a lifelong case of arrested development who in some ways proves the most human of the whole dysfunctional bunch — especially in his determination to rescue his uptight niece from a life of robotic perfection.
Parker also returns to a favorite role: the outwardly prickly, inwardly vulnerable career woman — nothing more than what we've seen before, but also nothing less.
Quaid, however, undermines his well-established persona as the prickly professor Wetherhold, a man who substitutes words for motion, to say nothing of emotion. Quaid's obviously delighted to be playing such a gruff, rumpled misanthrope — and that palpable delight makes up for those few moments when he works awfully hard to convince us he's not working hard.
Yet, in a day when most movies are even dumber than the dumb people they feature — if they focus on people at all — it's a pleasure to see one devoted to "Smart People." Even when those smart people, and their movie, aren't quite as smart as they ought to be.
Contact movie critic Carol Cling at ccling@reviewjournal.com or 702-383-0272.
REVIEW movie: "Smart People" running time: 95 minutes rating: R; profanity, brief teen drug and alcohol use, sexual situations verdict: B- now playing: Green Valley, Orleans, Palms, Red Rock, Sam's Town, Santa Fe, South Point, Town Square, Village Square DEJA VIEW From Groucho Marx ("Horse Feathers' " wacky Dr. Wagstaff) to Harrison Ford (as archaeologist Indiana Jones), actors revel in the chance to play professor. A few more academic all-stars: "The Absent-Minded Professor" (1961) — In this Disney favorite, the eccentric title character (Fred MacMurray) discovers a gooey, gravity-defying rubber he dubs Flubber. "The Paper Chase" (1973) — John Houseman won an Oscar for his indelible portrayal of an imperious Harvard law professor who makes life miserable for a first-year student (Timothy Bottoms). "Educating Rita" (1983) — A boozy, burned-out literature professor (Michael Caine) learns some memorable life lessons from a brash hairdresser (Julie Walters). "Wonder Boys" (2000) — A blocked writer (Michael Douglas) tries to break out of his pot-induced haze to deal with lovers (Frances McDormand), students (Tobey Maguire) and editors (Robert Downey Jr.). "A Beautiful Mind" (2001) — A brilliant mathematician (Russell Crowe) struggles to overcome the schizophrenia that threatens his marriage to a graduate student (Jennifer Connelly). — By CAROL CLING