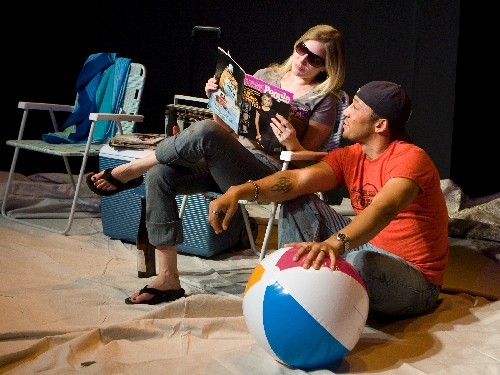 C'mere, ya big galoot. You too, sweetie. And you, and you.
Group hug!
That's the sight (symbolically, anyway) of the city's local theater community, taking a Shakespearean cue by squeezing all their worlds onto one's stage.
"We wanted an opportunity for groups in town, and hopefully out of town, eventually, to get out in front of the community and bring the spotlight to theater in Las Vegas," says Walter Niejadlik, president of Las Vegas Little Theatre, which hosts the city's first Vegas Fringe Festival from Friday through June 13.
Adopting the format of fringe festivals worldwide presenting alternative material, 10 local companies and producers, including Las Vegas Little Theatre, will stage short original and established works — largely one-acts of an hour or less, small casts and solo performances — rotating between the mainstage and cozier Black Box.
On the bill: "Life Under Water," "Soil," "Ptolemy Had a Silver Nose," "Great Falls," "White Girl," "Unfinished," "Perturbed," "Arthur and Esther," "The Last Las Vegas Magician" and "Bondage." Among the under-the-radar groups operating on the Vegas "fringe": Absolute Theatre, Endless Productions, Found Door Theatre, Zzyzx Kid Productions, Born and Raised Productions, Butcher Block Productions and Throbbin' Gristle Productions. (See lvrj.com/neon for play descriptions and performance schedule).
Attempting a festival isn't a first here –Â producer/director Ernest Hemmings has helmed the Beckett Festival for several years, but its presentations have been spotty. Though LVLT is absorbing overall costs, companies are paying a $150 fee for participating, plus a $100 security deposit they will forfeit if they break commitments. They also receive a cut of the ticket sales.
"I was adamant that this has to go on as scheduled," Niejadlik says. "I'm not going to stand in a room full of people and say, 'I'm sorry, the group that's supposed to be here didn't show up.' We have nine groups that are out of our control but we know some of them, and when they commit to something, they're going to do it."
Should it prove successful, the festival will be a notable step forward in a theater community that rarely functions as a collective to optimize opportunities for people to see local theater by coordinating schedules or even sharing props. "We've gone through the motions, people saying we need a Las Vegas theater co-op, but nothing gets done," says Found Door's Stacia Zinkevich, whose husband, TJ Larsen, is a Fringe Festival producer.
"People tend to stick to their own thing. But the meetings we've had for Fringe, everybody supporting everybody else, people offering to help each other find props, it's been really cool."
Beyond a theater buffet for audiences, a fringe festival is a networking bonanza for local performers, writers and directors. "This is one of the best things that could happen in Las Vegas," says Erik Amblad of Born and Raised Productions, and a Vegas theater vet. "I've been surprised to find there are people in this theater community I didn't know. The Fringe helps us understand there is a lot going on in this town."
Comparing it to a fledgling theater version of the CineVegas film festival — and acknowledging that he'd like the "fringe" material to attract younger audiences beyond LVLT's older subscriber base — Niejadlik did hope for more participation from theater elders in town.
"I was disappointed some groups like Insurgo and more established groups didn't submit to the festival," he says, though some individual performers who've worked with Insurgo are participating. "I'm sure Insurgo is trying to pay its rent for its new space, but it would've been nice to see groups like Signature or Jade (Productions) be a part of it."
Scheduling all the troupes for rehearsal and performance on twin stages, Niejadlik says, has been challenging, and adhering to fringe festival traditions, props, sets and equipment are sparse. "The deal with the sets is there shouldn't be any," he says. "The participants were told, 'Everything you need for your shows should fit in the back of your cars.' There's no storage here. They have a 10-minute load-in and load-out. Our sets are a lot of painted tarps, small hand props and folding chairs."
Modest in scale, perhaps, but enough to spark sizable dreams. "Fringes have popped up all over the world, and in many ways it's a huge family," says "Arthur and Esther" producer Taylor Hanes. "Performers say they'd like to go to Edinborough or New York or Kansas City — or, perhaps, Las Vegas."
How does that begin?
C'mere. … Give us a hug.
Contact reporter Steve Bornfeld at sbornfeld@review journal.com or 702-383-0256.
Vegas Fringe Festival Schedule
Preview
What: Vegas Fringe Festival
When: Friday-Sunday, June 10-13
Where: Las Vegas Little Theatre, 3920 Schiff Drive
Tickets: $12 for individual passes, $55 for a five-show pass, $90 for a nine-show pass (702-362-7996; www.lvlt.org)