Snoop Dogg's Vegas cabaret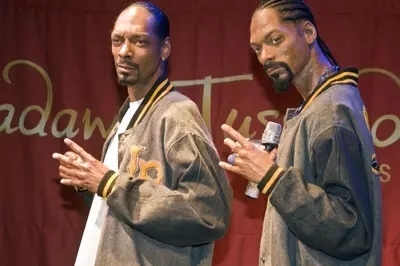 Tao nightclub is about to go up in smoke, y'all, 'cause the grandmaster of Mary Jane — Mr. Snoop Dogg himself — is turning the top-tier Las Vegas club into a Roaring '20s-themed speakeasy experience.
Now, uh, are you experienced?
(Honestly, I normally don't talk like this, but Snoop brings it out in me, yo.)
"I'm excited to partner with the Tao team for these special classy events," Snoop said in a press release Tuesday.
I like it when Snoop Dogg says nightclubs are classy. They kind of are, in Las Vegas. I mean. You know.
"This summer is going to be epic and I can't wait to give Vegas that real Snoopadelic Cabaret vibe," the Snoop corporate release quotes Snoop as saying, and it does sound like him.
The details: Snoop will DJ under the name DJ Snoopadelic and he will rap during six special event nights at Tao in The Venetian during spring, summer and fall.
This "Snoopadelic Cabaret" begins this Saturday night after he is scheduled to walk an 11:30 p.m. red carpet at the club. (Snoop is sometimes an hour late, sometimes on time.)
Tao is sweetening our Snoop pot by turning these cabaret nights into immersive experiences.
So there will be costumed staffers (hot girls in hot flapper dresses?) and Prohibition-era drinks and decor.
Tao or Snoop will be tweeting passwords for Twitter followers to gain entry through some secret entrance.
And Snoop will wear a '20s-style suit, so club party people are encouraged to sexify their own cosplay too.
Hopefully, Floyd Mayweather Jr. will pop in after he wins some boxing match down the street earlier in the night.
This is a co-production between Tao and Snoop's live event production company, Uncle Snoop's Army. I didn't even know Snoop had a live event production company. I wonder if it would cater a bris. Hmmm.
[youtube https://www.youtube.com/watch?v=Pp5EaugOxz0&w=640&h=360]