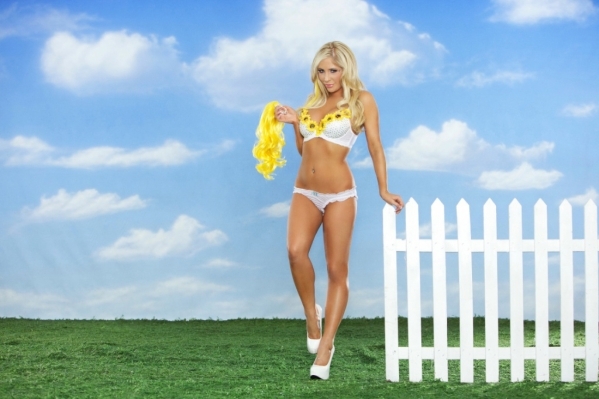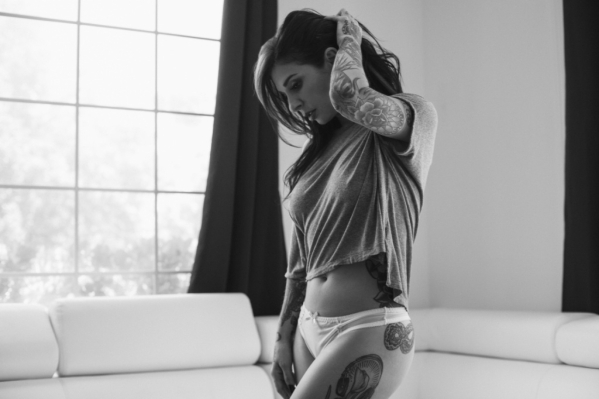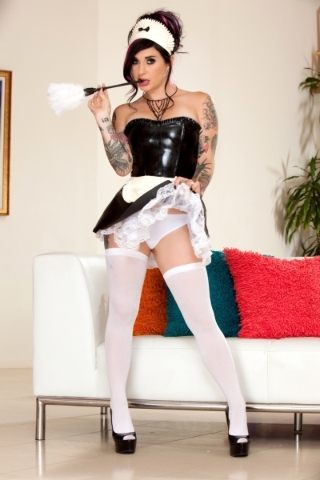 At 17, Tasha Reign was watching "The Girls Next Door," the show starring Playmates Holly Madison, Kendra Wilkinson and Bridget Marquardt, and she turned to her parents and said, "That's what I want to do."
"Those girls look like they're having so much fun," Reign thought at the time, a few short years ago, "I think life is about having fun. They're beautiful. And they have so much courage."
Reign's parents thought she was kidding, but she moved to Los Angeles, finished college in gender studies (learning everything you would expect, from feminism and the hierarchy of patriarchy to loving one's body), and she began taking off her clothes for a living.
"Ever since I knew what a nude model was, that's what I wanted, kind of like how boys see a football player and say, 'That's what I want to do, that looks liberating,'" Reign said on Wednesday.
Modeling led to stripping; stripping led to Playboy. While recuperating from a boob job, she watched Jenna Jameson and Stormy Daniels in adult films. That's when Reign had her eureka moment.
"This is what I want to be doing," she thought, watching the porn hall of famers.
"These girls looked like they were having a good time. They were making movies people could be entertained by," she reasoned. "They looked beautiful. They looked free. They were making money. And it looked like more of a long-term career.
"All these women seemed very powerful. That's what I was attracted to."
Reign, in her 20s, is so successful, she owns her own production company (TashaReign.com), and she's well-regarded as one of porn's most respected people.
On Friday and Saturday, she will be one of dozens of sex workers in film at America's biggest Halloween porn event, the AVN Halloween Porn Star Party, taking over the hipster boutique hotel, the Artisan. Tickets and passes: $202-$802 (avnhalloween.com).
"Vegas is the capital of sex and adult entertaiment," Reign said.
As far as symbols of generations go, Reign is a good one, not because everyone in her age range is in porn, but because voluntary sex workers on film have become as normalized as accountants.
Statistics show porn sites net more regular viewers than Twitter, Amazon and Netflix combined. A recent study showed one of three women watch porn through the week, and 88 percent do so alone. About half of porn is seen on phones and tablets.
Porn star Joanna Angel, who is also headed to the AVN Halloween party, said porn performers are more honestly into sex than ever.
"I've had to stop people from (having sex) in the bathroom, because we're trying to shoot a scene in the other room," Angel said, laughing.
"I shoot these 19-year-old girls who could teach a lecture on anal sex.
"This is how it is now."
Sex itself has revolutionized into an openly talked-about necessity. And consider all of those private photos and videos everyday Americans exchange by phone while looking for immediate hookups via apps.
Reign does have one qualm about all of this, but it's not really a complaint about porn as much as it is a plea for sex education in schools.
"I want people to embrace themselves and their sexuality. I want them to be OK with being a woman and having more than a few partners in their life," Reign said.
"What's problematic is," she said, "we really don't have a strong sex education at all. People should not be learning their first sex (lessons) from porn."
The well-documented challenge for porn stars is to earn a living in this sex-centric new world order.
"The harder part is figuring out how to make money off being naked. That's the complicated part," Angel said.
"If you can figure that out, then you should probably stay naked. But if you can't, then maybe you should put some clothes on."
Angel (JoannaAngel.com) has been a pro for only 12 years, and yet she is a living legend, known for her tats, fun shoots, and self-described "alt girl porn."
"People don't think it's weird when you say you do porn anymore. They just want to ask 100 questions about it, and the last question is always, 'Well, how do I do one? I want to have your job,'" Angel said.
Reign said that's true in her encounters, too, to the point that she sometimes answers strangers' question, "What do you do?" with "I'm a dolphin trainer," just so she doesn't have to answer a hundred excited questions.
Angel and Reign make money off their sites, but to really earn a living, they sign licensing deals with adult toy companies, do feature dancing in strip clubs, film scenes based on ideas from paying fans, and appear at public events.
"I just try to hound as many avenues as possible, to make as much money off of my product as much as I can, so we can still keep going," Angel said.
"I love meeting fans. If somebody is truly a fan of my work, I'm very happy to hang out with them, even if they're a little bit weird. I'm pretty nice to everybody who pays for my porn," Angel said.
In other words, porn stars are living like musicians, putting out content most consumers pay nothing for, then they hit the road to collect cash.
Reign said her field is only for people who are comfortable doing naked things on camera, but if you have the right look, learn about the industry before you jump in, and choose an agent wisely, you, too, could be as happy as she is:
"With a little bit of luck, a little bit of research, and a little bit of willpower, I think any job can be yours."
Doug Elfman can be reached at delfman@reviewjournal.com. He blogs at reviewjournal.com/elfman. On Twitter: @VegasAnonymous