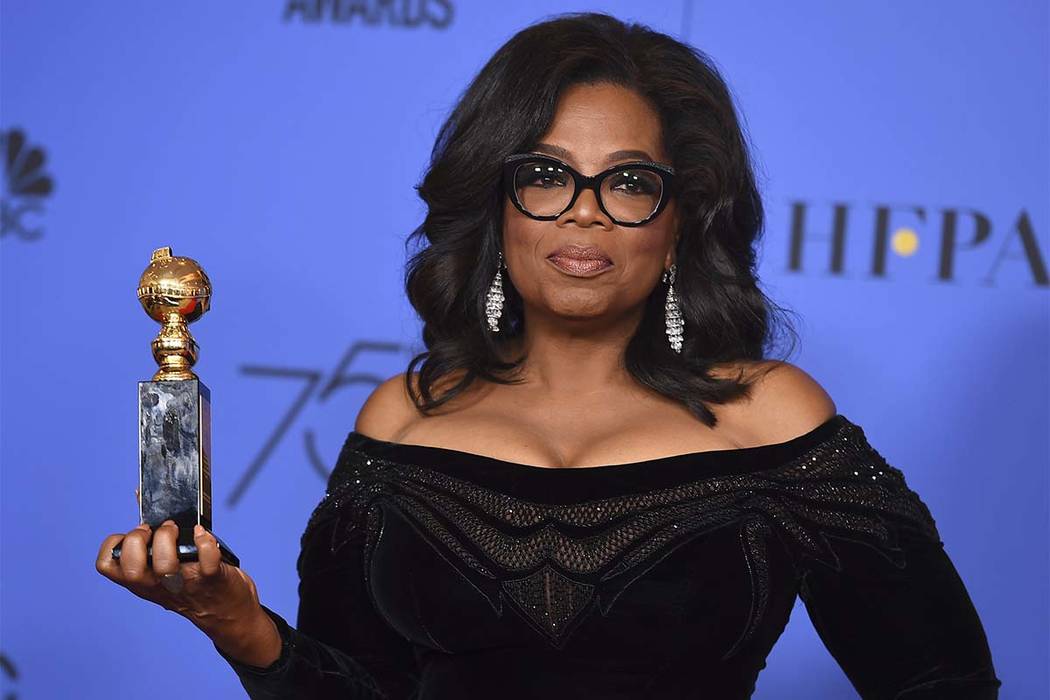 LOS ANGELES — Oprah Winfrey's moving speech at the Golden Globes has some fans and fellow celebrities calling for her presidential run.
The actress accepted the Cecil B. DeMille lifetime achievement award at Sunday's ceremony, and it didn't take long for Twitter to start lighting up with the hashtag #Oprah2020.
Comedian Sarah Silverman tweeted "Oprah/Michelle 2020." Leslie Odom, Jr., who played Aaron Burr in the Broadway musical "Hamilton" tweeted "She's running. A new day is on the way."
Minutes after giving a rousing speech at the #GoldenGlobes that promised "a new day" for women, minorities and the downtrodden, Oprah Winfrey said she has no ambitions to run for president #tictocnews https://t.co/aM95D97Llg pic.twitter.com/z0laHmcCWa

— TicToc by Bloomberg (@tictoc) January 8, 2018
Winfrey's longtime partner Stedman Graham tells the Los Angeles Times "It's up to the people" whether she will be president, adding "she would absolutely do it."
Winfrey brought the typically rowdy crowd to silence and tears with her speech.
She spoke of seeing Sidney Poitier win an Academy Award when she was a girl, and weaved it into the #MeToo movement.
Winfrey had the crowd giving her repeated ovations as she issued a warning — not once, but three times — to powerful men who abuse women: "Their time is up!"
"I want all the girls watching here and now to know that a new day is on the horizon!" she said. "And when that new day finally dawns, it will be because of a lot of magnificent women … and some pretty phenomenal men, fighting hard to make sure that they become the leaders who take us to the time when nobody ever has to say, 'Me too,' again."
Director Ava DuVernay later wrote on Twitter that the room was "still vibrating like electricity from that speech."