Spotlight: New American dining, Oct. 4
October 3, 2013 - 9:00 pm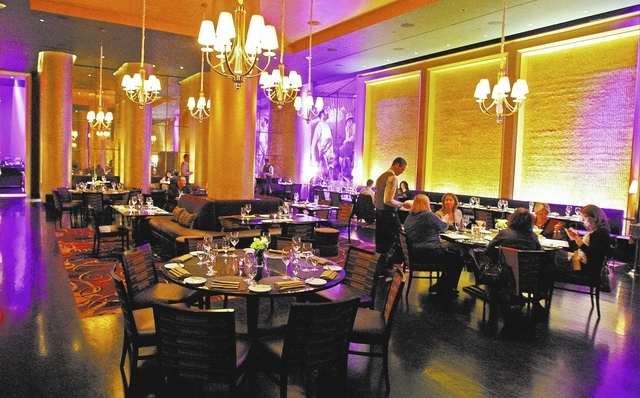 Each week Neon spotlights a different cuisine in the Dining Guide, with New American restaurants this week. Restaurants are rated on a letter-grade scale, from A to F. Opinions by R-J critic Heidi Knapp Rinella (H.K.R.) are indicated by initials. Price symbols are based on the cost of an average entree: $ = entrees less than $10, $$ = entrees $10 to $20, $$$ = entrees $20 to $30 and $$$$ = entrees more than $30.
BAR + BISTRO
107 E. Charleston Blvd.; 702-202-6060
Bar + Bistro's menu has it all — tapas, tapas-style bocadillos (which are sliders) and entrees. What the restaurant doesn't have is a crowd, which is disappointing but not really surprising for the Arts District. What the crowd is missing: tomato gazpacho with the flavor of summer, rich and gooey four-cheese campanelle pasta, sweet baby clams with tomato-saffron broth, sweet plantains, garlic chicken and a fillet-steak bocadillo. (7/15/11 H.K.R.)
Overall: B+
$$
DOUBLE HELIX WINE &WHISKEY LOUNGE
Town Square, 6605 Las Vegas Blvd. South; 702-735-9463
I was mostly confused by the menu at Double Helix, which is pretty much limited to small plates but isn't extensive enough to allow for the creation of a tapaslike feast. On the other hand, the place is a cozy spot for a glass of wine before or after a movie right across the street, and we liked the our arancini, Brie in a Blanket and the cleverly named Shrimp Hailing a Cab. (1/20/12 H.K.R.)
Overall: B
$$
DW BISTRO
6115 S. Fort Apache Road; 702-527-5200
Signature dishes: jerk chicken lollipops, New Mexico-style slow-cooked pork.
EMBERS
740 S. Rampart Blvd.; 702-778-2160
The crowds that were dining at Boca Park on the evening of our visit weren't dining at Embers, which was a shame, because this place has quite a bit going for it. That includes starters of ahi tuna and bacon-wrapped dates, entrees of miso salmon, a grilled steak salad and a slow-roasted tri-tip, and a rich, fudgy dessert. (6/8/12 H.K.R.)
Overall: A-
$$
FIX
Bellagio, 3600 Las Vegas Blvd. South; 702-693-8300
Signature dishes: Bobby Baldwin Burgers, Very Adult Mac &Cheese.
FLEUR
Mandalay Bay, 3950 Las Vegas Blvd. South; 702-632-7200
Small plates — aka tapas — have found popularity in Las Vegas in large part because of the flexibility they allow and the camaraderie they engender, and at Fleur they're done particularly well. We found the Heirloom Gazpacho with Watermelon Pop Rocks to be full of both whimsy and flavor, and also liked the pan con tamate, goat cheese flambe and flatiron chimmichurri, although the In the Shower Mac and Cheese needed more assertive cheese flavor, less assertive lobster flavor. (10/26/12 H.K.R.)
Overall: A-
$$$
GARFIELD'S RESTAURANT
2620 Regatta Drive; 702-925-8333
We had quibbles (but yes, only quibbles) with most of the dishes we had at Garfield's, but the soothing atmosphere — complete with the view of the lake in Desert Shores — and smooth, efficient service helped us overlook them. Worthy choices: a grilled artichoke with green-garlic aioli, pan-fried sand dabs, a Niman Ranch double pork chop and a chocolate souffle with classic Creme Anglaise. (5/6/11 H.K.R.)
Overall: B+
$$
GUY SAVOY
Caesars Palace, 3570 Las Vegas Blvd. South; 702-731-7778
Signature dishes: Colors of Caviar, Crispy Veal Sweetbreads.
HERBS &RYE
3713 W. Sahara Ave.; 702-982-8036
We were disappointed by the absence of the pork-and-figs dish but not by the presence of the carpaccio with arugula, the stacked caprese salad and the 12-ounce Kansas City strip, which was half-off before 8 p.m. Such a deal! And while the gnocchi was a little on the doughy side, we loved its meaty sauce with the chewy texture of pancetta. (3/11/11 H.K.R.)
Overall: B+
$$
HONEY SALT
1031 S. Rampart Blvd.; 702-445-6100
One of the things we liked most about Honey Salt was the flexibility of a menu that would enable one of us to have a pizza Margherita, the other a lamb Porterhouse — and a kitchen with the skills to prepare both of them flawlessly. We also liked My Wife's Favorite Salad, with its arugula, frisee, duck confit, pomegranate seeds, pine nuts and poached egg, and the homey goodness of the Brown Bag Apple Pie. (5/31/13 H.K.R.)
Overall: A-
$$$
HUGO'S CELLAR
Four Queens, 202 Fremont St.; 702-385-4011
Signature dishes: Hot Rock Specialty, Cellars Champion Chateaubriand and Lobster for Two.
JOEL ROBUCHON
MGM Grand, 3799 Las Vegas Blvd. South; 702-891-7925
Signature dishes: truffle langoustine ravioli, pan-fried sea bass.
L'ATELIER JOEL ROBUCHON
MGM Grand, 3799 Las Vegas Blvd. South; 702-891-7358
Signature dishes: free-range quail with foie gras, mashed potatoes.
LAWRY'S THE PRIME RIB
4043 Howard Hughes Parkway; 702-893-2223
Lawry's the Prime Rib has a limited menu — mostly prime rib cut at the table by a guy pushing a domed silver cart, with a couple of seafood selections and a rib-eye steak tossed in — but maybe it's just that stick-to-what-you-know philosophy that has made the company so consistently reliable for 70-plus years. We love the prime rib (both the California cut and the slightly larger Lawry cut) and also the crisp-crusted sourdough bread, Spinning Bowl Salad, mashed potatoes, creamed corn and lovely Yorkshire pudding. (12/15/11 H.K.R.)
Overall: A
$$$
OFF THE STRIP
10670 Southern Highlands Parkway; 702-202-2448
Signature dishes: meatloaf, homemade cheesecake.
P.J. CLARKE'S
Forum Shops at Caesars, 3500 Las Vegas Blvd. South; 702-434-7900
No, P.J. Clarke's doesn't have the atmosphere of the New York original — and no surprise there — but it does have good food in a comfortable, casual atmosphere. That the legendary burgers still are good is proved by The Cadillac with its bacon and cheese, and we also liked the local bacon-wrapped dates, the sweet-potato fries and the skirt steak with Roquefort. (4/15/11 H.K.R.)
Overall: A-
$$
PICASSO
Bellagio, 3600 Las Vegas Blvd. South; 702-693-8865
Signature dishes: warm quail salad, sauteed medallions of fallow deer.
SAGE
Aria at CityCenter, 3730 Las Vegas Blvd. South; 877-230-2742
At the Zen-evoking Sage, celebrity chef Shawn McClain has filled his menu with surprises — of only the best kind. There's lavender butter for the rolls, crispy chocolate on the excellent Wagyu beef tartare, charred baby leeks with the bluenose grouper and smoked dates (and shoulder confit) with the Iberico pork loin. (2/25/11 H.K.R.)
Overall: A
$$$$
STACK
The Mirage, 3400 Las Vegas Blvd. South; 702-792-7800
Signature dishes: Hot Rocks, Adult Tater Tots.
TABLE 34
600 E. Warm Springs Road; 702-263-0034
Game isn't exactly easy to find in these parts, so we were mighty pleased to find wild boar as a special on the evening of our visit to Table 34. It was divine — wild, even — and we also liked the fried artichoke heads with lemon aioli, sauteed Idaho golden trout and some particularly tasty breads, including black olive. (5/13/11 H.K.R.)
Overall: A
$$$
TODD ENGLISH P.U.B.
Crystals at CityCenter, 3720 Las Vegas Blvd. South; 702-489-8080
Signature dishes: soft hot pretzels, brisket from the carvery.
TODD'S UNIQUE DINING
4350 E. Sunset Road, Henderson; 702-259-8633
Todd's is one of the few remaining gourmet rooms in the suburbs and it's doing a fine job of upholding the tradition, with a steady stream of regulars attesting to that. We liked the classic goat cheese won tons with raspberry sauce, beet salad, beef short ribs with jalapeno-flecked potatoes and pork tenderloin with stuffing. (1/18/13 H.K.R.)
Overall: A
$$$
TOMMY BAHAMA'S
Town Square, 6635 Las Vegas Blvd. South; 702-948-8006
Signature dishes: Cuban sandwich, Sanibel Chicken.