'Star Wars' VR experience is a trip to a galaxy far, far away
April 26, 2018 - 11:07 am
Updated April 27, 2018 - 10:36 am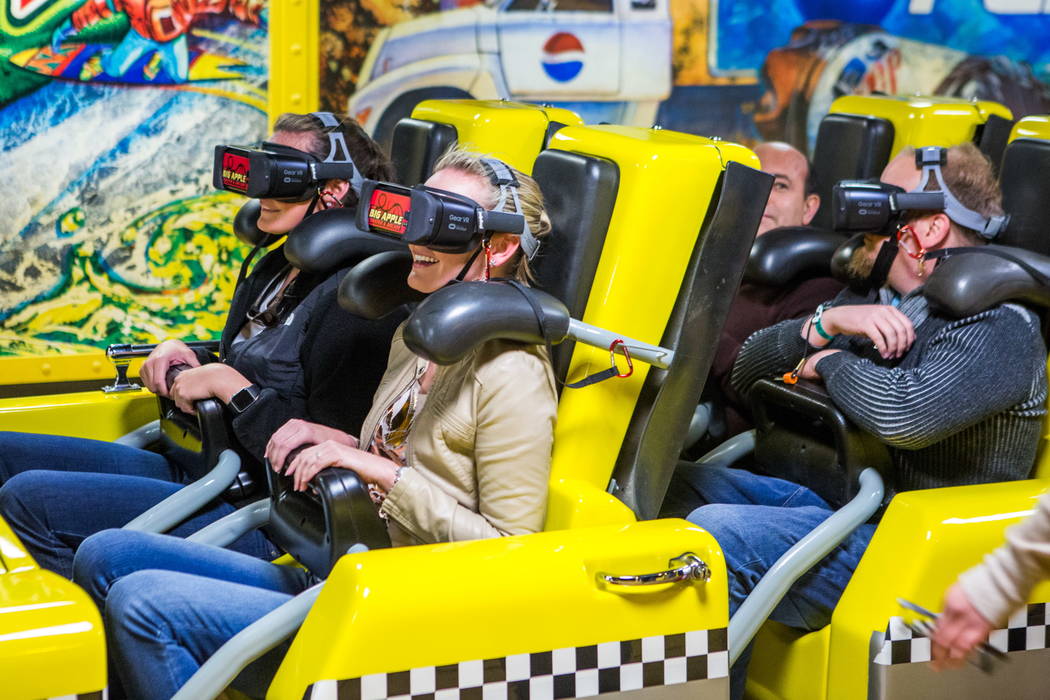 If you've ever dreamed of visiting a galaxy far, far away, now's your chance.
And we're not talking about sitting and watching somebody else battle the enemy, whether it's Imperial stormtroopers or gigantic, fire-belching beasties.
Firing a blaster? Making the jump to hyperspace? Tracking down a mysterious crate with contents that might control "the light of freedom"?
All in a day's work for aspiring Rebel volunteers who sign on for "Star Wars: Secrets of the Empire."
The immersive virtual reality attraction opens Friday in St. Mark's Square of the Grand Canal Shoppes at The Venetian and Palazzo, promising a chance to get up close and personal with some favorite "Star Wars" characters — and become your own "Star Wars" character in the process.
That process begins when you report for duty and receive a coded wristband identifying you as a member of the Rebel Alliance, about to embark on an undercover mission to liberate the aforementioned canister.
Before the mission begins, you're fitted with a special backpack (containing a computer that generates the attraction's virtual galaxy) and helmet; the latter is equipped with a microphone enabling you to communicate with up to three additional Rebel adventurers.
It also enables you to see your companions as they see you: as uniformed stormtroopers, with coordinated colors identifying you as undercover infiltrators.
Once suited up, you receive your instructions from a pair of familiar fellow Rebels: Cassian Andor (Diego Luna, reprising his "Rogue One" role of 2016) and droid K-2SO (voiced once again by Alan Tudyk).
"Everything depends on you," Cassian says, reminding you that "rebellions are built on hope."
Next, it's off to the fiery planet Mustafar; its overheated atmosphere should feel familiar to triple-digit Vegas veterans. (At least we don't have to breathe Mustafar's scorched-aroma atmosphere here on Planet Vegas.)
On the mission, you'll have a chance to grab a blaster — which you'll definitely need given the enemy firepower you're about to encounter. The good news: the blaster bolts you'll feel during battle don't hurt, just buzz. Neither do the fireballs from the lava monsters, although you'll definitely feel the heat.
Throughout the adventure, participants roam around a wide-screen virtual world filled with enough "Star Wars" detail to satisfy any hardcore fan.
"We wanted to leverage what's so great about 'Star Wars' " in "Secrets of the Empire," explains Mark Miller, ILMxLAB's executive creative producer. "You can smell, you can feel the heat" as you experience "one of the places in the 'Star Wars' universe."
And because "people have grown up with 'Star Wars,' " adds Cliff Plumer, The VOID's chief executive officer, "you get to discover a little of your own story."
The VR adventure represents a collaboration between The VOID — creators of immersive location-based attractions that use state-of-the-art technology and movie-branded content — and ILMxLAB, the immersive entertainment division of Lucasfilm, home of all things "Star Wars." (Under the Disney corporate umbrella, that is; Disney purchased Lucasfilm in 2012.)
"Star Wars: Secrets of the Empire" has been up and running since last December at a variety of locations, including the Disneyland-adjacent Downtown Disney in Anaheim, California, and Disney Springs in Orlando, Florida.
But "Las Vegas is the experience capital of the world," Plumer says. "We have to be in Las Vegas."
Virtual Vegas
"Star Wars: Secrets of the Empire" — opening Friday at The Venetian's Grand Canal Shoppes — may be the latest virtual reality experience to join Las Vegas' entertainment galaxy. But there are other ways to escape Planet Vegas' reality orbit, as these VR attractions demonstrate:
Esports Arena Las Vegas, Luxor
Located in a space formerly occupied by Luxor's Ra and LAX nightclubs, the 30,000-square-foot, multilevel arena — which opened in late March — has room for everything from a production studio to a Playing Through History area spotlighting eight generations of video gaming consoles. Not to mention a celebrity-chef menu and VIP upgrade options.
Speaking of options, the Esports Arena also has a VR option with an immersive gaming environment. The compact VR platform's treadmill pad allows players to feel as though they're in the middle of the action, running and moving through the game they're playing — even as they stay in place.
Open noon-1 a.m. Mondays-Thursdays, 11 a.m.-3 a.m. Fridays-Saturdays and 11 a.m.-1 a.m. Sundays at Luxor, 3900 Las Vegas blvd. South. There's no charge to enter the arena during standard hours, excluding ticketed events; all-day gaming passes are $25. Visit esportsarenavegas.com for more details.
Level Up Gaming Lounge, MGM Grand
Longing to do battle in a zombie apocalypse? Maybe rogue robots and killer drones, rampaging through a secret space research station, are more your (light)speed. Even if you prefer solving puzzles populated by airborne whales, giant parrots and other colorful creatures, the MGM Grand's Level Up Gaming Lounge has a VR experience for you.
The MGM Grand's Virtual Reality experience, which debuted in September, plunges up to eight players into an interactive digital universe — while they roam around the 2,000-square-foot arena, collaborating with other players during a 30-minute adventure.
Open 10 a.m.-midnight daily at the MGM Grand, 3799 Las Vegas Blvd. South. Players 13 and older are welcome until 9 p.m.; after that, it's 21 and older. Admission is $50 per person for a 30-minute session; for details, click on mgmgrand.com/en/entertainment/virtual-reality.
Big Apple roller coaster, New York-New York
New York-New York's resident roller coaster may provide plenty of thrills with its high-speed drops, real-life G forces and the first-of-its-kind 180-degree "heartline" twist-and-dive move. In February, however, the Big Apple Coaster Virtual Reality Experience made its debut, augmenting the adventure.
Equipped with virtual reality headsets (wirelessly connected to sensors that synchronize the VR and real-life rides), riders become scientists in hot pursuit of an alien that's escaped their research facility. The chase leads riders high above the Nevada desert — and along the Strip — without ever leaving the 4,777-foot-long coaster track.
The coaster runs 11 a.m.-11 p.m. Sundays-Thursdays and 10:30 a.m.-midnight Fridays-Saturdays at New York-New York, 3790 Las Vegas Blvd. South. Tickets are $20 for the VR experience and $15 for the traditional coaster ride. (Minimum height requirement: 54 inches. Minimum age to ride with VR: 13) For more information, visit mgmresorts.com/nyny.
The Review-Journal is owned by the family of Las Vegas Sands Corp. Chairman and CEO Sheldon Adelson. Las Vegas Sands Corp. operates The Venetian and Palazzo.
Contact Carol Cling at ccling@reviewjournal.com or 702-383-0272. Follow @CarolSCling on Twitter.