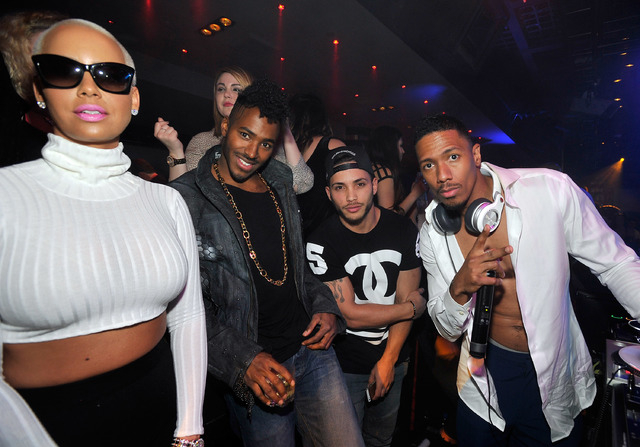 Here's your weird coincidence of the day. I just found out my niece went to school with Stassi Schroeder, star of Bravo's "Vanderpump Rules."
I discovered this odd fact over the holidays in New Orleans. I told my niece I was prepping to interview a celebrity, Schroeder, because she will host Body English nightclub this Friday.
"What?" my niece said, and she filled me in on their school days.
Next, I told Schroeder she went to school in New Orleans with my niece Scarlett, and she exclaimed:
"Scarlett Howell?! Oh my. Yes. We went to kindergarten through eighth grade together. That's crazy. Wow. Tell her I said hello."
Then I asked questions Scarlett asked me to ask her:
"How has your life changed since you were 18? How does it feel to be famous?"
"It's weird, because," Schroeder, 26, said, "it's not like things happened for me overnight."
Schroeder went to college for a few years and then landed this TV show.
"Honestly, the only thing I remember from living in New Orleans now was living at my parents' house, you know what I mean? I never got to live in New Orleans as an adult. I miss New Orleans. I love it."
Me again: "Do you want to be a reality star for the rest of your life?"
"Absolutely not," Schroeder said. "Most people do reality TV as a stepping stone. They can use it as a platform. Anyone who chooses to do reality TV for the sake of doing reality TV has to be insane.
"I'm kind of over the reality TV thing. It's too stressful. It really is stressful. There's so much negativity," she said.
Schroeder is known for saying cutting lines about cast mates, at times.
"I know I'm not, like, the spreader of light all the time, but there's sooo much negativity, and everybody's judging you, and everyone's saying awful things, and you're being paid to take each other down. It's just kind of rough."
I asked her, if she could edit her own director's cut of "Vanderpump Rules," what would the show look like?
"Everything would be in my favor. It would be all my best scenes, all my good lines. Let's be honest, really. I'm, like, 'Oh that person made an excellent point? Cut it out,'" she said, and this made us both laugh, because she delivered these lines with a funny, self-aware, Valley-esque accent. (Scarlett has great comic delivery too.)
Schroeder has a blog, StyleByStassi.com. And she designs jewelry for ShopPrimaDonna.com.
"Honestly, I've wanted to use this (TV show) to build up a following. I've been slowly working my way up in fashion," she said. "If I didn't have the show, those things wouldn't be possible."
I asked her what her favorite fan interactions are.
"It's really weird, because all the interactions I have with people are always so positive, and everyone's so supportive. Then I go on social media and everyone hates me.
"So I go, 'Are these (positive) people pretending — the ones I meet? Or am I meeting all the cool ones?' I never have bad experiences when I meet people. Everyone is perfectly nice and supportive."
Last question: What would she like people to bring with them to Body English? "Gifts?" I joked.
"I accept gifts of all kinds, so that would work," she said and laughed, but then she gave me a reality-star punchline: "You think I'm kidding. I'm not."
OMG I WON A PIZZA-MAKING COMPETITION
I can't believe I won a pizza-making contest, Wednesday at Trevi in the Forum Shops, winning $500 for the PoppyFoundation.org, a no-kill cat sanctuary in Las Vegas.
I edged out TV news stars Kim Wagner, Olivia Fierro and John Huck, and Jessica Janner, as judged by Miss Nevada USA 2015 Brittany McGowan; Sean E. Cooper of "Fantasy" at Luxor; and Chef Jose Navarro of Grotto in Golden Nugget.
I used my girlfriend Alicia Goldsmith's recipe, under the guidance of executive chef Peter Scaturro.
My heart-shaped pie had an olive pesto sauce, mozzarella, Romano and Parmesan cheeses, the caps of portobello, oyster, button, and shitaki mushrooms (sauteed first in garlic, shallots and white wine), with salt and Parmesan sprinkled on the crust.
The pie will be sold there next week under the name, "The DougiE" or "The Doug E." or some such variation.
SIGHTINGS
Joe and Nick Jonas on Wednesday browsed Fred Segal boutique and dropped by the Perq in the SLS hotel. Nick was with girlfriend Olivia Culpo, the former Miss Universe. The brothers took friends to a Tuesday dinner at Cleo, and a Wednesday breakfast at The Griddle Cafe.
Jack Black's Tenacious D performed a corporate show Tuesday at The Sayers Club in SLS, and guitarist Slash watched then Tweeted, "Just witnessed a killer set @RealTenaciousD at @SayersClubSLS in Vegas. Best version of 'You Never Give Me Your Money.'" Slash and Black ate together afterward at Griddle Cafe.
Chrissy Teigen danced with a personal collection of 12 people Tuesday night at Surrender nightclub, where the awesome musician the RZA emceed for Diplo.
IS VEGAS BIG ENOUGH FOR MARIAH AND NICK?
Nick Cannon not only loves Vegas, he DJs professionally for the Light Group here. And Mariah Carey is reportedly taking a Caesars Palace residency this year.
Are they ready, as a couple getting divorced, for the awkwardness of being exes in Las Vegas?
I hear what you're saying. They have kids, so they're going to have to get along. They have got along publicly so far.
But Vegas is different.
On Tuesday night, Cannon dined at Stack restaurant in Mirage with — bababoom — Amber Rose, who people say he's dating, plus 17 other people, such as Al B Sure.
Then, Cannon, Rose and the rest partied at 1 Oak nightclub, where Cannon DJ'd.
On top of that, Cannon was running around with a film crew for the rebooting of "Lifestyles of the Rich and Famous with Robin Leach," in tow with Patrick Peterson, Mark Cuban and Daymond John.
If Mariah does take that residency, she and Cannon better get ready to make Vegas for exes — while they date other people here.
Oh wait, who am I kidding? The Strip is nothing but exes, currents and secret sides for everyone who works there, or so it seems.
Doug Elfman's column appears Tuesdays, Thursdays and Saturdays. Email him at delfman@reviewjournal.com. He blogs at reviewjournal.com/elfman.