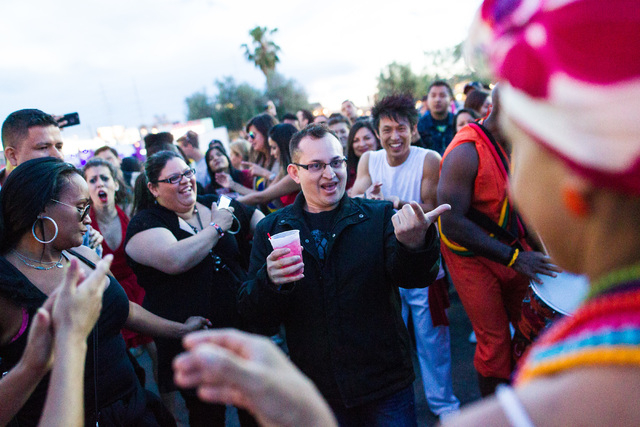 Ceremonial groundbreakings are usually the last place you find drama.
But a keen-eyed observer spotted something unusual during Tuesday's red carpet at the site of Genting Group's $4 billion Resorts World project.
After greeting dignitairies, including Gov. Brian Sandoval, K.T. Lim, chairman and CEO of the Malaysian-based company, left the red carpet and walked to the large tent for the 2:30 p.m. ceremony.
He had been waiting for the arrival of neighbor Steve Wynn.
When Lim was inside the tent, he was informed Wynn had arrived. He was asked if he wanted to go back to the red carpet and greet Wynn.
Lim shook his head no.
In Asian culture, being late for a meeting is considered rude.
A request for comment from Wynn was not received by deadline.
ROCK IN RIO REACTION
Friday's opening night of the Rock in Rio festival drew mixed reviews.
In my neighborhood, the Las Vegas Country Club, we expected a maddening wall of noise from 3:30 p.m. to 1:30 a.m. It didn't happen. Even with the windows open and standing on the balcony, it was barely audible.
Here are some of the comments culled from social media, email and phone calls:
■ "It was like iHeart Radio Light."
■ "I wanted to take my daughter to Taylor Swift next week, but how many kids can stay up that late. She'd fall asleep."
■ "Few if any trash cans."
■ "Very few picnic tables."
■ "Drinks were expensive (small alcoholic drinks, $12; large, $14)."
■ "We saw a lot of people who were wanting to sell their tickets."
■ "People watching was fabulous and the crowd was well-behaved crowd."
■ "Selfie sticks were our biggest seller and we sold a lot of sweatshirts because of the cold," said Angie Hurt, manager of Bonanza Gifts. She added, "Traffic was not bad and business was real good."
THE SCENE AND HEARD
Larry Pfeiffer's recent firestorm fabrication that Sen. Harry Reid was beaten up by his own brother wasn't Pfeiffer's first experience at drawing attention to himself. About 10 years ago, he splashed a drink in the face of Palms co-owner George Maloof in a bar at Green Valley Ranch. On another occasion, he called me with a self-sighting. Pfeiffer said he was making out with actress Keira Knightley of "Pirates of the Caribbean" fame at the bar at Joe's Stone Crab at the Forum Shops at Caesars. A call to management quickly proved it to be a hoax. …
Chloe Crawford, wife and stage assistant of Las Vegas magician Murray Sawchuck, performed on "Britain's Got Talent" on Saturday. She climbed on a motorcycle that rose above the stage, vanished in a poof of smoke and reappeared seconds later in her majesty the queen's box inside the theater. A stunning Brit, her appearance generated considerable attention in the London papers. …
I hear illusionist David Copperfield would like to pull off his greatest act by making some howling coyotes in his neighborhood disappear. …
Greg Smith, owner of The Little Church of the West, was at Yankee Stadium on Friday when Alex Rodriguez hit his 661st home run to move past Willie Mays for sole possession of fourth on the all-time home run list. …
Have toque, will travel: chef Grant McPherson, who opened Bellagio, the Wynn and other major hotels around the world as an executive chef, has been hired as a consultant at Westgate.
SIGHTINGS
No Doubt lead singer Gwen Stefani, with her husband Gavin Rossdale and family at Fleur by Hubert Keller inside Mandalay Bay on Friday. No Doubt capped the opening day of Rock in Rio. … Metallica bassist Robert Trujillo, dining at The Northside Café (SLS) late Friday after taking in Rock in Rio. Bandmate Kirk Hammett, joining friends for a cigar at Casa Fuente (Caesars Palace) on Friday. … Sir Richard Branson, founder of Virgin Group, getting a tour of various Downtown Project venues from Tony Hsieh. Branson's tour included the opportunity to operate the fireball-shooting Praying Mantis at Container Park. … Former Super Bowl MVP Joe Theismann, taking in Journey at The Joint at the Hard Rock Hotel on Wednesday. … Tommy DeVito, one of the original Four Seasons, dining at Andiamo Italian Steakhouse at the D Las Vegas on Wednesday. … Actor Sung Kang of "Fast and Furious," dancing at Surrender nightclub (Encore at Wynn) on Friday.
THE PUNCH LINE
"A federal judge has set the first date for Bill Cosby's defamation lawsuit. And knowing Cosby, there probably won't be a second date." — Seth Meyers
Norm Clarke's column appears Sunday, Monday, Wednesday and Friday. Reach him at 702-383-0244 or norm@reviewjournal.com. Find more online at normclarke.com. Follow @Norm_Clarke on Twitter.