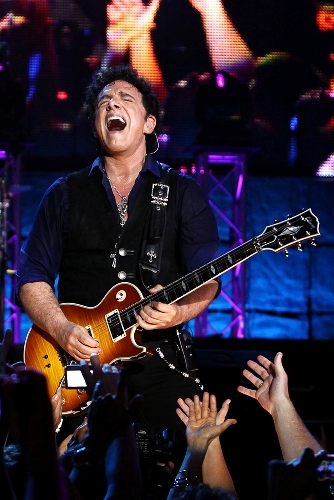 It's been three years since "The Sopranos" ended with a black screen and the sound of Journey's "Don't Stop Believin'." That final episode led to the song's becoming the biggest-ever downloaded iTune, with 3 million buys.
And Journey still is riding renewed popularity from that episode, which was a cultural event in America and continues to reach new fans on TV.
"It's pretty much a door-opener for us, worldwide," says guitarist Neal Schon — who takes a solo band co-starring his guitarist son to Green Valley Ranch tonight.
The next time Journey tours Europe, they'll get even bigger billing, he says.
"We're gonna be headlining these festivals now. It's a very exciting time for us.
"I look at the audience, and we're selling out everywhere," Schon, 56, says. "I'm seeing four generations of people out there. I'm seeing people that grew up with us, that are my age and the band's age. Then I'm seeing people in their 40s, and 30s, and young-young kids, who are, like, 7 and 8 years old."
Once new fans got hooked on "Don't Stop Believin'," they looked for other Journey hits. In the U.K. and Australia, Schon says, radio stations are playing songs from the band's way-back catalog.
"Some of the stuff is from '86!" he says. "It's very promising.
"Now we've got everybody's attention. And now they're re-releasing our greatest hits. They're re-releasing everything."
Naturally, Journey is cutting a new album in April for release around the holidays.
Schon and keyboardist Jonathan Cain already have written "12 ass-kicking tracks for Journey — very rocking, very, very good, great hooks," Schon says.
"It doesn't sound like stuff we already have. But it definitely sounds like Journey."
Once the new album drops, it'll be tour time again with Filipino singer Arnel Pineda, whom Schon discovered on YouTube, when Pineda was fronting a Journey cover band.
"We've spent the last three years building the band again with Arnel in (overseas) markets, and touring over there and playing the big festivals."
Journey also will find its way back to the States and South America and beyond, he says.
But he stresses the band recorded more than "Don't Stop Believin'."
"Don't get me wrong. 'Don't Stop Believin' ' is a great song. But it's not the only good song we wrote."
And "The Sopranos" was hardly the first movie or TV show to latch onto the hit. Before and after "The Sopranos," "Don't Stop" figured prominently in "The Wedding Singer," "Monster," "Shrek the Halls," "Bedtime Stories," and TV shows from "American Idol" to "Glee."
Las Vegas executives might think Journey would be a natural act to book into a Vegas showroom for a lengthy contract, the way Santana is fulfilling a two-year residency of gigs at the Hard Rock Hotel.
But Journey isn't about to settle down in Vegas anytime soon, Schon says.
"That's a long time to stay put in one place," says Schon, who toured with Santana when he was just 17.
"I don't think we're ready for that. The world is just opening up to us."
Anyway, during his downtime, Schon is bringing his solo band to Vegas. His son Miles, 21, will play alongside him.
"He's turned out to be an amazing guitar player. He looks very much like I did when I was his age at 21. It's wild to see us both onstage for a lot of people."
Also in the band: Prairie Prince, the original drummer for both Journey and the Tubes, plus Keith Saint John on vocals, Marco Mendoza on bass, and John Varn on keyboards.
The solo band is rehearsing "rocking stuff," including instrumentals, blues records Schon recorded in the 1990s, and electric blues, English style, from the late 1960s and early '70s.
Schon loves playing the late '60s/early '70s stuff. That was the era "when all the guitar players were great guitar players," he says.
And thanks to video games such as "Guitar Hero" and "Rock Band," many younger listeners are familiar with classic songs from that era.
Schon thinks those new listeners are getting their money's worth.
"It's just better music, I think," he says.
And that classic rock era definitely includes Journey, which lives on and on and on and on.
"None of us had a clue it would stick like this," he says.
"I'm so honored, like we all are.
"We had great success with our last record, 'Revelations.' And it's only a matter of time before the markets (around the world) that picked up on 'Don't Stop Believin' ' discover our new stuff as well."
Then again, you apparently never know how many years it'll take for new fans to get into Journey.
"It's taken them this long to find a song recorded in '86. Who knows how long it will take them to get to the rest of our library?"
Contact Doug Elfman at delfman@reviewjournal.com. He blogs at reviewjournal.com/elfman.
Preview
The Neal Schon Band
8 p.m. today
Ovation Lounge at Green Valley Ranch,
2300 Paseo Verde Parkway
$27-$49 (547-5300)