Storm Large brings eclectic approach to Cabaret Jazz Friday
April 16, 2014 - 10:48 pm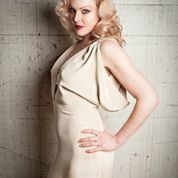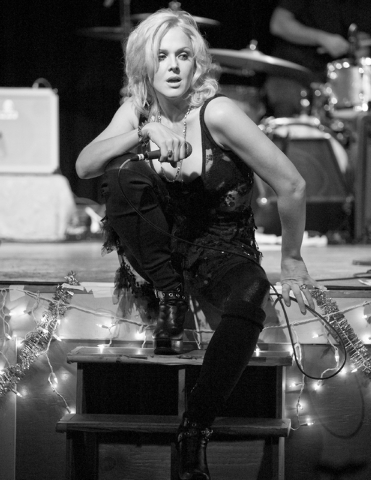 If you visit Storm Large's website, the following list pops up: "Musician. Actor. Playwright. Author. Awesome."
No brag, just fact, suggesting the scope of Large's talents, which she'll demonstrate Friday at The Smith Center's Cabaret Jazz.
Friday's gig represents Large's Las Vegas debut — which she doubted would ever happen because "I can't sing in a room where there's smoking," she says in a telephone interview. "I used to smoke, but I haven't had a cigarette in 20 years. I can't handle it."
So much for Las Vegas — that is, until her manager and agent told her about The Smith Center.
"No smoking, no gambling?" she says. "I don't consider (Las Vegas) a theater town, but it's changing. You're having a renaissance."
Large knows what that feels like.
She spent the 1990s singing in San Francisco clubs, then tired of the club scene and moved to Portland, Ore., intending to become a chef.
"(In) trying to be famous, it was hustle, hustle, hustle," she says. "It stopped being fun."
Instead of a career "cooking for some elderly lady," however, "I was bamboozled into performing again," she says.
And the rest is Storm Large history, when a 2002 cancellation at a Portland club turned into a standing engagement for Large and her new band, The Balls.
After reconnecting with her rocker roots, Large found an even larger showcase as a contestant on CBS' 2006 reality show "Rock Star: Supernova." She didn't win, but she reached the finals.
The TV competition was "really fun," she recalls, while acknowledging that "there's a lot of pressure, being on camera 24/7." Even so, it opened up an international audience to her — along with a fan base that continues to follow her, even as she ventures away from rock.
A lot of rock purists reject music if it's not loud, she says. And while a few people really miss the big, loud Storm, she says even more appreciate the variety of music she now performs.
After giving punk and rock songs a more jazz and blues style with The Balls, Large's experience performing in other venues — at Carnegie Hall, performing Kurt Weill's "Seven Deadly Sins" with the Detroit Symphony, or in such musicals as "Cabaret" — has spawned "a deeper fondness for classical and symphonic music," she says.
Overall, "it's a very comfortable place" she's in now, Large acknowledges, whether she's fronting her own ensemble or appearing with the band Pink Martini, which she joined in 2011.
Friday at Cabaret Jazz, Large says she plans to perform a mixture of great songs, reimagined.
Her four-piece band (featuring a guitarist, pianist, bassist and drummer) "is like a rock 'n' roll ensemble," but we're not going to blast," she promises — whether the number they're playing is a vintage pop standard, such as Cole Porter's "I've Got You Under My Skin," or "Sacred Love" by the punk band Bad Brains.
"Everyone should know that song," she says of the latter, noting that it has a lot in common with the Porter tune, especially its focus on obsessive love.
And though many people consider punk and rock "more edgy, more rebellious, if you explore the lyrics" Porter wrote, "they're just as edgy as anything Mick Jagger ever sang," Large maintains. "Rock 'n' roll and punk are a lot more garish with their imagery, (but) the message is still the same."
In 2009, Large performed an autobiographical musical memoir, "Crazy Enough," following it with a written memoir of the same title, which became an Oprah Winfrey book-of-the-week pick after its 2012 publication.
But despite her other pursuits (including a co-starring role in the big-screen black comedy "Rid of Me," which premiered at the 2011 Tribeca Film Festival), music remains Large's primary focus — whether singing or writing it.
In the latter category, Large is composing the score for the fact-based musical "The Everleigh Club," about the female proprietors of an upscale brothel in early 20th-century Chicago that was "basically the Playboy Mansion" — and so successful that it enabled the women who ran it to retire as millionaires.
"A lot of people have sticky, weird feelings about prostitution," Large says, but for the musical's protagonists, "this was a chance at the American dream."
As for the music itself, Large and her co-writer are "sort of hybridizing different genres — modern to ragtime to ballads to Broadway to pop to rock," she explains. "We have a lot of creative freedom."
And creative freedom remains a priority for Storm Large.
"I have an eclectic taste," she says — as long as "something strikes me as honest."
Contact reporter Carol Cling at ccling@reviewjournal.com or 702-383-0272.