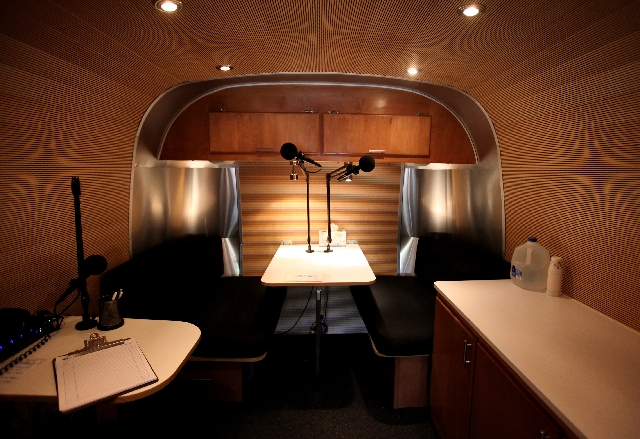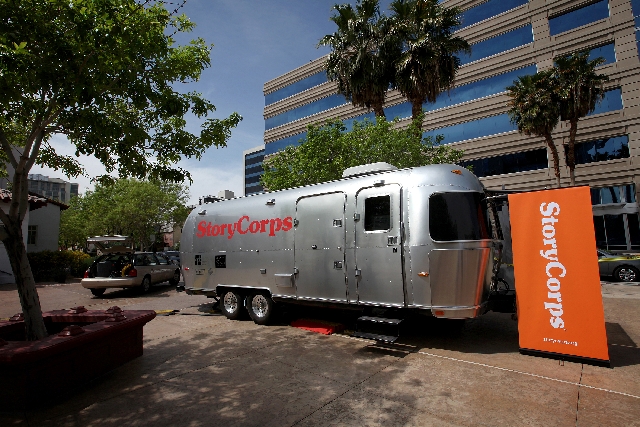 If StoryCorps accomplishes nothing else in Las Vegas, it'll be enough that the nonprofit organization has documented for future generations the oddly compelling fact that Alan Nakashima was born — seriously — at Santa Anita Park.
It was during World War II, Nakashima explains, and the venerable Southern California thoroughbred racetrack was being used as a sort of staging area for Japanese-Americans being moved to internment camps elsewhere.
After Nakashima's birth — and their stay at Santa Anita — Nakashima and his family spent two-and-a-half years at the federal government's Gila River relocation center in Arizona.
Nakashima has some fascinating stories about his family's experiences and hopes to compile that story into a book. But, last week, he shared his family's story in another way: through an interview, conducted by his wife, in the mobile recording studio of StoryCorps, whose goal is to record, share and preserve oral histories from a broad swatch of everyday Americans.
During the next few weeks, StoryCorps is inviting other Southern Nevadans to share their own stories via interviews with a friend or family member in its mobile StoryBooth in downtown Las Vegas.
StoryCorps' visit here is sponsored by KUNV-FM (91.5), the University of Nevada, Las Vegas' radio station, and Las Vegas' Office of Cultural Affairs. KUNV General Manager Frank Mueller says partnering with StoryCorps, which last visited Las Vegas in 2009, meshes with the station's mission.
"One of our goals as a university radio station," he says, "is to connect the ideas of education and enrichment that are offered through the university with our community, and StoryCorps fits in so well with that."
Lisa Polito, StoryCorps' mobile site supervisor, says the organization was founded in 2003 to offer Americans of every background the opportunity to record, share and preserve the stories of their lives.
The process is straightforward. Participants call ahead to schedule a one-hour time slot and arrive on the appointed day with the friend or family member who will be interviewing them. The interview will last about 40 minutes, and is recorded by StoryCorps facilitators.
At the end of the interview, the participant receives a complimentary broadcast-quality CD of the interview. Then, if the participant consents, the interview will be archived in StoryCorps' archive, housed at the American Folklife Center at the Library of Congress.
(African-American participants also may choose to have their stories archived in the Griot Initiative at the Smithsonian Institution, while Hispanic and Latino participants also may opt to have their interviews archived in the StoryCorps Historias project at the University of Texas, Austin.)
The participant also may consent to have an edited version of the interview broadcast on a StoryCorps partner radio station, including KUNV, or during StoryCorps' weekly segment on National Public Radio's "Morning Edition."
StoryCorps so far has collected and archived more than 40,000 interviews. Polito says that, taken together, those oral histories create a snapshot of life in the participants' communities.
Daniel Stout, director of the Greenspun School of Journalism and Media Studies at UNLV, and UNLV visiting professor Alicia Shepard, a journalist, author and former NPR ombudsman, kicked off StoryCorps' Las Vegas visit last week when they interviewed each other.
During their 40-minute session, Stout says he asked Shepard about her family's three-year-long sailboat journey in the South Pacific, while Shepard questioned Stout about his family's experiences several years ago after his son, then 18, suffered a serious brain injury.
The session "was amazing," Stout says, noting that the intimate, quiet environment in the StoryBooth allowed for that modern-day rarity of sustained, uninterrupted conversation.
"There's something that happens in the StoryCorps booth," Polito says. "It's an utter focus on the conversation."
During their interview, Joyce Nakashima questions her husband about his family's World War II experiences. Nakashima recalls that, while life in an internment camp was "an adventure" for him, it was "a tragedy and an uncertain time" for his parents and grandparents.
Joyce Nakashima even notes that her husband placed third in a "cutest baby" contest at the camp, and that her husband's birthplace proved to be a conversational icebreaker while they were dating.
"When we met a few years back, I said, 'Where are you from? Where were you born?' He says, 'Santa Anita racetrack.' I think, 'Oh, I've got to hear this story.' And that was the beginning."
Nakashima found StoryCorps' process "quite interesting" and an effective medium for sharing and preserving a personal story that might otherwise be lost.
"My grandparents and my parents aren't around to tell the story," he explains. "It either dies with me or I'm able to record it."
What sorts of stories do StoryCorps participants tell? "Like the mobile tour, it's all over the map," Polito says. "I mean, every individual is unique and has his or her own story and, likewise, every story that we record is a unique story.
"There are themes, sure. Themes of love and loss and courage and kindness, generosity, coming to an understanding of life and what's important in life. Those are some of them. But every story is compelling in its own way."
On the other side of the oral history spectrum, hearing the stories of others is just as important as recording them.
That, too, was the vision of Dave Isay, a documentarian and recipient of a MacArthur "genius grant" who founded StoryCorps, Polito says. "You get to hear someone you don't know, and yet, it still speaks to you."
Still, Polito admits that some StoryCorps participants have to be, let's call it "persuaded" by loved ones to be interviewed.
"Often, people think the story of their life is not interesting and is not worth telling," she says. "And they are usually surprised by the end of the 40 minutes that they have so much to say and that it was so important to the person who dragged them there."
Polito says times still are available on the StoryCorps schedule for Southern Nevadans who wish to participate. Recording is done Fridays through Mondays and on Wednesdays.
Although there is no charge to participate, StoryCorps, as a nonprofit, does request a $25 donation, Polito adds.
What emotion does Polito see on participants' faces when they leave their session? Most are "surprised and generally delighted," she says.
"There is just a real magic that happens in the booth, because every distraction is removed and the focused act of listening takes people to places and conversations where they most likely have never been before."
Contact reporter John Przybys at
jprzybys@reviewjournal.com or 702-383-0280.
GET INVOLVED
StoryCorps' mobile StoryBooth, a silver Airstream trailer, will be parked at Centennial Plaza, 401 S. Fourth St., in downtown Las Vegas, through April 26.
To schedule a recording session, call 800-850-4406 or visit StoryCorps' website (www.storycorps.org and click on "record your story").