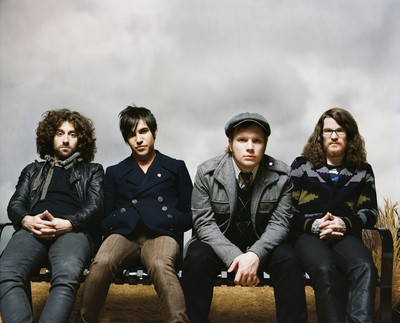 He hates The Beatles analogies — they reek of mothballs and Fixodent, such is their age — but he makes one anyway.
"I don't compare us to The Beatles," says Fall Out Boy guitarist Joe Trohman, treading carefully, like a cat burglar wary of triggering any sudden alarms, "but I compare our journey to theirs."
Seeing as how he plays in an equally loved and loathed pop band with song titles that will either elicit a chuckle or test one's gag reflexes — "The Carpal Tunnel of Love," anyone? — Trohman knows that he's wading into a kiddie pool full of man-eating sea beasties with a comment like that.
But he has a point.
So let him make it.
"You look at The Beatles, from the beginning to the end, they were not the same band when they broke up as when they started.
"I think more bands should do it that way," he says. "They shouldn't just decide, 'I'm going to put out a pop-punk record this time, I'm going to put out an '80s metal record next time.' It's nice to have an organic change every record. I think we're going through some of those changes." In a way, Fall Out Boy's musical growth mirrors a more basic, physical one.
Look at Trohman seven, eight years ago. He was a fresh-faced teen from a middle-class Chicago suburb, clean cut enough to pass for an extra on "Degrassi Junior High."
These days, he's a Brooklyn-based boheme with a geyser of hair exploding from his cranium. He's criss-crossed the globe virtually nonstop for much of the past decade and waxes enthusiastic about shopping in the Far East — "All our thrown away treasures somehow end up in Japan, whether it's an old 7-inch (record), an old T-shirt or an ALF doll. They collect all the stuff that we fly over there to buy back for twice as much money," he notes with a light laugh.
With this in mind, it's to be expected that Trohman's band isn't the same as it was when its members were still strangers to facial hair.
"All of us in general — but me and Patrick (Stump, singer/guitarist) especially — were like 17 when we started this band, and now we're in our mid-20s, so we've literally grown up doing this band," Trohman says. "We've gone from being the guys who can be pushed around to the guys who won't take any more crap. When you change that much, you're bound to change as an artist. I think that's just kind of what happened."
The proof is in Fall Out Boy's latest disc, "Folie a Deux," a frantic, messy, melodic, self-aware mish-mash that works seemingly in spite of itself.
"I don't care what you think, as long as it's about me," sings Stump on "I Don't Care," his malleable yelp distilling white-boy R&B on a tune that recalls Soft Cell's "Tainted Love" with its buzzing synth lines and get-out-of-your-seat chorus.
True to Stump's words, Fall Out Boy seems to pay little heed to whether its audience can keep up with its impulses, which the band indulges in freely on "Folie." Metal riffs, hip-hop beats, emo snarkiness, polished pop hooks and finger-snappin' funk lite all fight for air on a disc that never sits still long enough for you to get much of a bead on it.
A lengthy guest list of collaborators, including Elvis Costello, Blondie's Debbie Harry, Lil Wayne and Gym Class Heroes, testifies to the eclectic, head-spinning nature of the album.
But with the pop-punk blueprint practically etched in stone at this point, a band that hurls itself against the bounds of that sound — no matter how haphazardly — is still a welcome development.
"I think there's an aspect with this record where people have to listen to it more than once, which is kind of cool," Trohman says.
"It was a little bit of letting ourselves go. After the amount of records that we'd made, I think it was a great opportunity for us to go a little more left field. With every record, I think we'll be able to do more of what we want."
Besides, it's not as if these dudes are channeling Captain Beefheart or anything. "Folie a Deux" is not "Trout Mask Replica" in braces and Clearasil.
Even at their most diffuse, Fall Out Boy's tunes are still something that your kid sister could — and probably does — hum along to. Basically, all this bunch has done is figure out that growing up isn't necessarily synonymous with growing old.
"It's cool to attempt to push the envelope with your band, to try and stretch the limits of what we can and can't do in Fall Out Boy," Trohman acknowledges. "We couldn't have done this record three records ago. Even if we could have, I don't think people would have accepted it as much. But you have to expect every band to change."
Contact reporter Jason Bracelin at jbracelin@ reviewjournal.com or 702-383-0476.
Preview
Fall Out Boy
6 p.m. Sunday
The Pearl at the Palms, 4321 W. Flamingo Road
$41 (942-7777)