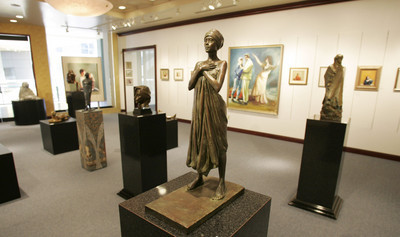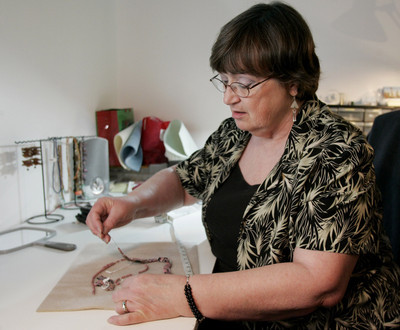 Gina Quaranto sits wide-eyed and smiling in her studio, surrounded — no, more like engulfed — by clutter.
"I don't know how I did art anywhere else," gushes the 31-year-old artist, whose Gothic, sometimes twisted but always surreal, art is inspired by her autistic son.
Quaranto moved into a small studio in the Southern Nevada Center for the Arts in November and insists it has opened up a whole new level of creativity for her work, despite the center's location: It's in Neonopolis.
But if her art is any indication, such an oddball place makes perfect sense for her. At least someone is trying to do something for the local art scene, she says.
"I'm so happy to be here. I've had all these ideas I've never had before," she says.
Indeed, the center's location, and mission, is unique, says its owner, Carl Corcoran. Alternately designed to provide artists with studio space while giving locals a way to consume art outside of First Friday, Neonopolis representatives hope that an art component will help revive the failed venue.
"The local community doesn't come downtown to do anything," says Rohit Joshi, whose group owns Neonopolis, which is at Fremont Street and Las Vegas Boulevard. Purchased two years ago, it has sat mostly empty except for a movie theater.
"Locals have no reason to come here. We hope to create more of a cultural aspect to attract locals," Joshi says.
In the first phase of that effort, the Southern Nevada Museum of Fine Art opened in September on the second floor of Neonopolis. Exhibits are on display at the museum, which has added about 130 additional members since opening, says Joe Palermo, local artist and museum curator.
The Center for the Arts, also on the second floor, had its grand opening in January.
Together, the art component takes up about 40,000 square feet of the 250,000-square-foot venue, and Joshi hopes it will become a major draw. Future plans include converting a couple of theaters into a playhouse and expanding the museum.
"It's very unusual to put a museum in a commercial center, I don't know of any city that has this type of venue. But this is Las Vegas," Palermo says. "It might work."
The facility draws big crowds during special events, Corcoran says, while local artists interested in leasing studio space have flocked to the center. Currently about 50 artists inhabit 30 studios, with some sharing space.
Quaranto spends as much time in her studio as possible, 12 hours a day on the weekends and at least five hours a day during the week. Her studio looks well-used, with paintbrushes, pieces of paper and little odds and ends scattered across her desk. Her mother would insist it needs to be cleaned, but sometimes art is messy, she says with a laugh.
The art scene needed a place like the center, Quaranto says, because it fosters a sense of community and helps them display — and sell — their work.
"Artists like to be together," says artist Michael Griesgraber, who moved into a studio in November. He gave up his studio space in the Holsum Lofts because he was alone. "I need to be with other artists."
Contact reporter Sonya Padgett at spadgett@reviewjournal.com or 702-380-4564.