Summerlin's Patriotic Parade heralded as bigger and better – PHOTOS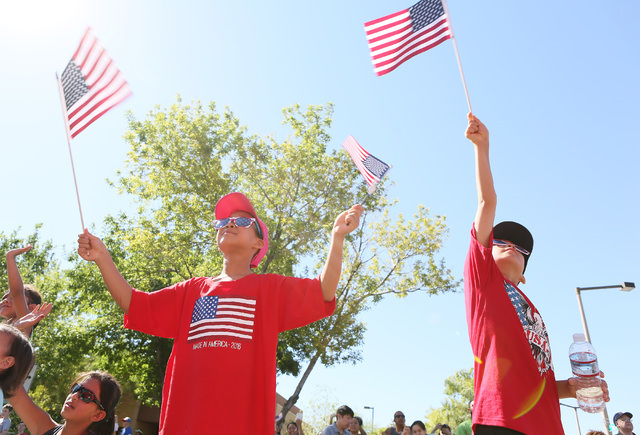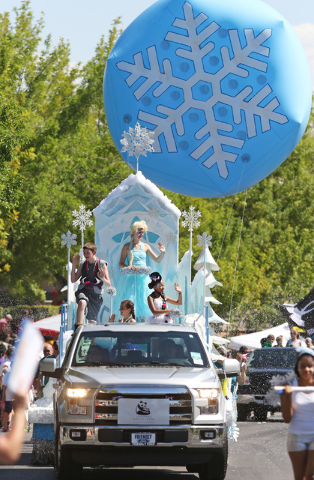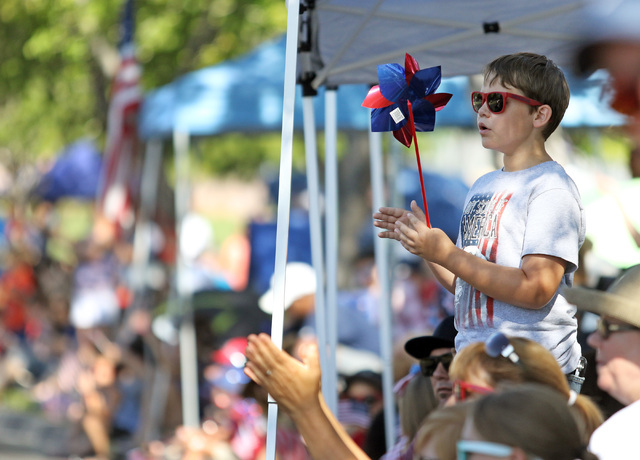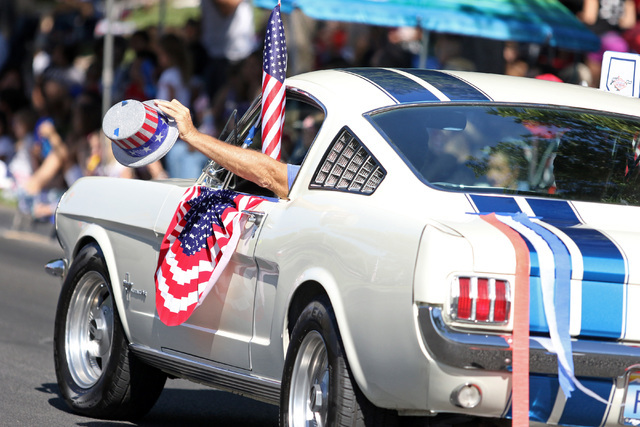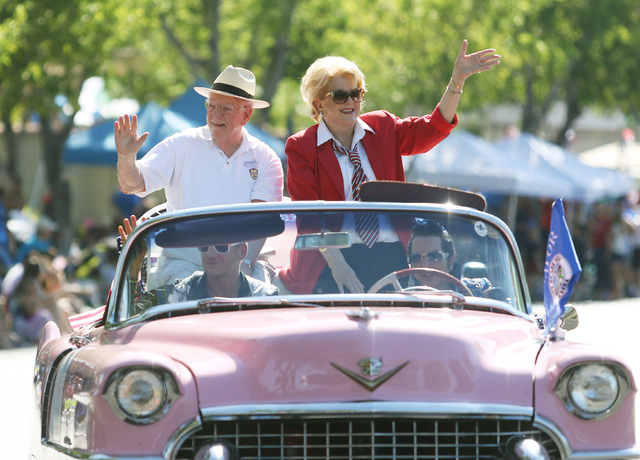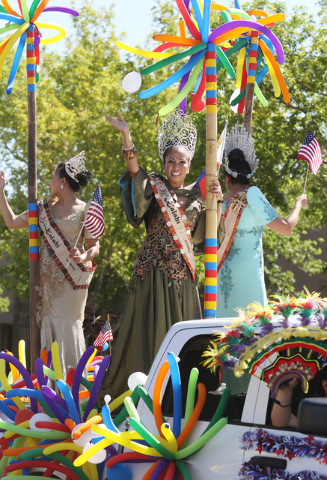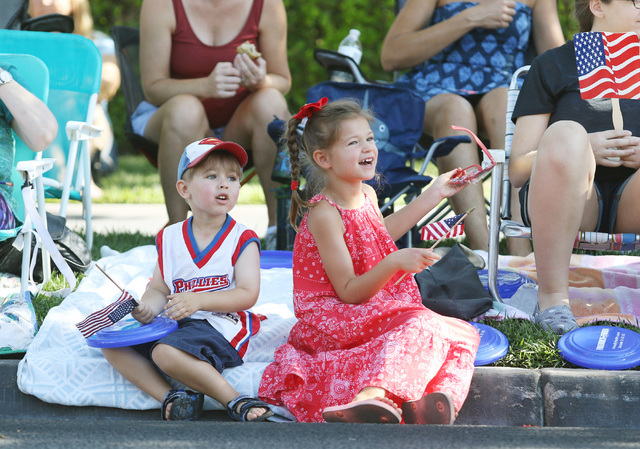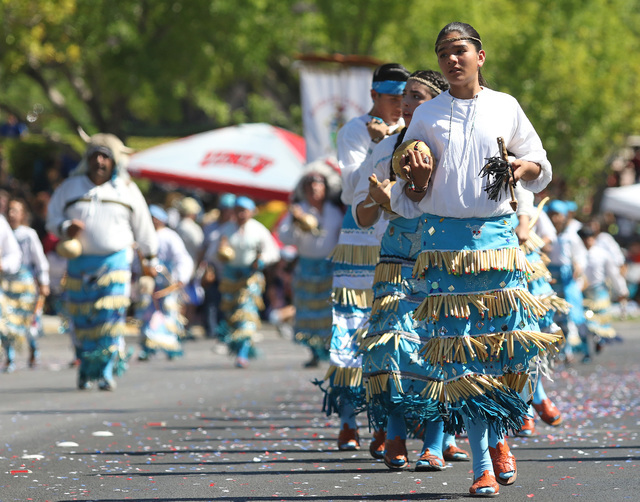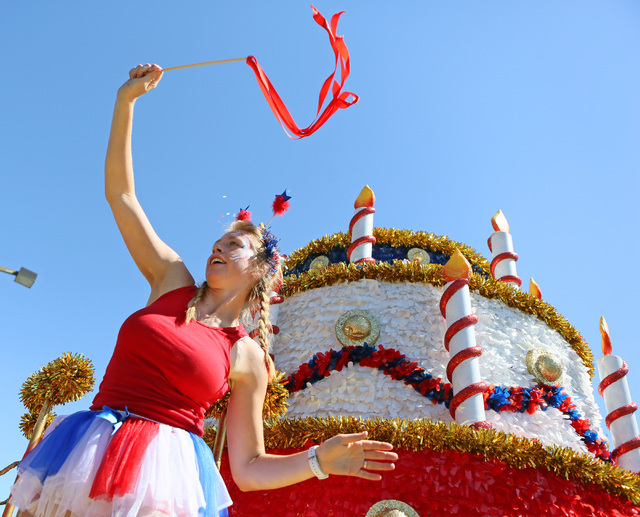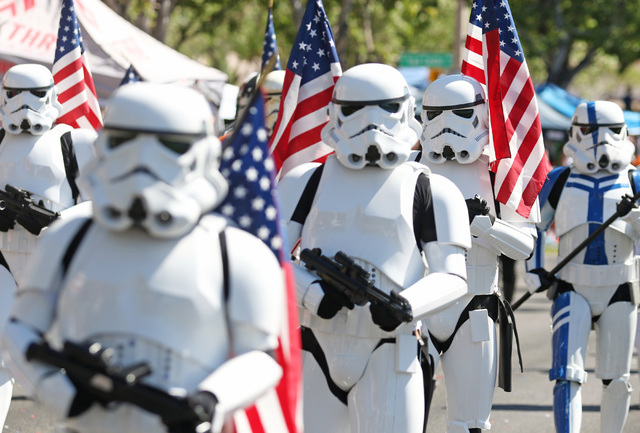 Tens of thousands of people lined Village Center Circle and surrounding streets in Summerlin on Monday morning to celebrate the 22nd annual Summerlin Council Patriotic Parade.
Families arrived early to set up tents, chairs and picnic blankets with snacks and goodies for kids, many of whom dressed in red, white and blue. With 22 years under its belt, the Patriotic Parade has become a multigenerational affair.
"There are now moms and dads seating their kids on the curb who, when we started more than two decades ago, they were the kids sitting on the curb," said Tom Warden, Summerlin's senior vice president of community and government relations.
Sen. Dean Heller, R-Nev., and Lt. Gov. Mark Hutchison started off the mile-long parade, which features more than 70 entries, including floats; bands; characters from storybooks and cartoons; American military heroes; and giant balloons filled with more than 16,000 cubic feet of helium.
The parade was born in the 1990s, when a couple of dozen kids on bicycles waved streamers and rode around the Summerlin Library.
"Every year it got a little bigger and a little better," Warden said. "Now it's a whole range of stuff for every member of the family."
More than 2,500 people participate in the parade and about 600 volunteers from schools, churches and clubs donate time to ensure things go off without a hitch. But not every scenario can be planned for. One of the parade's vehicles stalled out and came to a rest in the street. Spectators rushed from their chairs on the sidewalk to help push the car to safety.
Marleen Gunnerson and her friends and family set up their tents and chairs at 5 p.m. the day before to reserve a prime spot for the 15 or so kids with their group, who range in age from newborn to 15 years old. The Gunnersons have attended the parade for the past five years and said they enjoy seeing how some of their favorite floats have improved over the years.
"Every year it gets better," Gunnerson said. "We were noticing the 'Star Wars' one, they start out so small and now it's massive."
Another float favorite is "The Greatest Generation" float, which featuresWorld War II veterans.
"Today is a celebration of American independence, but it's also a celebration and honoring of veterans and war heroes and that's an important part," Warden said. "It just seems very appropriate that we honor those who have served on our nation's birthday."
Warden recalls seeing people cry as the float passes.
"It's very touching," he said.
Residents of the homes along the parade route stood on ladders and peeked over backyard walls for an elevated view.
Three 15-year-old Palo Verde High School students dressed in red, white and blue tutus and festive face paint walked in the parade for their first time as a part of the Station Casinos display. They held a banner, handed out candy and twirled ribbons during the hour that it took them to complete the route.
"They kept making us stop and it was really hot," said Abby Moore, one of the Palo Verde students.
The temperature was 97 degrees about the time the parade ended, according to the National Weather Service.
After the parade, families continued to celebrate with barbecues, pool parties and fireworks. The Summerlin Council will soon start planning for next year's event.
"The hard work starts in January, but there's planning that goes into effect as early as next month for the next year," Warden said. "It's a big deal."
Contact Lawren Linehan at llinehan@reviewjournal.com or at 702-383-0381. Find @lawrenlinehan on Twitter.