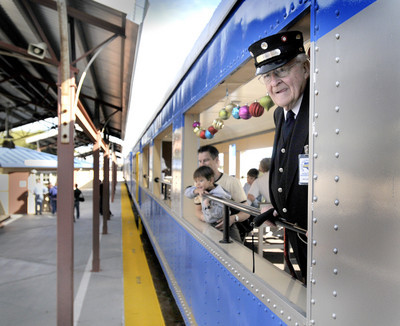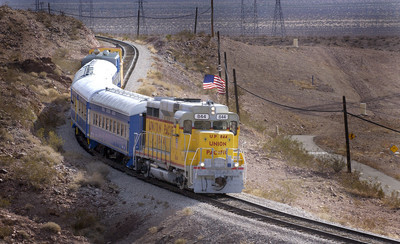 The jingle of sleigh bells and cries of "All Aboard!" will echo through Boulder City this month when the Santa Train comes to town.
It's not the Polar Express, but it brings several Christmas traditions together: Santa, trains and good will toward men.
For the seventh year, volunteers of the Nevada State Railroad Museum, 601 Yucca St. in Boulder City, will decorate a train in the holiday tradition and put Santa Claus and some helpers on board to greet passengers and ride the rails with them, says museum spokeswoman Laura Henning.
The Santa Train, which is scheduled to run Saturday and Sunday and Dec. 13 and 14, was started as a way to do something special for the community, Henning says. It has since become a favorite tradition for locals and volunteers alike.
Tickets are $2, a significant discount from the regular rate of $8 for adults and $4 for children.
"Some families can't come out here at the normal rate," Henning says. "The kids get excited about Santa Claus, who gives out candy canes, and they learn a little bit about the history of trains and how important they were to Nevada."
The train departs on the hour between 10 a.m. and 3 p.m. The attraction was so popular last year that the times were expanded, Henning says. The train holds about 300 people; the museum expects to sell 7,200 tickets this year.
"This is a super bargain and in this economy it's great to be able to offer something for the community," she says.
The route follows a 3.5-mile section of track that was laid in 1931 when Hoover Dam was under construction. It runs west toward the dam, though it stops short of it, Henning says. Passengers get to see a part of the desert they wouldn't see riding in a car, including the Eldorado Valley.
The museum's four locomotives are authentic diesel electrics, including one built in 1934, the first diesel electric locomotive purchased by the Union Pacific Railroad, Henning adds.
Passengers ride aboard fully restored Pullman coaches built in 1911.
Engineers, brakemen and conductors are all part of the museum's volunteer organization, Friends of Nevada Southern Railway.
Trains played a major role in Nevada's history, but many locals have never experienced a train ride or even seen a train in person, says Tony Bond, a volunteer steam and diesel train engineer.
"They're a living, breathing piece of machinery," Bond says of trains. "They're unique and they were essential to building our country. Without trains, our nation couldn't have progressed."
For more information, call 702-486-5933 or visit the Web site www.NevadaCulture.org.
Contact reporter Sonya Padgett at spadgett@reviewjournal.com or 702-380-4564.
If You Go The Santa Train: Nevada State Railroad Museum, 601 Yucca St., Boulder City Departs: At the top of the hour from 10 a.m. to 3 p.m. Saturday and Sunday and Dec. 13 and 14 Costs: $2 per person