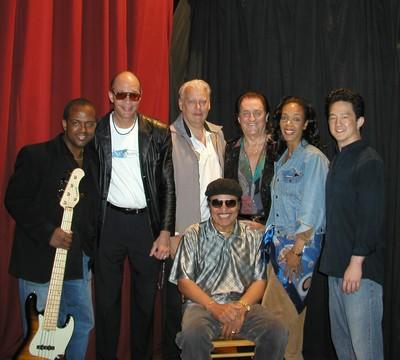 Think of jazz, rhythm & blues, rock, reggae and hip-hop.
Or, Louis Armstrong, Ray Charles, Chuck Berry, Bob Marley and Tupac Shakur.
All have one thing in common: the blues, a style of music created in the Mississippi Delta after the Civil War that has been the foundation of every form of popular music since the early 20th century.
It's been defined as a combination of African roots music, field hollers, ballads, church music and rhythmic dance tunes called jump-ups. But it's also been marginalized to the point where many young people today don't know what it is.
So the International House of Blues Foundation set out to change that with a series of programs called the Blues SchoolHouse, featuring the seven-piece Blues SchoolHouse band made up of local musicians Junior Brantley on keyboards; Brian O'Shea on trombone and vocals; Marque Munday and Teddy Davis Jr., vocalists and narrators; Al Ek on guitar; Lee Sanpai on drums; and Darryl Williams, music director.
Today, with two performances at the West Las Vegas Library theater, local schoolchildren and adults can discover the music, the history and the impact that the blues have had on not only music, but the larger culture, says International House of Blues Foundation program director Kim Russell.
Part of the Las Vegas-Clark County Library District's Reading Las Vegas program, the Blues SchoolHouse program "Through Our Eyes: The Great Migration" is an education-through-music concert that annually reaches more than 7,000 local schoolchildren at the House of Blues venue.
The show, which also ventures out into the community, includes literature, music, theater and visual arts as they relate to the blues.
"Kids today need to see the relation in musical history of the music and the integration of writing, art and the history of jazz," says Jani Jeppe of the West Las Vegas Library.
The 1 p.m. show is for schoolchildren — about 250 are expected to attend — and the 6:30 p.m. show is for adults and children.
what: International House of Blues Foundation Blues SchoolHouse when: 1 and 6:30 p.m. todaywhere: West Las Vegas Library theater, 951 W. Lake Mead Blvd. admission: Free (507-3989)