October 7, 2010 - 11:00 pm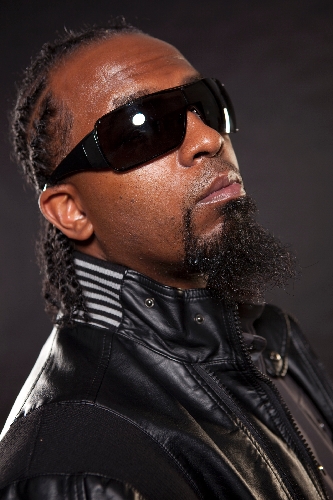 He punctuates his ambitions with a laugh, which thunders out of him like stampeding livestock.
"I really would like to be the Michael Jackson of hip-hop," Tech N9ne says, cracking himself up at the thought.
He's not really being funny though.
"It might sound weird or corny or whatever, but if I can't go to Las Vegas and see a show where somebody's imitating me like they do Michael Jackson, like they do Prince, then I haven't made it," he continues. "That's my wish, to go to a Tech N9ne show to watch what everybody else sees."
Tech N9ne (Aaron Dontez Yates) is talking from his tour bus on a recent Friday afternoon, getting ready for a gig in Seattle.
He practically lives on the road, and has for years, performing hundreds of shows a year for more than a decade now.
Touring heavily is nothing particularly novel, but it's less common for a rap act, especially one like Yates, who's spent the majority of his career outside the traditional music industry structure.
After some dalliances with major labels in the '90s, the Kansas City-based MC started his own label, Strange Music, in 2000 and has managed to independently sell more than a million copies of his 11 albums, with his most recent being the more party-centric "The Gates Mixed Plate," released in July.
Yates has never had much of any radio or video play or mainstream exposure, nor has he been a steady presence on other artists' mixtapes, a routine way of building a name for oneself in hip-hop.
He's never had any real hits to speak of, relying instead on constant travel to get the word out about his particular style of Midwestern hip-hop, which is rife with dark, often sinister themes, hard rock and old-school funk flourishes and some of his own trademarks, like rapping backward.
"I knew that if you wanted to be the hip-hop president, you've got to get out there and politic," Yates says of his route to success. "And how would you politic being a hip-hop artist? Not just going on MySpace, Twitter and Facebook — that's good, but you've got to get out there and touch the people. Go to these towns where they don't have a lot of people coming in. Some of these towns we've stayed in for like a week promoting before the show, really making new fans, one by one."
And he's speaking literally, in some instances.
"When we first did a show in San Diego, there were seven people there, but we did that show like there were 7,000 there," he says. "So when we came back, there were like 50 people. We came back again, it was 100 people. We came back again, it was 300 people. Now we sell out the House of Blues there."
These days, Yates is playing 10,000-seaters in some markets, a significant achievement for an artist who's still wholly underground, a cult act if ever there were one.
His fan base is its own community, kind of like what horror rap-rockers the Insane Clown Posse have built for themselves.
It's a long way from the career that Yates had imagined for himself when he was a kid.
"I thought I was going to be a psychiatrist," he says. "I wanted to be a psychiatrist so bad that I stole psychology books from school. I always wanted to know what was going on in the brain. That's why I studied people like Charles Manson and Jeffrey Dahmer, all the serial killers, because I just wanted to understand what the human brain would do to create such evil. I'm the opposite of evil. People don't know that, they think that I'm evil because I studied it."
Speaking with Yates for a few minutes, it's hard to feel any kind of malevolence from the dude.
He's an amiable, easy-going presence, and decidedly laid back.
The same can't be said of his tour itinerary.
"If you're gonna do it, do it to the fullest. And that's what we're doing," Yates says of his near-constant roadwork. "We're gonna do it till the wheels fall off, man. And the wheels are pretty tight."
Contact reporter Jason Bracelin at jbracelin@ reviewjournal.com or 702-383-0476.
Preview
Tech N9ne
7 p.m. Sunday
House of Blues at Mandalay Bay, 3950 Las Vegas Blvd. South
$29-$33 (632-7600)