November 14, 2008 - 10:00 pm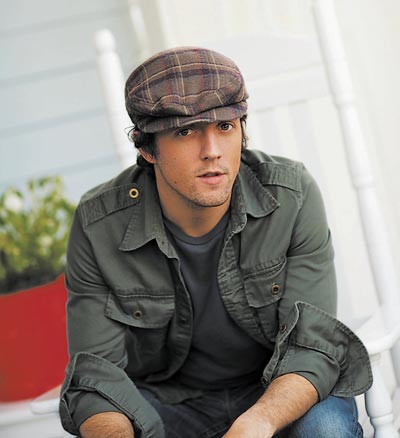 Interviewing Jason Mraz is a crazy, entertaining experience. He tells honest stories about the time the Rolling Stones hit on his mom; and goofy jokes about sleeping with models; and then, suddenly, he predicts that in a few years, humans will evolve to the point that kids will be born with telekinesis.
Oh my God, where to even start with all that? Let's start with the telekinesis.
He and I were talking about the election. He said it will prove to be a huge transformation, but the world is transforming in other ways, too, like how people are "waking up" by eating organic food with its "real food and nutrients."
"All that stuff, little by little, is gonna keep waking us up," Mraz, 31, said. "And I guarantee you, in the next five to 10 years, there'll be kids born with superpowers that we've yet to see.
"Humans are still evolving. A 2- or 3-year-old can operate a computer with lightning speed. In a couple more years, I wouldn't be surprised if a child is born with telepathy."
Like in "Heroes"? I ask.
"Yeah," he says. "That would be cool. But with every hero, there has to be its opposite, right? So there will be people born with these powers that will ultimately try to take advantage."
I thought he was being totally serious, but he let out a little chuckle. Either way, the superpower thing is a fun theory.
As for the Rolling Stones, he went on tour with them some years back. These days, he's a headliner with mostly sold-out shows around the country, thanks to a hard-core fan base, and his singer-songwriter hits "Geek in the Pink," "I'm Yours" and "The Remedy." But he used to open for the Stones, Alanis Morissette and other performers.
Anyway, opening for the Stones was an honor, but it was a little nerve wracking, because fans just wanted to drink, chat and wait for the Stones. Plus, Mraz had almost no access backstage, where there were "about a million security people" and crew members. He met the Stones one time — during a photo shoot.
"I had a two-minute rendezvous with them. It was pretty crazy. We had to stand in the pose already. And they were just gonna run in and smile and leave. Which is pretty much what happened.
"But I had my mom with me, and they took those two minutes to flirt with Mom and make her feel great. It was awesome," he said. "She was totally blushing and swooning. Her breath was taken away."
The Stones were old pros on the flirting front.
"Even Keith (Richards), with his swaggery ways, was, you know: 'Hello Dahling, really good time.' I thought he was gonna lick my mom's hand, but it was more of a graze over my mom's hand. It was pretty cool."
Mraz, a sex symbol himself, is not that kind of flirt, he said. I passed onto him some questions I compiled from hard-core Mraz fans. These fan questions included, "Did you hook up with any of the women from Raining Jane" — an all-female group he's worked with — "and did you hook up with any of the models from your music video," the one set in Hawaii.
"I am dating all of them in Raining Jane. I love all of those girls!" he said, then backed off the joke. "No. And unfortunately, after the hike in Hawaii, I did not see any of those girls anymore — the video girls."
These fans also wanted to know if he was available to hook up with groupies. He said no thanks.
"I'm more of a guy that needs the girlfriend experience, so I can't just do a hookup on the fly," he said. "Based on my current tour schedule, I don't have the time to bond and blend in with those girls."
"Blend in" with girls. There's your double-entendre for the weekend. Use it freely, or use it wisely, but use it.
Doug Elfman's column appears Sundays, Mondays, Tuesdays and Fridays. Contact him at 702-383-0391 or delfman@reviewjournal.com. He blogs at reviewjournal.com/elfman.
Preview Jason Mraz 8 p.m. Saturday The Pearl at the Palms, 4321 W. Flamingo Road $35-$40 (942-7777)