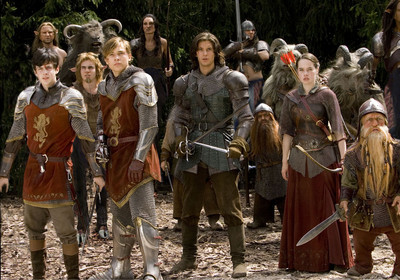 Bigger might not be better, but at least it's not worse.
And for that, "Narnia" fans should be thankful.
The second cinematic adaptation of C.S. Lewis' beloved "Chronicles of Narnia" tales, "Prince Caspian" serves up a rousing, if occasionally ponderous, adventure.
It may lack much of the magic that marked the first movie in the series, 2005's "The Lion, the Witch and the Wardrobe." But true believers make allowances for the frailties and shortcomings of their friends.
Besides, we're all a bit older and wiser these days.
That includes the four Pevensie siblings — stalwart Peter (William Moseley), practical Susan (Anna Popplewell), mischievous Edmund (Skandar Keynes) and little Lucy (Georgie Henley) — who are back in World War II-era London following their adventures in the wondrous land of Narnia.
It's only a year later in human time — but when a speeding London Underground train whooshes past, whisking them back to Narnia, they discover that more than a millennium has passed in that magical realm.
Alas, it doesn't seem quite so magical anymore. Not with Narnia's talking creatures, from dwarves to centaurs, relegated to an off-limits forest while swarthy human conquerors known as Telmarines hold court at the castle.
"Prince Caspian's" title character (dashing British stage veteran Ben Barnes) may be heir to the Telmarine throne, but his scheming uncle, Lord Miraz (Italian charmer Sergio Castellitto, oozing nefarious command), has other plans for Caspian. Deadly plans.
Little wonder, then, that the valiant prince flees for his life, escaping into the woods. (Where all good fairy tale characters run away, my dears.)
Despite their suspicions, the embattled Narnians reluctantly agree to help Prince Caspian regain his throne, confident of victory with the legendary Pevensie quartet on their side.
From there, "Prince Caspian" soldiers onward, if not necessarily upward, unfolding as a series of ever escalating yet inescapably repetitive battle sequences.
They're impressively staged, to be sure, as the forces of good test their faith and fortitude during a seemingly endless struggle against evil. (That's hardly surprising, considering "The Chronicles of Narnia's" status as a Christian allegory, with selfless sacrifice and loving forgiveness portrayed as primary virtues.)
And while the Pevensie kids all seem more mature, having lost their innocence in the first "Narnia" movie, there's not as much chance for character development in the midst of all the arrow-launching and sword-swinging.
As a result, returning "Narnia" director Andrew Adamson (who also helmed the first two "Shrek" movies) can't maintain the momentum "Prince Caspian" establishes in its intriguing opening scenes.
Instead, the movie maintains a steady but sluggish pace, lumbering from one crisis to the next as it shows off lovely natural settings (ranging from New Zealand to Poland), captured by director of photography Karl Walter Lindenlaub, and seamless visual effects (supervised by "The Lion, the Witch and the Wardrobe" veteran Dean Wright).
As usual, you can trace the main problem to the script (by Adamson and returning "The Lion, the Witch and the Wardrobe" writers Christopher Markus and Stephen McFeely).
This time around, they don't have the powerful light-and-dark contrast embodied by the first movie's symbolic lion, Aslan (voiced by Liam Neeson), and the White Witch (played by "Michael Clayton" Oscar-winner Tilda Swinton).
Caspian may be dauntless and daring. Miraz and his henchmen ("Night at the Museum's" Pierfrancesco Favino, "El Crimen del Padre Amaro's" Damian Alcazar) may be ruthless and murderous. But they're only human, after all, and as such don't have the haunting impact of their mystical, mythical predecessors.
Fortunately, "Prince Caspian" boasts a few standouts in its supporting cast, notably the versatile Peter Dinklage ("The Station Agent"), buried under mountains of makeup, as grumpy but gallant Trumpkin the Red Dwarf.
And the ever-amusing Eddie Izzard strikes yet again, giving voice to a mighty mouse named Reepicheep. (If only somebody would team mouseketeer Reepicheep with "Shrek's" swashbuckling Puss in Boots, voiced by Antonio Banderas. Now that would be a dynamic cat-and-mouse duo indeed.)
They provide the brightest, most amusing spots in a movie largely devoid of them, making "Prince Caspian" an earnest (sometimes overearnest) tale indeed.
Yet those who fell under the spell of "The Lion, the Witch and the Wardrobe" undoubtedly will be pleased to join the Pevensie siblings' return trek to Narnia. Even if it's not as memorable a trip the second time around.
Contact movie critic Carol Cling at ccling@reviewjournal.com or 702-383-0272.
movie: "The Chronicles of Narnia: Prince Caspian" running time: 140 minutes rating: PG; epic battle action, violence grade: B- now playing: Cannery, Cinedome, Colonnade, Fiesta, Neonopolis, Orleans, Palms, Rainbow, Red Rock, Sam's Town, Santa Fe, Showcase, South Point, Sunset, Texas, Town Square, Village Square, Las Vegas Drive-in DEJA VIEW Narnia's hardly the only magical land the movies have brought to life, as these titles attest: "The Wizard of Oz" (1939) — Follow the Yellow Brick Road to L. Frank Baum's Emerald City with Dorothy (Judy Garland) and friends in this enduring classic. "Alice in Wonderland" (1951) — Lewis Carroll's wondrous through-the-looking-glass world gets the Disney touch in this animated fantasy. "Excalibur" (1981) — Director John Boorman brings King Arthur's Camelot to life, with Helen Mirren, Nicol Williamson, Gabriel Byrne, Liam Neeson and Patrick Stewart among the cast. "The Princess Bride" (1987) — From the Cliffs of Insanity to the Pit of Despair, the fantastical realm of Florin provides the backdrop for this tale of true love and dread pirates featuring Robin Wright-Penn, Cary Elwes and Mandy Patinkin. "The Lord of the Rings: The Fellowship of the Ring" (2001) — J.R.R. Tolkien's Middle-earth comes to life in the first installment of director Peter Jackson's Oscar-winning trilogy.