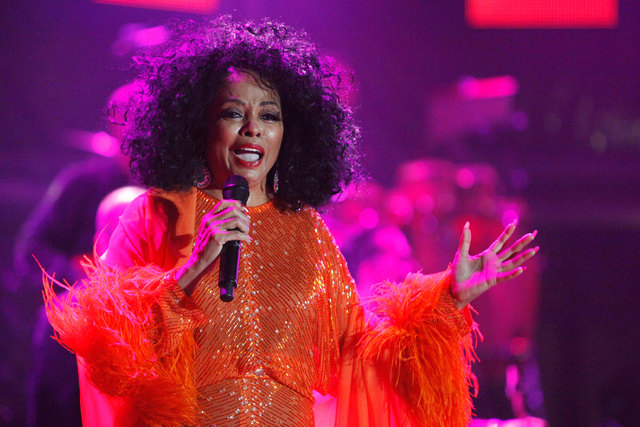 When Diana Ross returns to The Venetian on Wednesday night, it marks the start of her third nine-show mini-residency here. The still-glamorous 72-year-old diva was the founding member and lead singer of The Supremes who during the 1960s was Motown's most-successful act.
To this day, The Supremes are still one of the bestselling girl groups of all time with 12 No. 1 hits. Diana departed The Supremes in 1970, and her first solo album, which included "Reach Out and Touch Somebody's Hand" and "Ain't No Mountain High Enough," also went to No. 1.
Diana was declared the most successful female music artist in history by The Guinness Book of World Records in 1993 and named The Female Entertainer of the Century by Billboard Magazine.
I had the opportunity to ask her 10 quick questions as she got ready for a flight to Las Vegas, and, as you can see, she still has a great sense of humor:
What do you love about performing in Las Vegas? Do you still love to perform?
Working in Las Vegas is a very special and unique gift. Each night, there are different audiences with people from all over the world. The Venetian is very glamorous, along with the beautiful theater. I am looking forward to coming back on Wednesday.
What memories from yesteryear always come back to you when you're in Las Vegas?
The Motown days with the Motown memories.
Do you remember your emotions from the first Las Vegas show?
Yes. It was so much fun — and fear!
And when you returned to be a solo star?
Yes. It was so much fear — and fun!
Are you able to sneak out to go shopping or dining while here?
Actually, I like to play blackjack.
This is the third of your nine-show residencies. What has been your reaction to them? Anything surprise you?
With the different audiences every night, I love looking at their faces and watching them sing along to the songs. I see their beautiful smiles. The energy with the audience and in the room is beautiful and inspiring.
Can we expect more nine-show residencies? If so, when?
If you need me, call me!
Looking back to those very early years at Motown as depicted in Broadway's "Motown: The Musical," do you pinch yourself at how far you've come and lasted since those very early days?
I'm still pinching myself. It's nice to still be here. I'm so thankful.
Any changes to these new nine shows from your two previous visits? New costumes? You always look so fabulous!
I like dancing in the light. I love beautiful fashions and big hair.
Has music — and the songs — changed since you started out? If so, how? For better or worse? Do you have a favorite song in the show?
There are so many favorites, I try to flip them up each night. I always think of the great songwriters when performing the songs. I love change. I love the expansion of life. To me, it all gets better. The better it gets, the better it gets.
Diana Ross begins a nine-show run on select dates at The Venetian on Wednesday night.