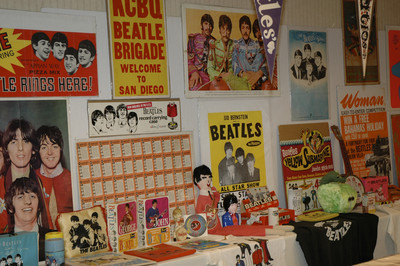 Listen … Do you want to know a secret? … Do you promise not to tell?
(Whoa, oh, oh.)
Buy a $60 ticket to ride over to The Mirage — don't worry, baby, you can drive my car — even if you're only a day-tripper, because it won't be here eight days a week, or even just a fab four.
"I went last year not knowing what to expect, that the Beatles spirit is so bohemian that maybe it wouldn't survive in Vegas, but it flourished as a desert rose blooms," says British Beatles scholar Martin Lewis, emcee for the three-day, second annual Las Vegas Fest for Beatles Fans.
Ob-la-di-ob-la-da, it goes on (BRAH!) la-la how the fest goes on Sunday through Tuesday when Beatles buddy/"Mellow Yellow" man Donovan (giving his first public Las Vegas performances), one-time George Harrison spouse/muse Pattie Boyd and ex-Ringo Starr fiancee Nancy Lee Andrews come together right now over the still-fascinating foursome, joined by bands that would make Beethoven roll over.
Beatlemaniacs also can feast on fest interviews with moptop mavens, authors and personalities, among them Boyd, Donovan and Vegas radio host Dennis Mitchell. And you can travel a long and winding road through Fab Four lore with exhibits, trivia, singalongs, art contests, "Name That Tune" competitions, book signings (including Boyd's "Wonderful Tonight: George Harrison, Eric Clapton and Me," detailing one of rock's legendary love triangles), CDs, DVDs, an "International Beatles Marketplace" of knickknacks and a Battle of the Beatles Bands, all sure to (please) please you.
"I've been doing this festival for 34 years," says Mark Lapidos, who, with his wife, Carol, produces the fests staged across the country, the second Vegas soiree ranking as the 108th edition. "I went to John Lennon with the idea back in 1974 and he said, 'I'm all for it, I'm a Beatles fan, too.' Now my daughters are Beatles fans — they had their Britney Spears phase."
All this lovin' they will send to you at the Grand Ballroom at The Mirage, also home to Cirque du Soleil's Fab Four fantasia, "Love." Donovan, who performs Monday and Tuesday — playing hits including "Sunshine Superman" and "Season of the Witch," as well as "Mellow Yellow" — is marking the 40th anniversary of his spiritual sojourn to India and meeting with the Maharishi Mahesh Yogi alongside the Liverpool lads (a journey inspired by Boyd's suggestion to Harrison to explore meditation).
"With Donovan, you get the stories, like how Paul came to his house and had a new song and couldn't figure out the lyrics," Lapidos says. "It was a song you may have heard of called 'Yellow Submarine.' Paul played him the song and said, 'I need some words.' So Donovan goes upstairs, comes back later and says, 'Sky of blue, sea of green.' And Paul says, 'That's it!' He's got a lot of those stories. And he really taught John finger-picking for the 'White Album.' "
So many reminders to rummage through at this Beatles bacchanalia, and to some events you'll say yes, to some you'll say no, to some you'll say stop, to some you'll say go, go, go. (But go too fast and you'll get dizzy and imagine seeing tangerine trees and marmalade skies through kaleidoscope eyes.) Billy J. Kramer, whose band, the Dakotas, was handled by Beatles manager Brian Epstein and scored hits penned by Lennon-McCartney, will take the stage, as well as Beatles confidant Spencer Davis.
"When I first hosted the convention in 1991, I did it at the urging of my late friend, the great Harry Nilsson," Lewis recalls. "He was doing one of these festivals, and I thought, 'Uh-oh.' In England, everything is very class-oriented and fests, well …
"But Harry said, 'No, no, no, you need to come to this, it's really special.' He went on to talk about gun control, which was important to him because of the way John Lennon died, but he also said, 'It's our duty, we were there, we're passing the baton on to the next generation.' "
Tutoring that generation to musically get back to where their parents (and even grandparents) once belonged will be guests including Jude Southerland Kessler showcasing "Shoulda Been There," her 800-page tome about Lennon's life from 1940 to 1961; photographer Ian Wright, unveiling an exhibit in tandem with his book, "On the Brink of Fame"; and members of the "Love" cast and crew, who on Monday will rap about the hard day's nights of mounting the show.
"I was very skeptical about hosting this despite Harry's endorsement, but he was exactly right," Lewis says. "I found it endearing that even though there were a lot of baby boomers, there was a reasonable minority who were young. Once I started doing it, I found that ratio changing year by year. By 1995 and 1996, at least half the people coming were young. Now it's more like three-quarters, people who were not born when the Beatles broke up."
Perhaps you'll sample all the attractions with a little help from your friends who tag along. The guest list goes on to include Ringo's former producer, Mark Hudson, as well as Ken Mansfield, former U.S. manager of the Beatles' Apple Records, who recently authored "The White Book: The Beatles, The Band, The Biz — An Insider's Look at an Era." And Andrews will recall co-starring with Ringo and autograph copies of her coffee-table volume, "A Dose of Rock 'n' Roll."
So, Beatlemaniacs: If you want it, here it is — come and get it.
But don't bring your walrus.
Coo coo cachoo to you, too.
Contact reporter Steve Bornfeld at sbornfeld@reviewjournal.com or 702-383-0256.
what: The Las Vegas Fest for Beatles Fans
when: 2 p.m.-midnight Sunday-Tuesday
where: Grand Ballroom at The Mirage, 3400 Las Vegas Blvd. South
tickets: $60 per day for adults; $30 per day for children 7-12; free for children 6 and younger (866-843-3378; www.thefest.com)