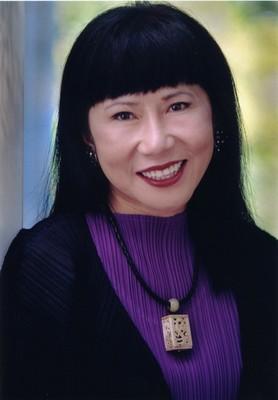 When "The Joy Luck Club" first was published in 1989, Amy Tan thought it would follow the pattern of most books and last maybe six weeks on store shelves.
Now, 18 years later, she says she is astounded that it has persevered, with more than 4 million copies in print and becoming an iconic representation of mother-daughter relationships around the world.
The book is this year's novel featured by The Big Read, a National Endowment for the Arts program that aims to "restore reading to the center of American culture."
Past books include "To Kill a Mockingbird," "The Grapes of Wrath" and other literary classics. The fact that "The Joy Luck Club," Tan's first novel, was selected solidifies its importance in American literature, leaving the author simultaneously humbled and frightened by the honor.
"It's also daunting because in a way I feel there is a certain standard. … I'm not trying to be falsely modest. I'm in awe of these books," she said during a recent phone interview. "It's frightening, too, because most of these writers are dead. It makes you aware of your mortality."
Tan will be in Las Vegas at 7 p.m. Saturday at the Clark County Library, 1401 E. Flamingo Road, and at 2 p.m. Sunday at the Summerlin Library, 1771 Inner Circle Drive, to discuss the book and her life experiences with locals, as part of the Las Vegas-Clark County Library District's Reading Las Vegas program.
Though nearly two decades have passed since its publication, "The Joy Luck Club" still resonates with readers, if the feedback Tan receives is any indication.
The book debuted to much praise and criticism. Some people embraced it as a map to understanding mother-daughter relationships while others claimed it portrayed Chinese men in a negative light.
Wherever Tan speaks — whether to people in an American city or students and faculty at a Jordanian university — the response to the book is universal. Mothers and daughters tell her that the book changed the nature of their relationships, enriched them, or helped them to understand a parent or child's perspective.
"For so long I felt like I knew nothing about being Chinese. My mother used to say that, that was one reason for writing the book. I find it very ironic when people say they identify with it," Tan said. "I think it's strange when people think of me as an expert on mothers and daughters and Asian culture. That is so far from the truth. … I know a whole lot more now. I wrote a lot of (the book) because I was confused and I had contradictory feelings about those things."
Though she won't take credit for her book's effect on others' lives, Tan is pleased that "The Joy Luck Club" helped to give readers a better understanding of Chinese culture, or at least sparked a desire to learn more about it.
But that is what fiction does, she said, and why reading is so important to life and culture. Tan hopes that The Big Read program entices people to pick up books again and recognize the impact that literature can have on a life. There is a concern, she added, that reading is on its way out.
"I think people are mistakenly thinking that reading fiction is not relevant to their lives," Tan said. "In a program like this, (people) have a way to come together and talk about how fiction relates to their lives today."
Fiction allows readers to put themselves in the shoes of a character whose life is different than their own. In the end, reading fiction enriches a life, Tan said.
"It's almost an exercise in compassion," Tan said. "When you read a book about a different culture, you see that some of your stereotypes might be washed away."
who: Amy Tan when/where: 7 p.m. Saturday, Clark County Library, 1401 E. Flamingo Road; 2 p.m. Sunday, Summerlin Library, 1771 Inner Circle Drive tickets: Free at the door; available one hour before readings (734-7323)