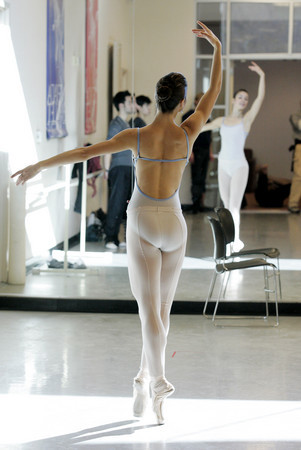 That's just … how to put this? … nuts.
"I'm astounded when I hear people say they've never seen 'The Nutcracker.' I cannot believe that is possible," says James Canfield, artistic director of Nevada Ballet Theatre, which stages the annual yuletide gift for a half-dozen holiday performances this week at Paris Las Vegas.
"I've met people in their 30s and 40s who have never seen it, and I'm like, 'You're kidding.' "
"Nut" novice? In a "Nut"-shell:
Arguably the world's most recognizable ballet, even to those who can't tell a plie from a pair of pliers. Set to cherished music by Pyotr Ilyich Tchaikovsky. (Just call him Tchaikovsky for short.)
Based on the story, "The Nutcracker and the King of Mice" by E.T.A. Hoffmann.
Tells the tale of Clara, a young German lass who dreams of a Nutcracker prince taking on a seven-headed Mouse King and a battle royale between dolls and mice. (Realism isn't its strong point.)
"It's easier when you have a story ballet for brand new people when they come," says Rebecca Brimhall, who dances the role of the snow queen.
"They understand it and follow it better, compared to more contemporary pieces we've done where people might sit there and go, 'OK, what's that all about?' "
Shopping for fairies, either of the sugar plum or dewdrop variety? Want to revel in elaborate sets, ornate costumes and waves and waves of dancers? Care to prance about the Kingdom of Sweets? Party-down in a holiday hoedown? This is your one-stop ballet.
"This will date me, but I've been doing 'The Nutcracker' since 1970 in one capacity or another," Canfield says. "For the kids, it's like, these are the roles that are yours when you're in eighth grade, then that's what you do in ninth grade. You look forward to it and start taking ownership of it. It's that time when they get to participate with the professional company and be around that energy, their entrance into the mainstage, aside from the school concerts they do."
Admiring the grown-ups, aspiring to their abilities? Grigori Arakelyan, who dances the role of cavalier, has experienced "The Nutcracker" from both perspectives. "I was still back in Armenia, in the academy there, fifth or sixth grade, and I was chosen to play one of the flower boys," Arakelyan recalls. "I looked up to the principal dancers and thought, 'I hope I grow up and be like them.' "
Glancing at this year's "Nutcracker" tote board: Pro dancers? Twenty-nine. Kids? Whoa — 103.
"This year we have a lot of boys, which is great because you don't see a lot of that in (ballet academies), which is a shame," Arakelyan says. "I can see now when we dance, the little kids look at us like, 'Oh my God, they look so great, I hope I can do this.' "
Though some productions of "The Nutcracker" feature a few dark elements not necessarily child-friendly — specifically, the face-off between the mice and the toy soldiers and Clara's courageous slaying of the Mouse King — this interpretation by renowned choreographer Peter Anastos keeps faith with the classic's festive elements. "When people have come from Christmas shopping and they're under all that stress, that's not what they're looking for," Anastos says about more ominous depictions of the fight scene.
This season, "Nutcracker" assumes a Parisian flair as the production hits the Strip, shifting from the Judy Bayley Theatre at the University of Nevada, Las Vegas to the Paris Theatre at Paris Las Vegas.
"The Nutcracker," if you'll excuse the expression, plays Vegas.
"It's a beautiful, vast theater, a bigger stage, a bigger house," Canfield says. "Judy Bayley is a small theater, and we weren't able to play the full sets there. This opens up new ideas and possibilities for us, and it's also one step toward being at the Smith Center."
The company is set as an anchor tenant, paired with the Las Vegas Philharmonic, at the Smith Center for the Performing Arts, now in construction and set for a late-2011 opening. For now, the venue change trades up the audience capacity from the Bayley's 550 to the Paris' 1,500-plus, offsetting the reduction of performances from 17 in past years to only six this season, climaxing Christmas Eve.
"It's the same number of seats in a shorter period of time," Canfield says. "When we do our market research, we see it's the performances prior to Christmas that sell best and it's the ones after it that are hard to sell. The mentality was, the holidays are over and we're still doing 'The Nutcracker.' We wanted to concentrate on getting our shows on before the holiday."
Whaddaya say, "Nutcracker" novice? Still unsure whether you want to experience a tradition so Christmas-y that Santa and the missus are spotted in the house every year?
That's just … nuts.
Contact reporter Steve Bornfeld at sbornfeld@ reviewjournal.com or 702-383-0256.
Preview
Nevada Ballet Theatre's "The Nutcracker"
8 p.m. today; 2 and 7 p.m. Saturday; 1 and 5 p.m. Sunday; 1 p.m. Thursday
The Paris Theatre, Paris Las Vegas, 3655 Las Vegas Blvd. South
$30-$85 (946-4567)