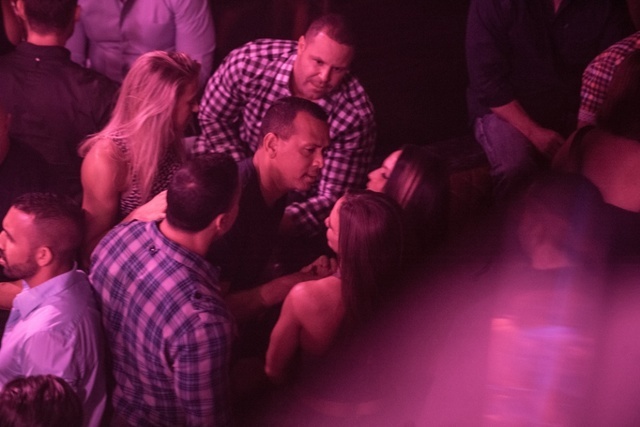 Funniest crowd interaction of the weekend: Dwayne "The Rock" Johnson was speaking to Mr. Olympia conventioneers when a guy screamed at him, "Take it off!"
"Take it off?" the action hero asked, chuckled and cracked at the fan, drawing big laughs: "Yeah, there's good weed here in Las Vegas."
If you're unaware, many "body people" (bodybuilders, fighters, yoga people, gym people) choose medical marijuana over damaging alcohol.
The Rock was there to accept a "Man of the Century ICON" award. He took along his daughter Simone Garcia-Johnson.
After The Rock landed in Vegas, he went to his hotel suite, and at 2:30 a.m. Saturday, he called his private butler to ask for a fork for his egg whites, "because I'm a wild and crazy man," The Rock joked with a big smile on Instagram:
"I said, 'OK, I need a fork.' There was a long pause. 'You need a fork?' He probably thought I was talking code for something else."
HEATH TAKES OLYMPIA VICTORY TO XS
As you may have heard by now, Phil Heath on Sunday won his sixth Mr. Olympia title, one shy of Arnold Schwarzenegger's seven titles, and two shy of the eight wins by Ronnie Coleman and Lee Haney. Latorya Watts won the women's figure contest.
Afterward, Heath partied at XS nightclub in the Wynn, where Zedd DJ'd, then he club-hopped to Wynn's Intrigue, where Diplo DJ'd, and where Heath met up with former Mr. Olympia (and Las Vegan) Jay Cutler.
COOLIO: ON GUNS, P.F. CHANG'S
Las Vegan Coolio posted a calm YouTube video, saying it was a "little misunderstanding" Saturday when he was taken into custody for having a loaded gun in a bag at LAX airport.
"As you can see, I'm at P.F. Chang's having a meal," Coolio says in the video, giving us the least-expected product placement of the year.
"I'm having a few drinks, and I don't know what's going to be the result of this in the future, but for now, I'm fine, and I appreciate everyone's concerns and all your posts," he said.
On Netflix, Coolio can still be seen co-starring in the 2012 Vegas movie, "Two Hundred Thousand Dirty." Disclosure: It was directed by a friend, Timothy Anderson.
$400K RAISED FOR LOCAL STUDENTS
More than $400,000 was raised from ticket sales and silent auctions at Friday night's food fest at Mandalay Bay Beach, "M.E.N.U.S: Mentoring & Education Nevada's Upcoming Students."
The money goes to Las Vegas students studying hospitality and culinary arts.
The event was bigger and even more enjoyable than last year's, offering tasty food from several dozen notable restaurants and chefs.
NICK JONAS BIRTHDAY
What do you do after performing in concert with Demi Lovato in Phoenix on your 24th birthday?
If you're Nick Jonas, you get on a plane with friends to fly to club XS.
That's what the singer did Friday. He hopped on the XS stage for 20 minutes with DJ David Guetta, who wished him a happy birthday on the mic, and he went back to partying.
WHAT AN A-ROD
Baseball legend Alex Rodriguez and his personal training team flew to Vegas to check out Mr. Olympia.
He was in such a good mood at MGM club Hakkasan Saturday, he danced to the music of DJ Axwell and hung with friends (drinking water) until 3 a.m.
He did the same thing at Aria's club Jewel the night before (water, dancing, chatting it up) until 2:30 a.m. while Lil Jon DJ'd.
SIGHTINGS
Basketball hero Bill Walton rocked out at the Venetian's John Fogerty show Friday. He wasn't one of those people holding up a cell phone. He stretched his big arms in the air, just as he has at Grateful Dead shows. Hard-to-believe fact: Walton has noddle-danced at 855 Dead shows.
Remember the nude guy who wrestles Borat in "Borat?" That's actor Ken Davitian. He watched "Mike Tyson: Undisputed" Thursday at the MGM Grand. (Davitian also co-starred in "Get Smart" with The Rock, by the way.)
Singer Julión Álvarez and friends were sitting at stage-side VIP table at club XS Friday during the Guetta/Jonas moment. After Guetta finished, Álvarez sang a few songs while Kris Nilsson DJ'd.
New Orleans Pelicans' Chris Copeland and singer Chiquis Rivera had their own VIP booths while watching Fetty Wap rap Saturday in the Cromwell club Drai's. Remy Boyz briefly joined Wap on stage for a collaboration.
Doug Elfman can be reached at delfman@reviewjournal.com. He blogs at reviewjournal.com/elfman. On Twitter: @VegasAnonymous