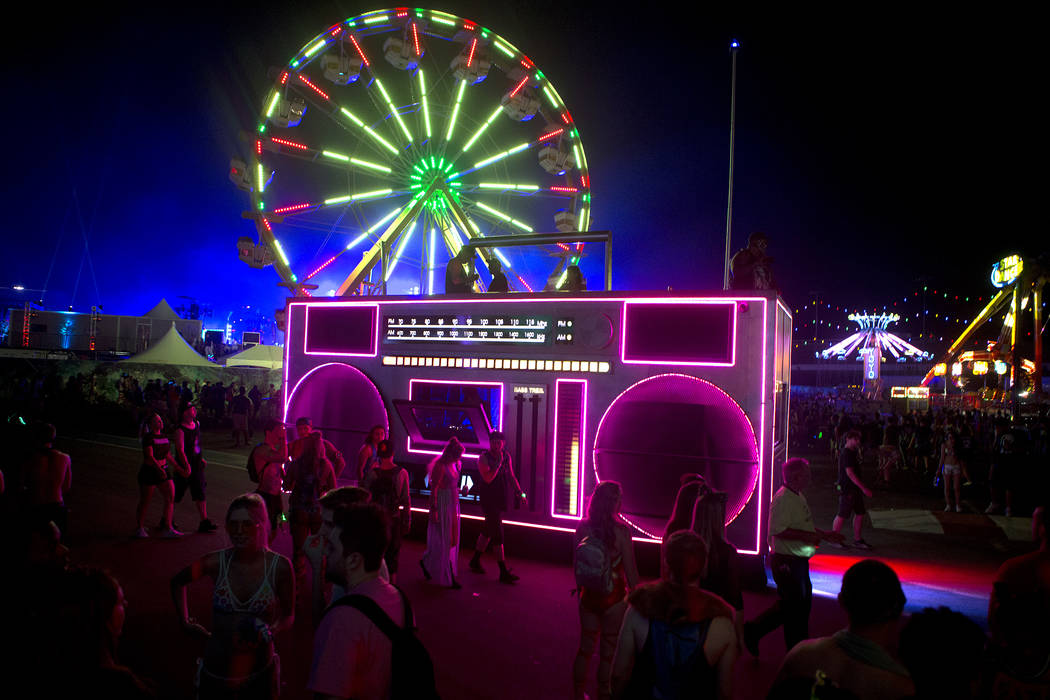 Sure, Electric Daisy Carnival is a music festival by definition. More than 180 DJs, across seven stages and some on art cars, control the music as tens of thousands dance from the time the gates open at 7 p.m. each evening to sunrise the next morning.
But as this year's attendees know, there's so much more to the three-night extravaganza at Las Vegas Motor Speedway. The festival focuses as much on art and immersive, multisensory experiences as it does on the music.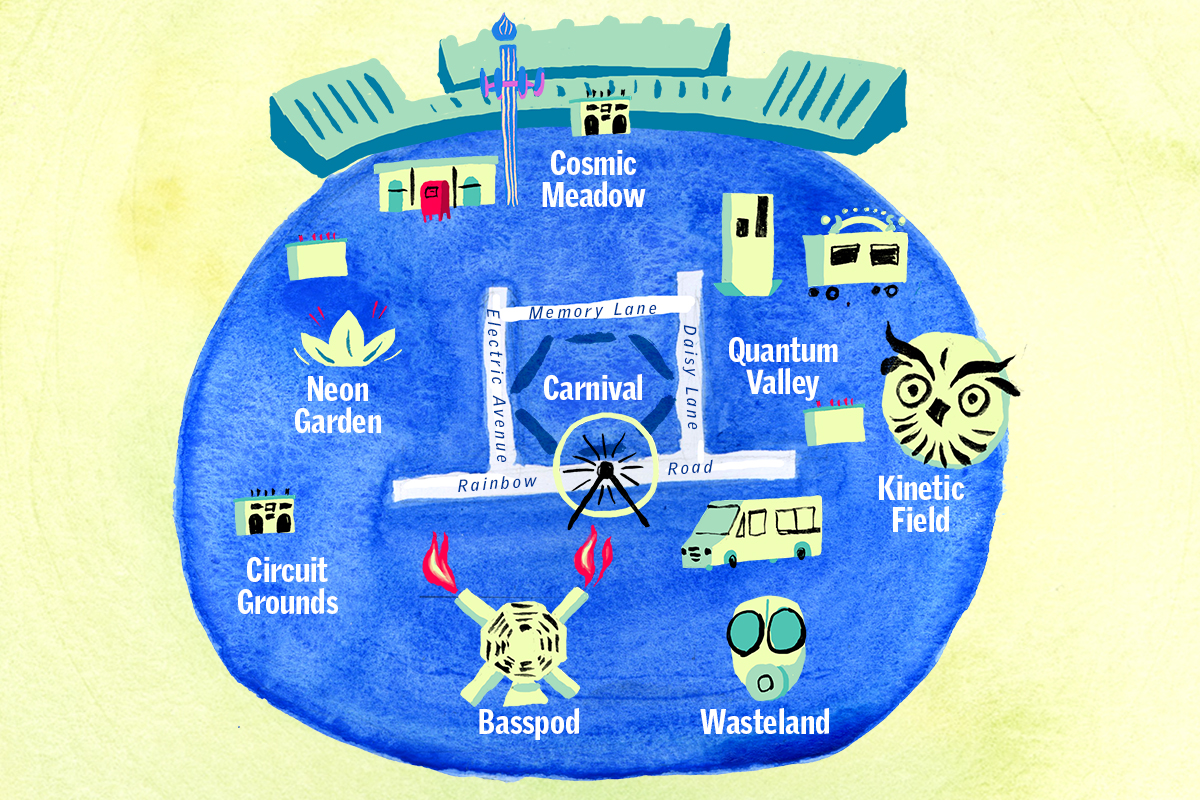 Wes Rand Las Vegas review-Journal
For those who hope to one day attend the sensory overloaded festival and for those who are still a little confused about just what EDC is all about, we scoped out the lay of the land at this year's festival.
EDC Town
One of the first attractions festival attendees come upon once they enter the grounds is a quaint collection of buildings with old West facades dubbed "EDC Town." Here, festival attendees can have a drink at the Saloon, send a postcard from the EDC Town Post, or even watch someone swallow swords at the Electric Sky Theater.
Couples can, and do get married. Two contrasting wedding chapels face each other on the lawn, one a wooden structure, the other a modern silver arch. Couples, who have reserved a time slot in advance, legally tie the knot under the electric sky.
Carnival Square
Directly behind Cosmic Meadows stage, festival-goers can relax, charge their phones, connect to wi-fi and take photos with performers in the Speedway's Neon Garage, a central point on the festival grounds.
Around the perimeter, attendees can play carnival games to win big stuffed animals.
It's where you'll first start seeing festival-goers a little worse for wear, sprawled on the ground or leaning up against each other trying to regroup for what lies ahead the rest of the morning.
Vendors
Soon after festival-goers leave Carnival Square, they'll come upon an area where vendors have set up shop. Booths tout typical rave wear — LED everything, faux-flower crowns, Pokemon characters made out of Perler beads. And there is, of course, a booth dedicated to fidget spinners.
VIP areas
A $699 ticket buys you access to three VIP sections throughout the festival, each with viewing areas set up on scaffolding overlooking nearby stages.
At the main VIP area on the outskirts of the main stage, partiers can purchase coconut water, cocktails, sushi and pizza from vendors with slightly shorter lines. There's an air-conditioned lounge with dancers, a Ferris wheel (again, with shorter lines) and a beauty bar adding even more glitter to attendees' ensembles. The VIP area is also probably the best bet for seeing any celebrities at the festival.
Art cars
Art cars have become a staple at festivals, many originating at Burning Man and making their way to a variety of music festivals like EDC and Life is Beautiful. The vehicles — some resembling an actual car more than others — are often made from salvaged car parts and at EDC, have DJ platforms. The area in front of the car often becomes the dance floor.
Kalliope, a car that's become recognizable because of its appearances at other Nevada festivals as well as previous EDCs, appears alongside a string of small boxcars, in which attendees can write on "baggage tags" and attach them to the vintage suitcases on the wall or pound a message into copper wall.
The latest, Parliament, is a moving, LED-illuminated nest within which attendees can dance.
Rides
Festival-goers can ride more than 15 rides, situated throughout the festival, that can give a better vantage or turn the view upside down.
Performers
Finally, there's the performers. Not restricted to any one part of the festival grounds, more than 20 types of elaborately costumed characters roam, towering high above attendees, pulling chariots and bopping around in emoji suits. The best opportunity to see all of them is during the parade that cuts through the festival grounds.