Three-day Electric Daisy Carnival starts at speedway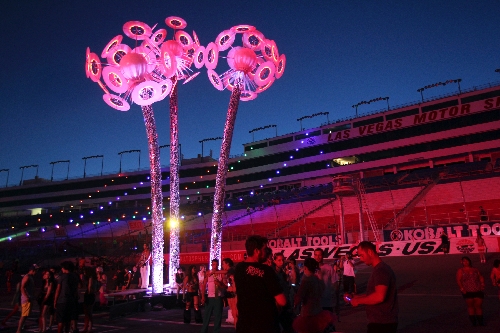 Frog heads. Fire hats. Cat tails. Tutus. A pink octopus. A giant chrome skull. Mosquito-head bicycles. A winding exoskeleton on wheels.
And in the middle of it all … a white living room?
Perhaps the one thing that stands out at the Electric Daisy Carnival is the thing too normal to stand out: an all-white photo op/art installation where everything was white but the growing number of footprints on the floor.
"Nothing's gonna blow my mind tonight. Nothing's gonna surprise me," said Chris Reimer of Fresno, Calif., after posing for a photo on the set.
But the background did wonders for making an outfit pop. Especially if you were wearing the typical EDC women's uniform of bikini with, in the case of Lindsey Hann, pink stockings with orange leggings. Her friend, Orange County, Calif., music blogger Joe Cole, was splattered with glow paint all over his bare chest and white shorts.
"I've done this at a lot of festivals, been to EDC multiple times. Never seen this. This is the third time I've splattered these shorts," Cole said.(By midnight, the livingroom set was splattered as well, having been turned into a giant grafitti project.)
If the surprise factor was lessened in the second year of the three-day electronic music festival, there was more of everything for the 115,000 people expected each night at the Las Vegas Motor Speedway.
There was even, of all things, a rock band playing actual instruments in this land where the DJ holds power. "The sunlight hurts my eyes!" the singer of Modestep sang from one of the smaller stages, the Neongarden, perhaps overstating the problem on an evening when the persistent wind was the real annoyance for early birds.
By the time Modestep wrapped its set about 8:20 p.m., the moving lights of the Ferris wheels and carnival rides competed for attention with the lights on the seven stages within the 1,000-acre layout on the speedway infield.
But those waiting for the gates to open at 7 p.m. had to wait for the light show. One of the first in line was Las Vegas local Addison Sparks, a 21-year-old who missed the party last year but saw videos of it on YouTube.
"It looked completely awesome, and I had to do it," Sparks said, even if he was a bit bothered that "the girl-to-guy ratio" didn't seem to work in his favor, judging by the separate pat-down lines for men seeming longer than the ones for women.
But Shelby Wilkins from Phoenix gave him something to look at, in her green bikini and white platform boots that wouldn't look out of place in the KISS army.
"I nearly fell twice," she said, but she wouldn't be caught without them. "I made the mistake of not wearing them last year. If you're a girl and you're short, it's hard to see over people."
Some costumes were made by adorning swimwear with plastic flowers and green neon fabric from Joanne's or Michaels, two local women explained. Some people went all in, such as 22-year-old Javier Lozano of Palm Springs, Calif., spending $185 to score his Deadmau5 helmet on eBay.
But it was worth it when a fellow reveler bowed down and did the "Wayne's World" "We're not worthy" thing.
There was a gang of construction workers in orange safety vests from San Francisco, and one angel named Molly in a halo – inspired by Kaskade's "Angel on My Shoulder but a Devil in My Head," she said – stood only a few yards from another angel, with no halo but with wings, waiting to ride bumper cars.
But the costumes of attendees had a way to go to catch up with the strolling ambient performers such as the giant – what? – sea-creature blob with spongy spines, sort of a SpongeBob escapee by way of the nearby "Silly Seas 2" ride.
A dude wearing basically only black briefs sidled up for a photo. He traveled light but still was able to produce a business card from something strapped to his leg: Marco Cervantes from Epsilon Nu Tau at California State University, Fullerton, he was.
That's EDC for you, a place to network and make friends in your underwear.
Contact reporter Mike Weatherford at mweatherford@ reviewjournal.com or 702-383-0288.
Electric Daisy Carnival
follow us ON TWITTER
• @JasonBracelin
• @MikeWeatherford
• @VegasAnonymous (Doug Elfman)