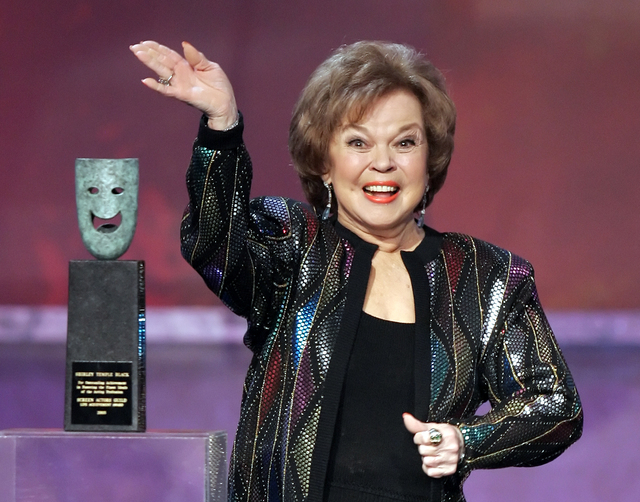 F. Scott Fitzgerald was wrong. There are second acts in American lives.
Not for everyone, of course. But Shirley Temple wasn't everyone. Although, once upon a time, she belonged to everyone.
Temple, who died Monday night at 85, had a distinguished diplomatic career, serving as a U.S. ambassador to the United Nations, Czechoslovakia and Ghana.
But her life in public service began long before that — during the depths of the Depression, when the tap-happy toddler's cherubic ringlets, dimpled grin and song-and-dance savvy provided a welcome antidote to bad times.
No less a personage than President Franklin D. Roosevelt acknowledged this in 1935, stating, "During this Depression, when the spirit of the people is lower than at any other time, it is a splendid thing that for just 15 cents an American can go to a movie and look at the smiling face of a baby and forget his troubles." (Movie tickets for 15 cents … now I'm depressed.)
But from 1934 to 1938, Shirley's miniframe, and maximum moxie, reigned supreme as she sang and danced her way into America's collective heart through a series of we'll-muddle-through movies with such truth-in-advertising titles as "Bright Eyes" (1934) and "Curly Top" (1935) — in which she sang her two most famous songs, "On the Good Ship Lollipop" and "Animal Crackers in My Soup," respectively. (My favorite is still her Mutt-and-Jeff duet with the future Jed Clampett, Buddy Ebsen, "At the Codfish Ball" in 1936's "Captain January." Sample lyric: "The catfish is a dancing man, but he can't can-can like a sardine can.")
Shirley made her screen debut at the ripe old age of 3 in a series of one-reel "Baby Burlesks," imitating such grown-up stars as Marlene Dietrich. You can see more of her impersonations in 1936's "Stowaway," when she apes everybody from Al Jolson to Ginger Rogers — by dancing with a Fred Astaire doll.
That was in reel life. In real life, everybody wanted a Shirley Temple doll. (Especially my mom — who never got one, because her parents couldn't afford to buy her one.) Shirley, meanwhile, was a seasoned showbiz pro. At 6, when her mother took her to see Santa Claus at a department store, Santa asked for her autograph.
Too bad for Shirley, but she had work to do, playing the smiling ray of sunshine in movie after movie, bringing out the best in everybody, inspiring them to work together for their — and her — own good.
She didn't always play an orphan; in two of her best movies, 1935's "The Littlest Rebel" and 1939's "The Little Princess," she does have fathers — but of course it's up to her to save the day.
These days, it's tough to watch some of the antiquated racial stereotypes on display in a movie like "The Littlest Rebel." That is, until the magic moment when little Shirley and tap master Bill "Bojangles" Robinson go into their dance, dissolving any thoughts other than sheer delight — theirs, in conjuring such happiness, and ours, in being able to share it.