Trans-Siberian Orchestra signals start of holiday season
November 20, 2008 - 10:00 pm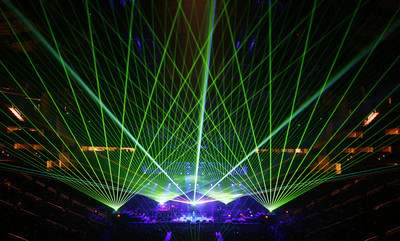 Paul O'Neill, founder of the Trans-Siberian Orchestra, has a philosophy for live concerts that was taken from a page of Las Vegas' own entertainment playbook: Fog it, light it, then blow it up.
"It keeps things interesting. And Vegas thinks that way, too," says O'Neill, the man who is responsible for applying a rock symphonic treatment to classic Christmas carols that has become as much a part of the holiday as Santa Claus and Scrooge.
The Trans-Siberian Orchestra is scheduled to bring its pyrotechnic-filled performance to the MGM Grand tonight. Since the tour started in 1999, the Trans-Siberian Orchestra has remained a popular concert through the winter holidays, O'Neill says, when the band tours for about two months each year.
The show isn't so much a concert; it's more of a production featuring a full orchestra, a full rock band and several singers. About $2 million is spent every month on pyrotechnics that explode throughout the three-hour performance.
The show will feature music from the orchestra's first album, "Christmas Eve and Other Stories," as well as music from the rock opera "Night Castle," which has yet to be released on CD.
The music remains as popular as the concerts, with the orchestra's "Christmas Trilogy" selling a million units each year, O'Neill says.
Even 12 years after creating the orchestra, O'Neill still is surprised at the way its music, starting with the first hit "Christmas Eve/ Sarajevo 12/24," has become a Christmas staple. Throughout the holiday season, the orchestra's music can be heard on radio stations and in malls and stores.
"That kind of came unexpectedly and took us by surprise," O'Neill says. "We always intended to do the 'Trilogy' but I was sort of intimidated by it. If you're writing something for Christmas you're competing with the best stuff written over the past 2,000 years. You're competing with the ultimate critic, which is time."
But there's something about a larger than life subject that seems to resonate with people, O'Neill adds. Since the first album was released in 1996, O'Neill and his partners have made a conscious effort to do work that takes on those iconic themes, not just with the music but with art, poetry and stories.
"People want the story, the poetry, the illustrations. We agonize about giving people their money's worth," O'Neill says. "We try to make things that would make the most emotional impact. We try to make great art."
Music tells stories of human struggles, sacrifice, pain and joy but it's also a great uniter, O'Neill says. That's the meaning behind the name, Trans-Siberian Orchestra. O'Neill isn't Russian but it was his 1984 visit to Siberia and the region's railway that inspired the name.
"It's unbelievably beautiful. But it's also unbelievably harsh and unforgiving," O'Neill says of the area. The one thing that could transport people away from that harshness was the Trans-Siberian Railroad, he adds. And, as life can be "incredibly beautiful but harsh and unforgiving," music can help transform people's emotions.
Contact reporter Sonya Padgett at spadgett@reviewjournal.com or 702-380-4564.
Preview
What: Trans-Siberian Orchestra
Where: MGM Grand Garden, 3799 Las Vegas Blvd. South
When: 7:30 p.m. today
Tickets: $25, $39.50, $49.50 (891-7777)