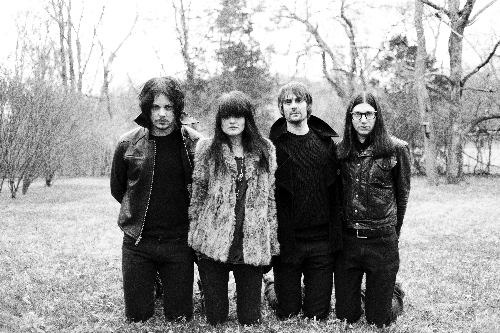 A lot of musicians say they're too busy during tours to actually see the cities of concert stops. But Dead Weather singer Alison Mosshart is a travel hound.
She names a city immediately: She loves Paris, since it's "insanely beautiful and there's endless amounts of things to discover."
On the other hand, a few weeks ago, she and Dead Weather cohort Jack White had a great time in another favorite: Tokyo.
They went to an underground bar, where the 5, 6, 7, 8's just happened to be playing. (In "Kill Bill," they're the all-girl, barefoot group singing "Woo Hoo.")
"Jack played with them" for a song, she says. "And all these people kept coming out of the crowd, like 60-year-old women that used to be strippers that had just written books … and they want to sing a song.
"All these legendary Japanese rockers are walking in the door. And we are seriously in a bar that's (about the size of) my kitchen. It's tiny-tiny. It's totally wild. It's amazing."
People who take on nightlife in Japan do not fit the Japanese stereotype of being uptight or too proper to let loose, she says.
"Man, those people seriously know how to have a good time."
Her trips there can be very "Lost in Translation," she says.
"You kind of huddle together with whoever you're with, or whoever you run into," she says.
"I've run into friends from Detroit in the streets there, and it's the weirdest thing. And then suddenly you have these really magical evenings."
Otherwise, she tries to dig whatever she lands in — or whatever airport she's waiting in.
"I know every airport you can probably name, back to front. I can tell you where everything is — and which airports you can still smoke in."
But while touring by road, Mosshart, 31, who lives in London, prefers all of America.
"The thing that makes me feel so inspired is probably traveling around the United States, because it is so completely different all the time."
Raised in little Vero Beach, Fla., she is definitely the product of her parents.
Her mom was an art teacher, steeping Mosshart in the creativity that led to singing. Her dad was a car dealer, indoctrinating her into road trips.
"I think my parents totally did this to me," she says.
As long as she can remember, her mom would get out of school for summer. Her dad would close up shop.
"And they'd get some kind of van, and put me and my brother in it, and drive around the country and go visit our relatives."
She loved waking up in a different city every day.
"It was a lot like being on a tour bus, with less room."
Just the thought of a road trip gave her the same kind of thrill she got when anticipating a roller coaster ride.
"I was so excited, I couldn't sleep. I felt like I was gonna throw up. I just couldn't wait to get in the car and leave."
Consequently, she took to touring with her previous bands — Discount, and The Kills — and now The Dead Weather.
Maybe part of the original thrill was getting out of Vero Beach, where "there is nothing to do" if you're a kid, she says.
"There's nothing going on" there, she says. "There's no culture. There's a lot of old people that are retiring, living in condos, and a lot of Cadillacs crashing into walls."
When she hit 20, she moved from Gainesville, Fla., to London, because she wanted to get out of America "really badly." She's not a hater. She just wanted to explore.
"I'd been touring America for five years, six years. I had seen everything."
Plus, musicians she knew and worked with suddenly got older and wanted "real jobs," she says.
"It was that moment where I looked around me and said, 'I don't want to stop doing this,' " she says.
"And 20 is the perfect age, where you have the right amount of energy and the right amount of insanity to do something like that — move to a different country without any money."
She loves London.
"But I think the older I've got, I really appreciate America more than ever. It's such a beautiful country, with so many different parts to it. It changes dramatically from one end to the other."
One city she's never seen as a grown-up: Las Vegas.
"I think my dad drove me through Las Vegas, but wouldn't let me get out of the car, because I remember seeing it when I was a kid.
"But I don't think, in my adult life, that I've ever been to Las Vegas, which is insane!"
That changes when Dead Weather performs Sunday at the Palms.
"I really can't wait to get there. I'm not even kidding about this. I'm so excited!" she says.
You know what? A lot of musicians say that about Vegas. But never with that much gusto.
Contact Doug Elfman at delfman@reviewjournal.com. He blogs at reviewjournal.com/elfman.
Preview
The Dead Weather
8 p.m. Sunday
The Pearl at the Palms, 4321 W. Flamingo Road
$30 (942-7777)