November 28, 2008 - 10:00 pm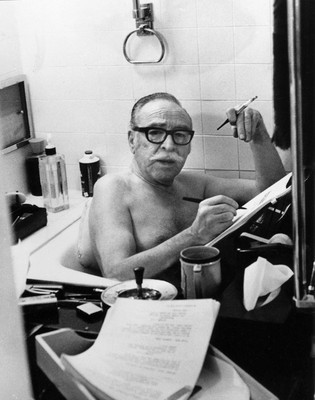 Go along to get along? Definitely not Dalton Trumbo's style.
The documentary portrait "Trumbo" makes that perfectly, painfully clear.
Movie buffs may know Trumbo as the writer behind movies as different as "Roman Holiday," "Spartacus," "Papillon" and "Lonely Are the Brave."
Students of history know him as one of the Hollywood 10, who, in 1947, refused to answer when members of the House Un-American Activities Committee asked him that notorious $64,000 question: Are you now, or have you ever been, a member of the Communist party?
Trumbo invoked the First Amendment, claiming his political beliefs were nobody's business but his own, and was sentenced to a year in federal prison for contempt of Congress.
From his release in 1951 until 1960 — when director-producer Otto Preminger announced his intention to credit Trumbo as his "Exodus" screenwriter and Kirk Douglas, star and executive producer, credited Trumbo for "Spartacus" — Trumbo was a victim of Hollywood's McCarthy Era blacklist.
During that time, however, he never stopped writing.
Trumbo wrote under assumed names — lots of them. One pseudonym he used: Robert Rich, who won an Academy Award for 1956's "The Brave One."
Trumbo also used nonblacklisted writers to "front" for him. (That explains why Ian Hunter originally collected an Oscar for 1953's "Roman Holiday," a situation the Academy rectified almost 40 years later when they awarded Trumbo's Oscar to the writer's widow, Cleo.)
And he wrote letters — some loving and heartfelt, some rueful and resigned, some impassioned and indignant, all eloquent and witty — that bring him, and "Trumbo," vividly to life.
Based on a play by Trumbo's son Christopher, "Trumbo" includes a variety of conventional documentary elements, including archival footage and recent interviews with family, friends and colleagues.
But the movie's most arresting elements turn out to be staged readings of Trumbo's correspondence by an all-star lineup that includes Brian Dennehy, Liam Neeson and Donald Sutherland.
There's David Strathairn reciting a letter Trumbo wrote to his daughter's elementary school principal, capturing the anguish of a loving parent who knows his beloved child is suffering ostracism and hostility — "barbarism parading as American virtue" — because of him.
There's Michael Douglas, thanking a producer for his friendship — and for his monetary loan. ("Say hello to my friends," Trumbo instructs. "And piss on my enemies.")
There's Joan Allen, her voice choking with emotion as she reads Trumbo's words to a grieving mother: the parent of a war correspondent colleague who fronted for him.
Paul Giamatti (who appeared in the stage production), beginning a letter to telephone company officials with the salutation "Dear Burglars." And Nathan Lane (another veteran of "Trumbo's" stage production), praising "Sex Without Guilt" author Albert Ellis as "the greatest humanitarian since Mahatma Gandhi" in a hilarious confessional to his son recounting his history of masturbation. "The first thing I did was laugh," Christopher Trumbo says of that letter. (The second? "I got a dictionary.")
Director Peter Askin, who also staged the play, shoots these scenes starkly, with a black backdrop, as the actors recite Trumbo's words.
They're not much more than talking heads, really. But the words they speak seem so electric, so energetic, that the simple staging only serves to heighten their impact.
The various voices, and faces, illustrate the universality of Trumbo's words — and recall one of "Spartacus' " most stirring moments, when officials of the Roman Empire (who finally tracked down the title character's army of rebellious slaves) demand that they point out Spartacus to save themselves, prompting the trapped comrades-in-arms to stand and cry in defiance, "I am Spartacus!"
During the blacklist, only a few stood up for (and with) Dalton Trumbo, who characterized it as "a time of evil — and no one on either side who survived it came through untouched by evil."
Those who see "Trumbo" are unlikely to come through untouched — not by evil, but by the spirit of a man unwilling to compromise regarding "the immoral assertion of power" over "the most private thoughts of man."
Contact reporter Carol Cling at ccling@reviewjournal.com or 702-383-0272.
Movie Minute Review "Trumbo" 96 minutes PG-13; sexual references, profanity Grade: B+ at the Suncoast DEJA VIEW Revisit the McCarthy Era in these fictional, and factual, titles: "The Way We Were" (1973) — The Hollywood blacklist threatens the future of the ultimate opposites-attract couple: a golden-boy screenwriter (Robert Redford) and his activist wife (Barbra Streisand). "The Front" (1976) — During the 1950s, a hapless deli clerk (Woody Allen) agrees to front for a TV-writer friend in a comedy from blacklisted writer Walter Bernstein and blacklisted director Martin Ritt, featuring blacklisted actors including Zero Mostel and Herschel Bernardi. "Hollywood on Trial" (1976) — This documentary focuses on the "Unfriendly 10," screenwriters (including Dalton Trumbo) who, citing their First Amendment rights, refused to cooperate with the House Un-American Activities Committee and eventually were imprisoned for contempt of Congress. "Guilty by Suspicion" (1991) — When the House Un-American Activities Committee demands he "name names," a prominent director (Robert De Niro) refuses to betray a friend, jeopardizing his Hollywood career. "Good Night, and Good Luck" (2005) — CBS newscaster Edward R. Murrow (David Strathairn) takes on Communist witch-hunter Sen. Joseph McCarthy in director George Clooney's Oscar-nominated drama. — By CAROL CLING