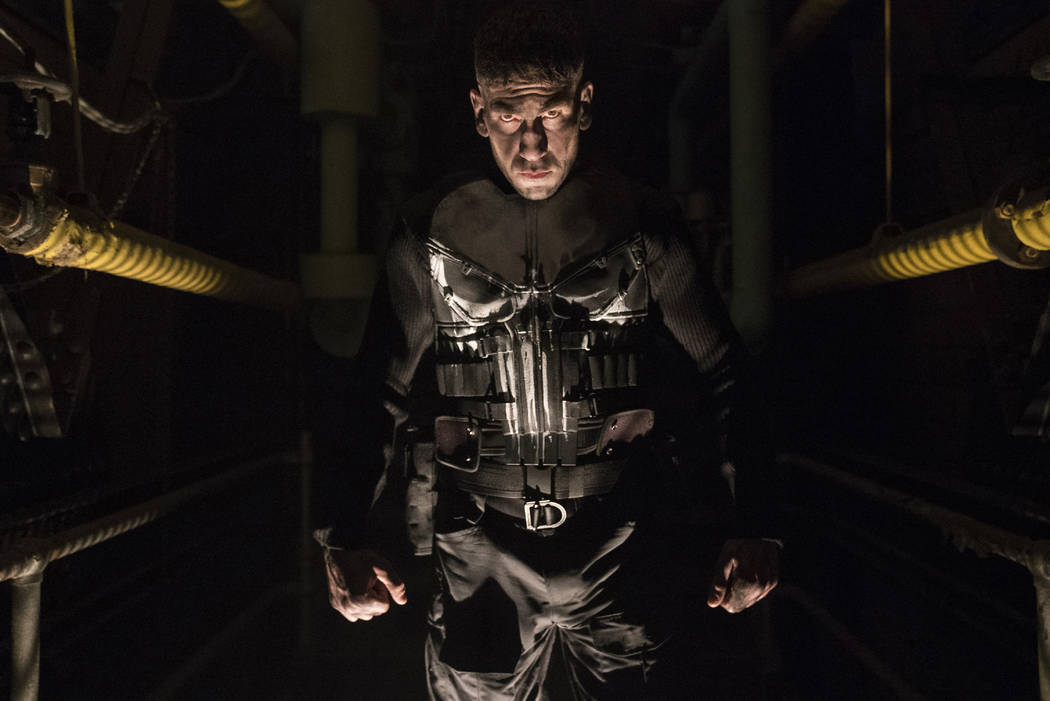 "Substantial edits" were made to the opening scene of Tuesday's episode of FX's "American Horror Story: Cult" as a result of the Las Vegas shootings.
"This opening, which was filmed two months ago and which portrays an occurrence of gun violence that has sadly become all too common in our country, contains a sequence that some viewers might find traumatic," FX said in a statement.
The scene in question involves a shooting at a campaign rally for city council candidate Kai Anderson (Evan Peters). In the original version, a gunshot rings out as an American flag waves in the breeze. The camera lingers on the face of terrified restaurant owner Ivy Mayfair-Richards (Alison Pill) as people around her begin to fall and others run for safety. The shooter uses a handgun at relatively close range. The entire scene lasts 2 minutes and 15 seconds.
In the new opening, which was still being completed Monday morning, most of the violence happens offscreen.
"Should you air it? Should you not air it? How do you be sensitive?" "American Horror Story" co-creator Ryan Murphy said Saturday at The New Yorker Festival. "My point of view was, I believe I have the right to air it, but I also believe in victims' rights. And I believe that now is probably not the week to have something explosive or incendiary in the culture, because someone who was affected might watch that, and it could trigger something or make them feel upset."
"I felt great sympathy for people who were affected, certainly, and family members and loved ones and people who are upset about the way the world is," the provocative writer-director added.
Full warning: Only the opening scene was edited. The shootings are shown from a different point of view later in the episode when it's not likely to be as startling and there's less chance of viewers stumbling across it.
This is far from the first time an episode of a television series has been affected by real-life tragedies.
■ In 1999, the "Earshot" episode of "Buffy the Vampire Slayer," which involved a student bringing a gun to school, was supposed to air a week after the Columbine High School shootings. It was delayed almost five months.
■ The Nov. 6, 2001, premiere of Fox's "24" was edited to remove an airplane explosion less than a month after the Sept. 11 terror attacks.
■ More recently, the Season 1 finale of USA's Emmy-winning "Mr. Robot" was delayed a week in 2015 because of a scene with similarities to the on-air murders of Virginia television reporter Alison Parker and cameraman Adam Ward.
■ The Season 3 premiere of TNT's "The Last Ship," originally scheduled for June 12, 2016, was pushed back a week following the Pulse nightclub shootings in Orlando, Florida, earlier that day. The episode included a shooting at a Vietnamese nightclub.
■ The series of coordinated terror attacks in Paris in November 2015 delayed a "Supergirl" episode involving bombings, an "NCIS" episode about ISIS and an episode of TNT's "Legends" that featured a terrorist shooting in Paris. All three had been scheduled to air the following Monday.
■ Even a series as innocuous as ABC's "Castle" was forced to delay an episode involving a bomb. Originally scheduled to air seven days after the Boston Marathon bombings, it was broadcast a week later.
■ USA's "Shooter," which follows former military sniper Bob Lee Swagger (Ryan Phillippe), has the distinction of being delayed twice by actual violence. Its 2016 premiere was pushed back a week after a sniper opened fire on police in Dallas, killing five and wounding nine others. Days later, six police officers were shot in Baton Rouge, Louisiana, and the series didn't debut until Nov. 15.
■ The fate of Netflix's "The Punisher" series remains up in the air. The "Daredevil" spinoff, about the heavily armed antihero Frank Castle (Jon Bernthal), whose only superpower is his marksmanship, was withdrawn from last week's New York Comic-Con. No release date has been announced, and Netflix representatives haven't responded to requests for comment.
■ And an episode of NBC's bloody "Hannibal," originally scheduled for April 25, 2013, was never shown in the U.S. out of respect for the victims of the Sandy Hook shootings and the Boston bombings. It did, however, air overseas, and the episode was a part of home video releases.
The "Hannibal" episode has the most in common with Tuesday's installment of "American Horror Story: Cult." While only the edited version will air on FX, the full version will be available on various video-on-demand platforms.
Contact Christopher Lawrence at clawrenc @reviewjournal.com or 702-380-4567. Follow @life_onthecouch on Twitter.