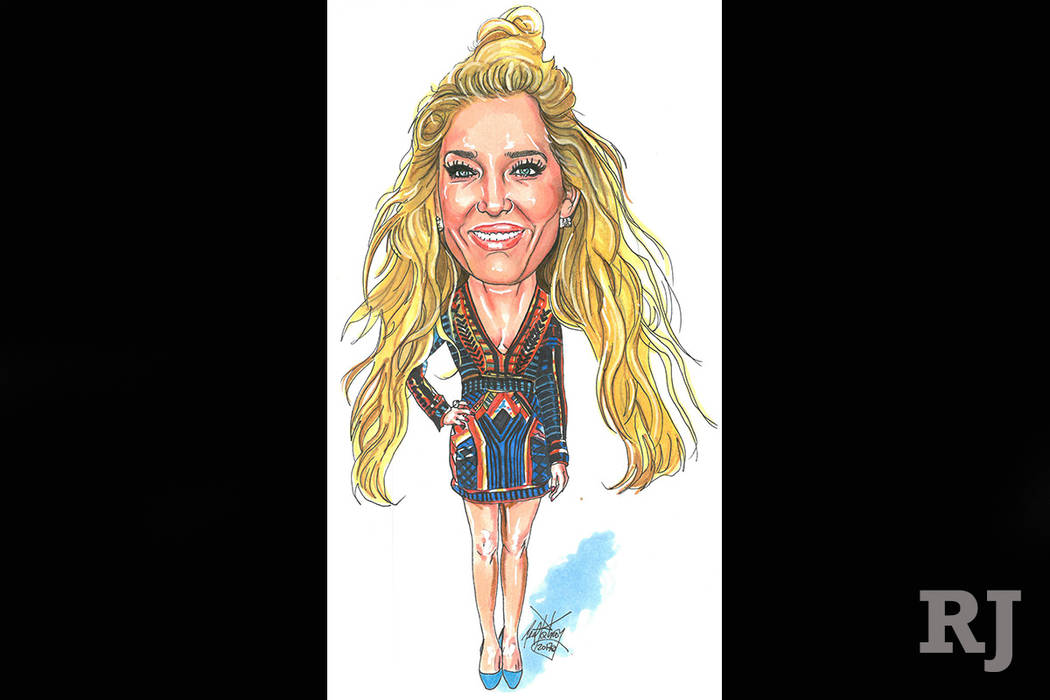 Many women say they're really two people. There is one who really means it.
As Erika Girardi, she's the stiletto-wearing, button-up, dinner-party-throwing wife of prominent Los Angeles attorney Thomas Girardi.
As Erika Jayne, she's professionally known as a dance pop diva who has claimed the top of the Billboard dance charts and who creates videos that make some blush while others want to be her.
She's the baddest (in the best possible sense of the word) femme on"The Real Housewives of Beverly Hills."
The Atlanta native and daughter of a single mom has the hot dance singles "Painkillr," "How Many (Expletive)?" and "XXpen$ive." How do both Erikas know they've arrived? On "Saturday Night Live" last season, Chris Pine and Bobby Moynihan did a lip sync battle to one of her songs.
Review-Journal: What is the typical Sunday like for you?
Erika Jayne: On Sundays, I try to get into the gym early, and then I'll swing by my office. I know it sounds crazy. But Sunday is often my only day off. So, I'll get a good workout in, check on business and then go hang out at home and catch up with my husband.
You're often in Vegas. What draws you?
I've always loved Las Vegas and appreciate Vegas for everything it is. The first time I came to Vegas was in my 20s when the Hard Rock opened. I've been there as it changed from a gambling town to a destination mecca. And now, hands down, it's the best shopping in America. You can eat, shop, go to clubs, gamble. You can do anything. That's Vegas.
Fashion Show mall?
I stay at the Wynn and walk across that bridge, grab a Starbucks and then go right to the Fashion Show mall before hitting the stores at Caesars.
What else do you like to do in Vegas?
There's Lavo. Tao. I've gone to Ferraro's and Michael's. My son finished up at UNLV, so I love that school. Lakeside is fun.
What has been your strangest encounter with a fan in Vegas?
This actually happened at Tableau at the Wynn. I was eating breakfast around 7 a.m. with my friend Mikey, and this woman crept up behind me. She got real low and then jumped up, put her hands on my shoulder and put her mouth up to my ear. It scared the (expletive) out of me only because I was eating. What she said was super sweet. But it was still a shock.
What was it like to have "SNL" use your song for a lip sync battle?
Wasn't that amazing? It was just so cool.
Where do you get your guts?
I cheerlead for myself. My husband cheerleads for me. I get a lot of confidence from him and family and friends. When you're around people who are supportive, the world opens up. I'm also comfortable in my own skin. To get there, you have to believe that what's yours is yours. It can't be taken away. And there is enough for everyone. I can't do what you do. You are your own cool individual and I'm mine.
What is your daily beauty routine?
I stay out of the sun, drink water and don't smoke. I don't stay out late at night, plus I'm a big advocate of going to a dermatologist. My mother always slathered me in sunscreen. She has beautiful skin and my grandmother always had beautiful skin. You have to care for your skin, especially in Vegas where it's so hot.
Do you realize you can take any of those other women down on "The Real Housewives of Beverly Hills?"
I don't look for conflict because I don't like conflict. I want to be friendly. If something or someone comes my way, however, I won't back down. I just don't want to be the instigator. I will answer when it comes my way.
Your song "XXpen$ive" has the line "It's expensive to be me." Do you think women and men should use that line regularly if their partners open a particularly bad Visa bill?
You can do that, but you can only do it once. So, it's better to hold off for that one time you want to play it, and it better be substantial. It can't be for some $50 purchase. Do it for something legit. Then look at him or her in the face and say, 'It's expensive to be me.' You can follow that with 'I love you.' It's all great.