Blau puts her money where her mouth is on 'Restaurant Startup'
January 26, 2016 - 9:07 am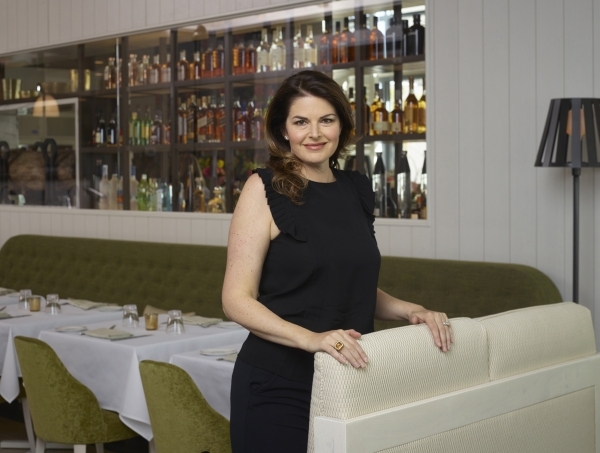 Vegas Voices is a weekly question-and-answer series featuring notable Las Vegans.
From helping establish a branch of the New York landmark Le Cirque at Bellagio to bringing award-winning chefs including Todd English and Michael Mina to town, Elizabeth Blau has helped lay the foundation for Las Vegas' culinary scene.
The restaurateur and consultant has called the valley home since 1998. She and her husband, chef Kim Canteenwalla, are partners in Buddy V's at The Venetian, as well as Andiron Steak & Sea at Downtown Summerlin, Made LV in Tivoli Village and Honey Salt, 1031 S. Rampart Blvd.
On Wednesday, she joins culinary consultant Antonia Lofaso and investors Joe Bastianich and Tim Love on the third season of "Restaurant Startup" (10 p.m., CNBC), which plays out like "Shark Tank" for foodies.
Review-Journal: With "Restaurant Startup," you're being asked, if you like a concept, to invest your own money in it. How does it feel landing a TV show that can actually end up costing you money?
Blau: Well, it also can end up making me money. That's the great part. You're free to make an investment, or not, as the case may be. And nobody is expecting that you would make a bad investment. I look at it, really, as the opportunity to make not only me but my company money.
RJ: What's been the best part of working on the show?
Blau: Oh, it's been so much fun. First of all, I love working with Antonia, Joe and Tim. I didn't know Antonia, but I've known Joe for many years … and I've known Tim for about 10 years. It's just a great dynamic, and it's a lot of fun. You know, you get to eat food. You get to taste food. And it's a very natural synergy to what I do on a day-to-day-basis. It's very comfortable for me to analyze and assess people's concepts and food. This just puts it in more of a competitive environment.
RJ: So much of "Restaurant Startup," and the food scene in general right now, is about fast casual. Are there any fast-casual places in town you like? Or any that you'd recommend for readers who are short on either time or money?
Blau: I love Jose Andres' Chino Poblano (at The Cosmopolitan of Las Vegas). It's not light on the pocketbook, but for him, it's kind of faster casual Chinese and Mexican. I really like and am intrigued by what they're doing at Jaburritos (2600 W. Sahara Ave.), that Japanese burrito sushi place. I think that's a really kind of cool concept. Where else do I like to go? Of course, I'm devoted to In-N-Out Burger. We're very lucky to have that here. I have a secret addiction to Pinkbox Doughnuts (7531 W. Lake Mead Blvd.; 10251 S. Eastern Ave., Henderson).
RJ: You've been focused on Summerlin lately. What's the biggest difference between what locals want versus what tourists expect?
Blau: You know, I really don't see much of a difference at all. … I think people are really looking for authenticity. They're looking for concepts that speak to a reason for why you're doing a cuisine, and that the decor and the music and everything kind of ties together. And so I think they're looking for that on the Strip, or they're looking at it off the Strip. With Andiron, we have the glitz and the glamour and the fancy interior design. Then with Honey Salt, it's much more of a homey feel and atmosphere.
RJ: You're doing a huge project in Canada (overseeing eight new restaurants and lounges at the Parq Vancouver resort). Is that going to keep you from launching more local ventures for a while?
Blau: I think that the number of restaurants in the local market is going to be much more of an inhibitor. Downtown Summerlin has, I don't know how many — 20, 30 concepts. I think we're pretty saturated in the local market right now. I think that any focus of ours would probably be outside of the community right now.
— Contact Christopher Lawrence at clawrence@reviewjournal.com. On Twitter: @life_onthecouch.