'Counting Cars,' other ventures keep Danny Koker busy
October 3, 2017 - 10:20 am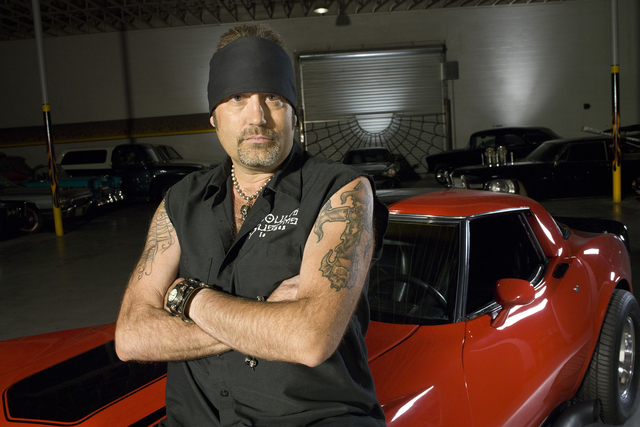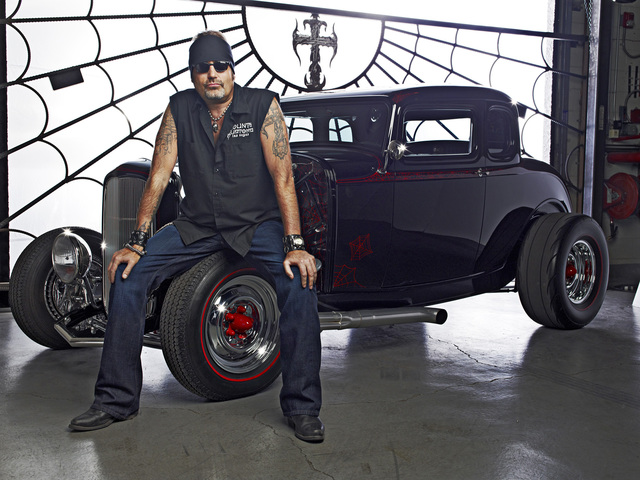 Vegas Voices is a weekly series highlighting notable Las Vegans.
The eighth season of "Counting Cars" kicks off at 10 p.m. Tuesday on History, and Danny Koker, the show's star, is still involved in every car and motorcycle built at Count's Kustoms. That means he works from first thing in the morning till 7 or 8 p.m. It's not uncommon for him to be there on weekends, as well.
That's in addition to his being "the owner-slash-CEO-El Presidente" of four local businesses — Count's Kustoms, Count's Tattoo Company, the rock club Count's Vamp'd and the recording studio Desert Moon — as well as the lead singer of the rock band Count's 77.
If you're noticing a theme here, it's all connected to the years Koker, 53, spent as Count Cool Rider, the vampiric host of "Saturday Fright at the Movies," which aired from 1989 to 2000 on what's now KVCW-TV, Channel 33.
When he appeared on "Late Show With David Letterman" in 2014, the show's producers dug up and aired a clip of Count Cool Rider, much to Koker's delight. "I always chuckle. I can't help it. I giggle," he says. "Those were great times."
Koker took some of his rare free time to talk about "Counting Cars," his massive collection of cars and bikes and, with Halloween coming up, Count Cool Rider.
Review-Journal: Every time we talk, I'm amazed at how busy you are.
Koker: Dude, I am, too. (Laughing) The insanity just doesn't seem to end, man, but that's just a blessing. It sure beats the alternative.
What's your work week like now when you're in production? Or are you ever really out of production?
We are rarely ever out of production. And the reason is because there are approximately 45 of us here, just at the Count's Kustoms shop. And I've got no less than 15 builds going on at a time. So we're constantly going. … At any given time, out of these, say, 15 projects, there is a vehicle in one department or another. So as far as production is concerned, they've gotta keep rolling on all of this stuff, or they're going to miss something vital on an episode.
When you started "Counting Cars," did you ever think you'd be doing it this long?
No. I think the first contract we did was for 26 episodes, and they greenlighted 13 of 'em with the option for the other 13. And I thought, "You know what? That's really cool. It'll be phenomenal promotion for the shop, and I'm really stoked about it." … The honest answer is, I hoped in my heart of hearts that it would do well, and I had no idea it would do this well.
Do you have any idea how far the show's reach is?
We're in 160 countries around the world right now. We're translated into I don't know how many languages. … At least once a week, somebody contacts us here to talk to me about doing a Count's Kustoms (franchise) in India. It blows my mind.
How many cars and bikes do you own now?
Oh, my Lord. I'm an addict. I make jokes to the people around me that I need an intervention, and everybody chuckles, but it's the truth. If there's a rehab center for this addiction, I need to go to it. I'm probably at about 110 vehicles now in my personal collection. I need help, bro.
Do you have a favorite?
I've still got a group of vehicles that I started collecting with my father years ago. And they've just been sitting for years. And I'm starting to dig out a couple of the very personal vehicles that were my father's years ago that now belong to me, that I really haven't been able to think about or look at or touch for a long time, because he was the biggest person in my life. I lost Dad in '08, so it's been difficult. But now I'm starting to go through some very personal things. And I'm trying to figure out a good way to share those with the fans.
How important was Count Cool Rider in getting you to where you are today?
(Laughing) Huge, man! Huge! I love that you bring that up, man. I really do. Count Cool Rider, so important to me. I've been a horror movie guy ever since I was a kid. I grew up between the cities of Cleveland and Detroit, and both of those cities had late-night horror hosts that I always watched. … (Count Cool Rider) was me paying respect to the guys that I grew up watching.
Did you actually enjoy any of those movies? Or were they just the cheapest ones you could get your hands on?
We were fortunate enough that "Saturday Fright at the Movies" did so well here at the local level that the studio could take the time to invest in the best horror movies that we could possibly get the rights to. So yes and no. Sure, we played some real stinkers, but we had some fun with them. And then, yeah, we got some really good movies along the way. So yes, I did enjoy probably most of the movies we played.
What's your favorite scary movie?
When I dig back into the classics, I have to say I just love "Dracula" with Bela Lugosi. I know that sounds so cliche, but it's just a magical film. I love "Nosferatu" starring Max Schreck. That was an amazing film, but the vampire was very much a monster. Bela Lugosi made him romantic, made him cool, and took him to a whole 'nother level. I'm a huge Vincent Price fan as well. I think "Theater of Blood" was arguably one of the coolest Vincent Price movies that was out there. But I also then go into things like "The Shining." Oh, my Lord, talk about just an amazing film. "The Shining" was just awesome.
Contact Christopher Lawrence at clawrence @reviewjournal.com or 702-380-4567. Follow @life_onthecouch on Twitter.
Getting to know: Danny Koker
What are you watching on TV? "I'm always big on 'The Walking Dead.' And I have been enjoying (AMC's) 'Preacher' for the most part."
If you could get away for a week, no commitments, no distractions, where would you go? "I would go to Detroit and visit family and revisit the old neighborhoods where I spent a large part of my youth growing up. And I would probably go to just south of Cleveland and do the same thing."
If you could pick any celebrity to work with on a build, who would it be? "I would build a '67 Shelby Mustang for Jim Morrison. Because he had one, and he loved that car back then. I'm a huge Doors fan. Either that or I would build a Stutz Blackhawk for Elvis."
What's one thing you never leave the house without? "Tragically, because of my age, my reader glasses. 'Cause I can't even see my phone without them."