Danny Koker of Count's Kustoms keeps going hard as 'Counting Cars' resumes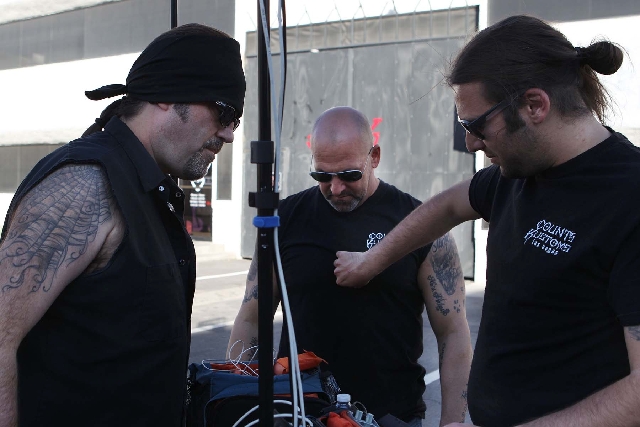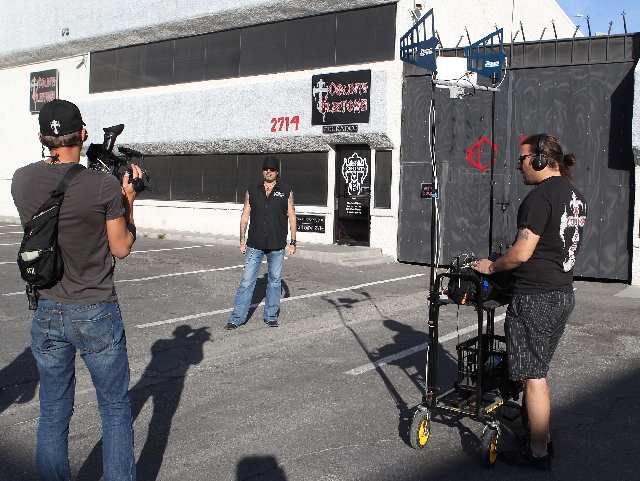 Forget fancy coffees, energy drinks and those tiny bottles promising hours of pep.
If you could synthesize whatever it is that keeps Danny Koker up and running, you'd corner the market on over-the-counter stimulants.
Since November, he's been working morning till night, five or six days a week, on his wheeling-and-dealing reality series, "Counting Cars" (9 p.m. Tuesday, History).
At least every other weekend, he's touring the country to promote it.
That's in addition to running his other businesses — Count's Vamp'd rock bar, Count's Tattoo Co. at the Rio and Desert Moon Productions recording studio — and fronting the vintage-rock band Zito 77.
"It's insane right now, man. I'm not kidding you," the 48-year-old Las Vegan says of a schedule that would stymie some men half his age. "I haven't been this busy since God knows when."
Occasionally, Koker even finds time for his day job at Count's Kustoms: restoring and tricking out cars and motorcycles that, for whatever reason, aren't TV-friendly.
"When the doors close down at night and everybody goes home, that's when I get to have fun," he says. "Not that shooting the show's not fun. It's a blast. But as far as getting my hands dirty, you know what I'm sayin'?"
Filming the first season of the "Pawn Stars" spinoff took an obvious toll on everyone at Count's Kustoms. During a visit to the shop last summer, Koker seemed drained and frazzled — rare traits for someone so relentlessly upbeat, he usually sounds like a motivational speaker raised on beat poetry and '80s-era wrestling promos.
"Everybody is a little slaphappy," he admitted at the time.
But what a difference a year makes.
"As we rolled into season two, it's been great," he says, "because we've really kind of fallen into a really good rhythm here. … Now, we pretty much know exactly what we're doing as a team, and I think it's going a lot smoother, man. Things are going really well."
It's a good thing, because the amount of work that goes into a single episode can be staggering. Take the custom motorcycle Koker's crew spent 60 days building, only to have it fill seven minutes of screen time.
Season two is twice as long as the original, meaning Tuesday marks the first of 13 weeks of back-to-back episodes. Whenever those are in the can, Koker says the production team will take a two- or three-week break before hitting the ground running on season three.
Speaking only a few hours after learning there would be a season three, Koker sounds particularly energized. He'll need to draw on that rush in the weeks to come, because he's not the type to use that brief window to recharge.
"The business is so absolutely, insanely busy, it's strike while the iron's hot, man," he says. "We're just gonna keep on workin'."
Taking an if-it-ain't-broke approach, season two is basically an extension of the first, with the core group — Koker, along with Kevin, Scott, Roli and Horny Mike — learning the histories of both the clients and their vehicles before turning clunkers into classics and creating other automotive works of art.
This season's customers range from a young racing champion in search of a $2,000 paint job for his soapbox derby car to Ziggy Marley, who's looking to restore and customize his legendary father's 1980 Mercedes 500SL Euro.
"There's some very cool people that you're going to meet in season two," Koker promises. "Some really interesting characters, some fun characters, some very, very patriotic people, some really good folks.
"But you're also gonna see some really wicked cars. You're gonna see some really beautiful motorcycles. We've really pulled out the stops. If y'all enjoyed season one, I'm tellin' ya, season two is a mind-blower. There's some great, great, great vehicles to show off, man."
If you simply can't wait to see the fruits of Koker's labor, you can always join the hordes of fans at Count's Kustoms, 2714 S. Highland Drive.
The shop was a tourist attraction long before the series debuted, thanks to Koker's guest appearances on "Pawn Stars." But since "Counting Cars" began airing in August — and has been kept alive in reruns and marathons in the ensuing months — Count's Kustoms has exploded in popularity.
"(It's) pure insanity, but in such a wonderful way, man," Koker says. "We get hundreds of people coming through this shop daily. It's awesome.
"The tour is free, just come on in, make yourself at home, check the joint out, walk around and enjoy it. Nine times out of 10, at least one of us from the show is here as well."
And, now that "Counting Cars" is airing in more than 150 countries, there's no telling who else you'll see.
"On any given day here at the shop," Koker says, "you can meet people literally from around the world that show up here. … People from, I'm not kidding you, worldwide are coming to visit this shop every day. It's cool, man. It's really cool to meet these people."
Koker was used to a certain level of fame from the decade he spent as Count Cool Rider, the vampire host of "Saturday Fright at the Movies" on the old KFBT-TV, Channel 33. But there's a big difference between being noticed in a valley grocery store and being known to viewers throughout the world.
"It's kinda surreal. It's kinda different to be recognized by everybody. It's kinda funny," he says. "But the real plus on that is, everybody is so nice, man."
Among his favorite interactions are those with "Counting Cars" fans who tell him they sit down with their parents or children to watch the show's "good, clean, family entertainment," even if they couldn't care less about the cars and bikes.
"It's just really cool to think that what we're doing, people are enjoying it and are loving it," Koker says, "and that's very fulfilling."
Contact Christopher Lawrence at
clawrence@reviewjournal.com
or 702-380-4567.