Families recombine, royals convene and Agent Coulson leaves The Avengers behind in new season
September 14, 2013 - 11:06 pm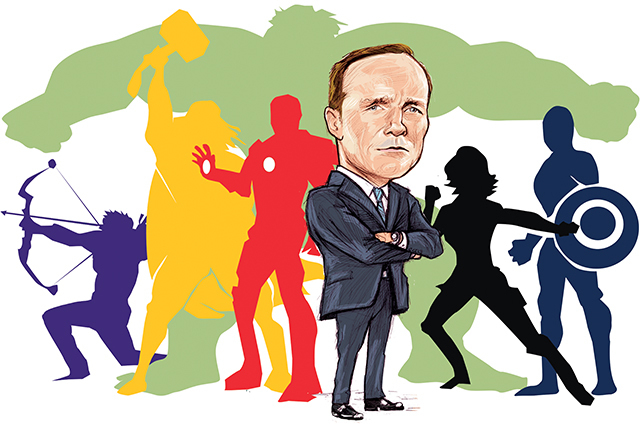 Sure, they helped save the world in "The Avengers." But can they save the fall TV season?
This fall TV season?
It's going to take a lot more than a resurrected Phil Coulson (Clark Gregg) and the rest of Marvel's agents of S.H.I.E.L.D. — stars of the cumbersomely titled "Marvel's Agents of S.H.I.E.L.D." — to avert this impending disaster.
This autumn will see a whopping 28 new series, seven more than last year, and just two are truly worth recommending: James Spader as a disgraced government agent in NBC's "The Blacklist" and ABC's "S.H.I.E.L.D."
And the latter is mostly a result of its potential.
Co-written and directed by "The Avengers' " Joss Whedon, the drama obviously doesn't have its predecessor's $100 million-an-hour budget. So you won't be seeing Iron Man or the Hulk. Captain America and Thor have previous commitments. The ratings would have to be circling the drain to eke out cameos from Black Widow or Hawkeye. Heck, because "How I Met Your Mother" earned a surprise renewal, even Cobie Smulders' Agent Maria Hill is only available for the first episode.
Boasting the highest profile of the new fall shows, the only real hurdle facing "S.H.I.E.L.D." is whether Agent Coulson's new team will be strong enough for him to step out of the shadow of The Avengers.
While he's moving on, most everyone else is just moving.
Daughters move in with their fathers (NBC's "Sean Saves the World," ABC's "Back in the Game"). Parents move in with their sons (Fox's "Dads," CBS' "The Millers"). Vampires move to New Orleans (The CW's "The Originals"). Mary, Queen of Scots moves to the royal court of France (The CW's "Reign"). A newly single guy moves into an apartment complex full of newly single guys (CBS' "We Are Men"). Gun-toting mercenaries move in with a family (CBS' "Hostages"). And Alice moves back to Wonderland (ABC's "Once Upon a Time in Wonderland").
There may not be much to wholeheartedly endorse, but this fall isn't all doom and gloom.
A few series — "Hostages," Fox's "Brooklyn Nine-Nine" and NBC's "The Michael J. Fox Show" — could overcome some initial growing pains and go on to become productive members of the television community.
And a handful of others — "We Are Men," "Reign," NBC's "Ironside" remake and Fox's "Almost Human" and "Sleepy Hollow" — are worth checking out.
Here's a look at the networks' 28 new offerings scheduled to debut starting Monday. And, as always, times and dates are subject to change.
"BETRAYAL"
10 p.m. KTNV-TV, Channel 13 (Sept. 29)
Who's in it: Hannah Ware, Stuart Townsend, James Cromwell
What it is: A married photographer (Ware) and a married attorney (Townsend) start sleeping together and soon find themselves on opposite sides of a murder trial.
What it's like: Some late-night Skinemax series that's missing all the juicy parts. The dialogue is wretched. There isn't an ounce of charisma in the whole hour. And who exactly are we supposed to be rooting for? The dull photographer? Her lame lover? Her indifferent husband? It's as though "Betrayal" were sponsored by the Anti-Cheating Coalition in the hopes that, by making affairs seem this achingly dreary, no one would ever stray again.
"ALMOST HUMAN"
8 p.m. KVVU-TV, Channel 5 (Nov. 4)
Who's in it: Karl Urban, Michael Ealy, Minka Kelly, Lilli Taylor
What it is: In 2048, a detective (Urban) awakens from a 17-month coma with a new synthetic leg and a decommissioned android (Ealy) for a partner in this sci-fi police procedural from J.J. Abrams and J.H. Wyman ("Fringe").
What it's like: "I, RoboCop." There's nothing else like it on TV, yet the watered-down Philip K. Dick world "Being Human" inhabits still feels oddly familiar thanks to decades of derivative big-screen sci-fi. If Urban lightens up a bit, though, this could end up being a keeper.
"We Are Men"
8:30 p.m. KLAS-TV, Channel 8 (Sept. 30)
Who's in it: Tony Shalhoub, Jerry O'Connell, Kal Penn, Chris Smith
What it is: When he's jilted at the altar, a would-be groom (Smith) moves into a short-term housing complex, where he's taken under the wing of three neighbors (Shalhoub, O'Connell, Penn) who teach him what it takes to be single again.
What it's like: "Sex and the Short-Term Housing Complex." The cast has a decent amount of chemistry, and everything feels decidedly more sophisticated than most of the comedies in the CBS arsenal. But so far, "Men" is more likable than it is funny. And it's already straining for ways to get O'Connell to take off his shirt.
"Sleepy Hollow"
9 p.m. Channel 5 (Monday)
Who's in it: Tom Mison, Nicole Beharie, Orlando Jones
What it is: Gravely wounded on the battlefield in 1781, Ichabod Crane (Mison) emerges in modern-day Sleepy Hollow, N.Y., determined to defeat the Headless Horseman, who's been reimagined as one of the Four Horsemen of the Apocalypse, in this drama from Alex Kurtzman and Roberto Orci ("Fringe," "Star Trek").
What it's like: The sort of ambitious genre show Fox cranks out every couple of years that struggles to find an audience and doesn't get a second season, causing the Internet to explode in Fox-cancels-everything-that's-good, I'm-never-watching-Fox-again rage without anyone pausing to realize that Fox is the only network that would have put something like it on the air in the first place. For an apocalyptic tale, "Sleepy Hollow" has a fairly light touch. And the sight of the Horseman still clad in his Redcoat regalia but brandishing a shotgun and automatic weapons is a hoot.
"Mom"
9:30 p.m. Channel 8 (Sept. 23)
Who's in it: Anna Faris, Allison Janney, Nate Corddry, French Stewart
What it is: A newly sober waitress (Faris) is caught between her partying 16-year-old daughter and her partying mother (Janney) in the latest comedy from Chuck Lorre ("Two and a Half Men," "Mike &Molly").
What it's like: Big, loud and obvious — just the way Lorre likes it. The premise seems better-suited to one of those Showtime "comedies" that are closer in spirit to 30-minute dramas. Because what's here — especially Faris' stand-up-style sharings during an AA meeting — feels forced and shticky.
"The Blacklist"
10 p.m. KSNV-TV, Channel 3 (Sept. 23)
Who's in it: James Spader, Megan Boone, Harry Lennix
What it is: After decades on the FBI's Most Wanted list, a traitorous former government agent (Spader) surrenders and offers to help bring down everyone he's worked with, as long as he can be handled by — and demand quid pro quo sharing from — an inexperienced FBI profiler (Boone).
What it's like: "The Silence of the Lambs" without the fava beans and the nice chianti. The first episode promises a taut, twisty series and a bit of prestige, both for NBC and Spader, who adds yet another flashy role to his resume. It's the best new network series of the fall.
"Hostages"
10 p.m. Channel 8 (Sept. 23)
Who's in it: Toni Collette, Dylan McDermott, Tate Donovan
What it is: The night before she's supposed to operate on the president, a top surgeon (Collette) and her family are taken hostage with one demand: If the president survives, they won't.
What it's like: An interestingly intense movie stretched out over 15 weeks. The positives: "Hostages" boasts a stellar cast and characters with varying degrees of sympathy on both sides of the guns. The negatives: It shares the central dilemma of the premiere of last fall's "The Mob Doctor," and it's a pretty claustrophobic setting for an ongoing series, even one that's built to last for just 15 episodes.
"MARVEL'S AGENTS OF S.H.I.E.L.D."
8 p.m. Channel 13 (Sept. 24)
Who's in it: Clark Gregg, Ming-Na Wen, Brett Dalton
What it is: Agent Coulson (Gregg) leads a new team that serves as "the line between the world and the much weirder world" in this spinoff of "The Avengers."
What it's like: "The Avengers" without all the really expensive stuff, and the moderately expensive stuff, and The Avengers. Like most of co-creator Joss Whedon's work, "S.H.I.E.L.D.," which burrows down into Marvel lore, is a little cheeky and a little irreverent. Also like much of Whedon's work, it feels like it's going to take a while to really warm up to many of the quirky characters. But anything that offers more Agent Coulson should be welcomed with open arms. Clark Gregg is just that good.
"The Originals"
8 p.m. Oct. 8 KVCW-TV, Channel 33 (premieres at 9 p.m. Oct. 3)
Who's in it: Joseph Morgan, Daniel Gillies, Claire Holt, Phoebe Tonkin
What it is: The surviving original vampires (Morgan, Gillies, Holt) head to The Big Easy in this spinoff of "The Vampire Diaries."
What it's like: "Treme" with monsters, or "True Blood" with less engaging ones. "The Originals" is fine for what it is. But is it really such a good idea to siphon off core characters from a series that's only becoming less interesting as it goes?
"Dads"
8 p.m. Channel 5 (Tuesday)
Who's in it: Seth Green, Giovanni Ribisi, Martin Mull, Peter Riegert
What it is: Co-workers and childhood friends (Green, Ribisi) have their lives turned upside down when their dads (Riegert, Mull) move in with them in this comedy from "Family Guy" writers Seth MacFarlane, Alec Sulkin and Wellesley Wild.
What it's like: You know how "Family Guy" is racist, sexist and homophobic, but you end up laughing at it anyway, even though a little piece of you dies every time you do? This is like that. Without the laughing.
"Brooklyn Nine-Nine"
8:30 p.m. Channel 5 (Tuesday)
Who's in it: Andy Samberg, Andre Braugher, Terry Crews
What it is: A gifted yet hopelessly juvenile detective (Samberg) butts heads with his new straitlaced commanding officer (Braugher) in this comedy from "Parks and Recreation" writers Dan Goor and Michael Schur.
What it's like: "NYPD Boob." The series walks a fine line between funny and silly. And much of your reaction will depend on your tolerance of Samberg's hijinks. But "Brooklyn" has an ace up its sleeve in Braugher, whose comedic chops rarely get the respect they deserve.
"The Goldbergs"
9 p.m. Channel 13 (Sept. 24)
Who's in it: Jeff Garlin, George Segal, Patton Oswalt
What it is: Writer Adam F. Goldberg ("Breaking In") re-creates his childhood "The Wonder Years"-style, down to Oswalt's nostalgic narration, with this family comedy set in 1985.
What it's like: Watching a stranger's home movies. This loud, obnoxious blast of hot air from the past can be summed up in six words: plenty of screaming, absolutely no laughing.
"Trophy Wife"
9:30 p.m. Channel 13 (Sept. 24)
Who's in it: Malin Akerman, Bradley Whitford, Marcia Gay Harden
What it is: A one-time party girl (Akerman) is forced to settle down when she marries an attorney (Whitford) and has to adjust to his three kids and two ex-wives.
What it's like: A screwball comedy that's missing the screws and, most importantly, the balls. There's plenty of promise here, thanks largely to its top-notch cast, but almost all of that promise is being wasted.
"Lucky 7"
10 p.m. Channel 13 (Sept. 24)
Who's in it: Matt Long, Luis Antonio Ramos, Isiah Whitlock Jr.
What it is: Gas station co-workers split a $45 million lottery jackpot.
What it's like: "Lucky to Last 7 Weeks." The cast is underwhelming, with many of the actors feeling more like place-holders than first or even final choices. And everyone involved in the drama sure makes a big hullabaloo over a relatively modest $45 million split numerous ways.
"BACK IN THE GAME"
8:30 p.m. Channel 13 (Sept. 25)
Who's in it: Maggie Lawson, James Caan, Lenora Crichlow
What it is: A former softball star (Lawson) moves in with her overbearing father (Caan) and begins coaching her young son's baseball team full of outcasts and weirdos.
What it's like: "The Bad News Barely Watchables." Lawson makes for an appealing lead, but she can't do much with what passes for comedy on this annoying little sitcom. On a positive note, Caan should be able to cut down on his grocery bills considering all the scenery he gets to chew.
"The Tomorrow People"
9 p.m. Channel 33 (Oct. 9)
Who's in it: Robbie Amell, Peyton List, Mark Pellegrino
What it is: The Tomorrow People — uniformly attractive young adults with telepathy, teleportation and telekinesis — battle a militant group of scientists known as Ultra.
What it's like: "Jumper: The Series." It sounds like the sort of convoluted nonsense that's taken over young adult fiction. A shadow war is being waged by groups with silly names and sillier rules: Tomorrow People are genetically unable to kill; Ultra headquarters somehow render their powers useless. But it's actually based on a 1970s British kids show.
"Ironside"
10 p.m. Channel 3 (Oct. 2)
Who's in it: Blair Underwood, Pablo Schreiber, Brent Sexton
What it is: A caustic, insubordinate, wheelchair-bound detective (Underwood) handpicks a team of investigators to solve high-profile cases in this update of the Raymond Burr drama.
What it's like: "House, P.D." There's some interesting character stuff bubbling under the surface. And Underwood still has star power to burn. The first episode, though, is solid but unexceptional.
"Super Fun Night"
9:30 p.m. Channel 13 (Oct. 2)
Who's in it: Rebel Wilson, Liza Lapira, Lauren Ash
What it is: When an attorney (Wilson) lands a big promotion, her Friday night tradition — staying in with her roommates (Lapira, Ash) rather than confronting the outside world — is put in jeopardy in this sitcom.
What it's like: A review copy wasn't available by deadline, but the original version wasn't super, it wasn't fun, it didn't even always take place at night. Calling it a hot mess is giving it too much credit. It was closer to a lukewarm catastrophe.
"ONCE UPON A TIME IN WONDERLAND"
8 p.m. Channel 13 (Oct. 10)
Who's in it: Sophie Lowe, Naveen Andrews, John Lithgow, Michael Socha
What it is: Things get curiouser and curiouser when the Knave of Hearts (Socha) and the White Rabbit (voiced by Lithgow) break Alice (Lowe) out of a mental asylum in Victorian England and send her back down the rabbit hole.
What it's like: A review copy wasn't available by deadline.
"The Millers"
8:30 p.m. Channel 8 (Oct. 3)
Who's in it: Will Arnett, Margo Martindale, Beau Bridges, JB Smoove
What it is: A TV reporter's (Arnett) divorce inspires his dad (Bridges) to leave his mom (Martindale), who moves in with him and ruins his newfound single status, in this comedy from Greg Garcia ("Raising Hope," "My Name Is Earl").
What it's like: "The Odd Couple" with farts. The game-for-anything Arnett emerges largely unscathed. And Bridges has been down this bumpy road before. But seeing "Justified" Emmy winner Martindale reduced to breaking wind and giggling about it is heartbreaking.
"Welcome to the Family"
8:30 p.m. Channel 3 (Oct. 3)
Who's in it: Mike O'Malley, Mary McCormack, Ricardo A. Chavira, Justina Machado
What it is: A couple's (O'Malley, McCormack) dreams of an empty nest are dashed when their daughter learns she's pregnant on her graduation day and they instantly clash with her boyfriend's Latino parents (Chavira, Machado).
What it's like: "Guess Who's Coming to Dinner Because He Knocked Up Our Daughter?" The conflict, stemming from Chavira's dissing O'Malley at his boxing gym, is plenty contrived. After his Emmy-nominated work on "Glee" and his brilliant turn on "Justified" — What is it with alums of that great drama this season? — O'Malley deserves better than this predictable sitcom.
"The Crazy Ones"
9 p.m. Channel 8 (Sept. 26)
Who's in it: Robin Williams, Sarah Michelle Gellar, James Wolk, Hamish Linklater
What it is: A young advertising executive (Gellar) tries to rein in her brilliant-yet-unpredictable partner (Williams) who's also her father.
What it's like: "Mad (As in Insane) Men" — they even stole Bob Benson! Yes, it's a big deal that Williams is back on TV. But the way he gives in to the same obvious, tired impulses he's been relying on for decades is eye-rollingly insufferable. And the premiere is just one big, noisy McDonald's commercial masquerading as a comedy.
"Sean Saves the World"
9 p.m. Channel 3 (Oct. 3)
Who's in it: Sean Hayes, Linda Lavin, Thomas Lennon
What it is: A divorced dad (Hayes) struggles to adapt to full-time fatherhood when his 14-year-old daughter moves in with him in this comedy.
What it's like: A review copy wasn't available by deadline.
"The Michael J. Fox Show"
9:30 p.m. Oct. 3, Channel 3 (premieres at 9 p.m. Sept. 26)
Who's in it: Michael J. Fox, Wendell Pierce, Betsy Brandt
What it is: After Parkinson's disease forced him into early retirement, a beloved TV personality (Fox) returns to the air in this autobiographical comedy.
What it's like: "The Michael J. Fox Story." The first episode is a little rough around the edges. And it takes a while to get used to Fox and others joking about his disease. But if there's one undeniable rule of television, it's this: Never, ever count out Michael J. Fox.
"Reign"
9 p.m. Channel 33 (Oct. 17)
Who's in it: Adelaide Kane, Toby Regbo, Torrance Coombs
What it is: Mary, Queen of Scots (Kane), who's been hidden at a convent since becoming engaged to France's Prince Francis (Regbo) as a child, returns to set their wedding in motion, and capture the eye of Francis' half-brother (Coombs), in this drama set in 1557.
What it's like: "The Tudors for Teens." The accents are as out of place as the pop songs on the soundtrack. But the production values are extraordinary — at least for The CW. And there's plenty of "Gossip Girl"-style sex and scheming for viewers skeptical of the historical angle.
"MASTERCHEF JUNIOR"
8 p.m. Channel 5 (Sept. 27)
Who's in it: Gordon Ramsay, Joe Bastianich, Graham Elliot
What it is: 24 cooks between the ages of 8 and 13 battle for kitchen supremacy and $100,000 in this cooking competition spinoff.
What it's like: A review copy wasn't available by deadline, but rest assured, this version apparently won't involve Ramsay spitting food and expletives at small children.
"Enlisted"
9:30 p.m. Channel 5 (Nov. 8)
Who's in it: Geoff Stults, Chris Lowell, Parker Young, Keith David
What it is: A decorated soldier (Stults) is demoted from the front lines to a Rear Detachment Unit in Florida, where he's reunited with his misfit brothers (Lowell, Young), in this comedy.
What it's like: "Stripes" divided by "Gomer Pyle: USMC" plus "Private Benjamin." The supporting cast needs work. And while it's enjoyable enough, "Enlisted" doesn't necessarily feel like anything you'd need to see again.
"Dracula"
10 p.m. Channel 3 (Oct. 25)
Who's in it: Jonathan Rhys Meyers, Oliver Jackson-Cohen
What it is: In 1881 England, Dracula (Rhys Meyers) reinvents himself as a new-moneyed American prone to throwing lavish parties.
What it's like: "The Grave Gatsby." Rhys Meyers is saddled with a drab American accent. And there's a shady "Order of the Dragon." And something about oil vs. sustainable geomagnetic energy. And a revenge plot similar to "Revenge," down to Dracula's choice of the surname Grayson. And, well, shouldn't there be some fun? Or some sexiness? Or, preferably, both? This is Dracula, for crying out loud!
As usual, no new series are scheduled.