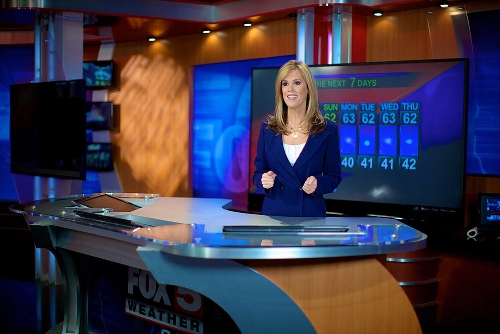 Weather is just one of those things. You know, it impacts what we're doing today and what we plan to do tomorrow. It's always there and, while we cannot change it, we can — properly informed — prepare for it.
People unfamiliar with weather patterns in places such as Las Vegas and San Diego, for example, think it's easy to forecast because it's just about always nice, without the large temperature and precipitation variations of places in, say, the Northeast. But things are not always as they seem.
We tend to depend on forecasters at local television stations for a heads up on what those clouds mean or when the heat will break.
The art and science of weather forecasting are constantly developing, notes Kevin Janison of KSNV-TV, Channel 3.
"What happens — and a lot of people don't realize this — is that we base forecasts on the information we have from weather technology and on historical trends. We have records going back about 100 years. We can see patterns in similar conditions over those years."
The forecasters, in turn, rely on the staff at the National Weather Service.
"Every location has its issues with weather, even places like San Diego. We're in the desert where the average is less than 10 inches of precipitation each year. In Las Vegas, we average about 4.25 inches each year," says Faith Borden, warning coordination meteorologist at the local Weather Service office.
The Weather Service first came to Las Vegas in 1937, using what would become Nellis Air Force Base as the official climate station. Today, McCarran International Airport serves that function. The region's weather radar is on Nelson Peak, near Boulder City, and the radar system will be updated this winter.
"People joke that being a meteorologist is the only job where you can be wrong 50 percent of the time and still keep that job," Borden says, adding, "We are very lucky in Las Vegas. We have some of the most incredibly talented individuals you'll find anywhere serving as meteorologists here."
The newest of these is Stacy Donaldson, who came to KVVU-TV, Channel 5 to serve as chief meteorologist in June. She describes her job as "making sure there's consistency in our forecasts and being the go-to person when things go wrong — or right."
Donaldson explains: "Weather is cyclical. A cycle can be 50 years or five years depending upon the weather phenomenon. So, in Texas if there's a drought now, we can look back on the big drought there in the 1920s and learn from it. It's important to look back in order to look forward."
She says she's "always been fascinated with weather. Always. And I find that I am not alone. Almost everyone who talks to me loves weather. I can see where they're coming from — they want consistency. They want good information."
Meanwhile, Janison, who has lived in the valley since 1994, developed the Neighborhood Weather Network, placing weather stations in and writing curricula for more than 100 schools in the region. He also visits scores of schools each year to talk about weather.
"The biggest challenge in Las Vegas is the precipitation," he says. "Wind is easier to forecast because when it looks like it's going to be windy it almost always is windy. Lots of storms will look like they'll be wet, but they aren't. "
In the end, "you work with the best information you have at the time. We're not psychics," Donaldson says.
And yet, people still tend to blame the forecaster if the weather isn't what they want it to be, Donaldson and Janison agree.
"Nobody blames a sportscaster if their team doesn't win," Donaldson says. "Just like one small thing can change the outcome of a game, one small factor can change the weather. When that happens, people get upset."
"In fact," Janison says, sticking with a sports analogy, "I'd compare our batting average in weather prediction with the Super Bowl or stockbrokers. Using the information available to us, we do pretty well."