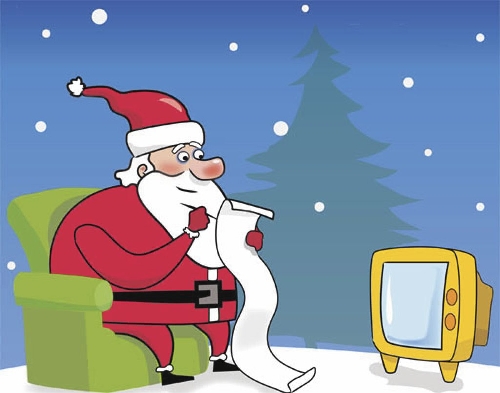 You missed Cyber Monday, and you'd rather get a root canal from Honey Boo Boo at the DMV than get caught up in a Black Friday scrum.
But now you're short on gifts.
You could always grab a logo T-shirt or coffee mug for the TV lovers on your list. But if you're looking to avoid that withering look of disappointment, here are some more creative suggestions found on the networks' websites:
Having exhausted every conceivable piece of "The Office" merchandise, NBC has turned to the inconceivable: actual Dunder Miflin brand paper ($9.98 a ream, $74.98 a carton; nbcuniversalstore.com).
You could go the obvious route and give the "Sons of Anarchy" fan in your life a leather jacket ($399.95; shop.fxnetworks.com) featuring the club's logo and a SAMCRO patch. But there's just something way more adorable about the show's logo-patterned Men of Mayhem pajama pants ($29.95; shop.fxnetworks.com). Because few things say "I'm a Man of Mayhem" like being snuggly at night.
For that special someone who's into skateboarding and being beaten mercilessly by other skateboarders, Fox is selling a "Glee"-themed skateboard deck ($59.95; foxshop.com).
Know an aspiring actress? Give her the gift of infamy with the "How I Met Your Mother" yellow umbrella ($17.95; cbsstore.com) inspired by the one Ted's been yammering on about since 2007 because it belonged to his future wife. Then all she'll have to do is sneak onto the set and burst into a scene yelling, "I'm the mother, I'm the mother, look at me, I'm the mother," and the once great comedy would be allowed to leave with what's left of its dignity.
Your loved one could take care of even the most gruesome household messes with Showtime's "Dexter" brand heavy-duty trash bags ($12.95; store.sho.com).
For fans of "NCIS" – or anyone with the sense of humor of an 8-year-old – CBS offers a wide range of items tied to Abby's beloved Bert the Farting Hippo. There's the puppet ($44.95; cbsstore.com), the deluxe model with two interchangeable studded collars ($54.95; cbsstore.com), the key chain ($14.95; cbsstore.com) and the hippo-shaped slippers that make a fart noise when you walk ($34.95; cbsstore.com).
Sure, if you've got an annoying friend you'd like to penalize every time he says or does something stupid, you could make your own douchebag jar like the one the gang made for Schmidt on Fox's "New Girl." All you'd need is a jar, a piece of paper that says "Douchebag Jar" and some tape. But why would you when you can purchase "an official Douchebag Jar, from the inventors of Douchebag Jars" ($12.95; foxshop.com)?
Ever wonder, "Who buys that crap they uncover on 'American Pickers'?" Now, you can be that crap buyer, with re-creations of some of Mike and Frank's best picks ($17.95-$1,799.95; shop.history.com).
HBO's "True Blood" has its own fragrance, Forsaken ($69; store.hbo.com), with top notes of dark blackberry, Anjou pear and blood orange; middle notes of night blooming jasmine, sheer violet and black plum; and bottom notes of ebony wood, amber crystals, patchouli and vanilla. Whatever that smells like, it has to be better than Bon Temps' natural aroma of rutting werewolves, vampire breath and fairy poo.
CBS is selling a replica of the diner uniform ($59.95; cbsstore.com) from "2 Broke Girls." Crude sex jokes not included.
Remember Emily's wooden box on "Revenge"? The one she used for storing her hit list and other goodies back when she actually exacted some revenge? Relive those glory days with the "Revenge" infinity box ($24.99; abctvstore.com).
Just because that "Shameless" fan on your list isn't in charge of a crumbling household full of felonious-but-lovable miscreants doesn't mean he or she wouldn't appreciate Fiona's "F(bomb) Off" sleep mask ($16.95; store.sho.com).
For anyone whose wardrobe is getting a little bland, give them a helping hand, courtesy of that indisputable style icon Billy the Exterminator and his leather Vexcon vest ($149.95; shop.history.com), his multibuckled pants ($99.95; shop.history.com), his fingerless studded gloves ($29.95; shop.history.com) and his studded wristbands ($19.95 and $59.95; shop.history.com).
Fans of "The Real Housewives of New Jersey" can wear Melissa Gorga's "Super Jeans" ($389.95; shopbybravo.com). For that kind of cash, they'd better be super. They'd better come with X-ray vision.
Anyone who's been able to get past all its talk of glory holes without collapsing into a giggling fit is a true fan of Discovery's "Gold Rush." Reward them with something called a "leather poke" – giggle – containing 10 pennyweights of Alaskan mining placer gold nuggets ($1,124.95; store.discovery.com).
Have someone on your list who complains of not being able to grow a beard? Now he can – albeit a scraggly green one – thanks to the "Duck Dynasty" Willie Robertson Chia Pet ($29.95; shop.history.com).
The net proceeds from MTV's official "Restore the Shore" T-shirt ($19.99; shop.mtv.com) will go toward rebuilding Seaside Heights, N.J., after the devastation caused by Hurricane Sandy. It's the least MTV could do since it never cleaned up after Hurricane Snooki.
And, finally, for the "Game of Thrones" fan who has everything – including, presumably, a friend with some mighty deep pockets – HBO is selling a custom-made, life-size replica of the drama's Iron Throne ($30,000; store.hbo.com). Standing more than 7 feet tall and weighing 350 pounds, the shipping alone will set you back $1,800.
Happy shopping.
Contact Christopher Lawrence at clawrence@review
journal.com or 702-380-4567.