How Raiders fans with DirecTV can still watch Sunday's game
Updated September 6, 2023 - 5:29 pm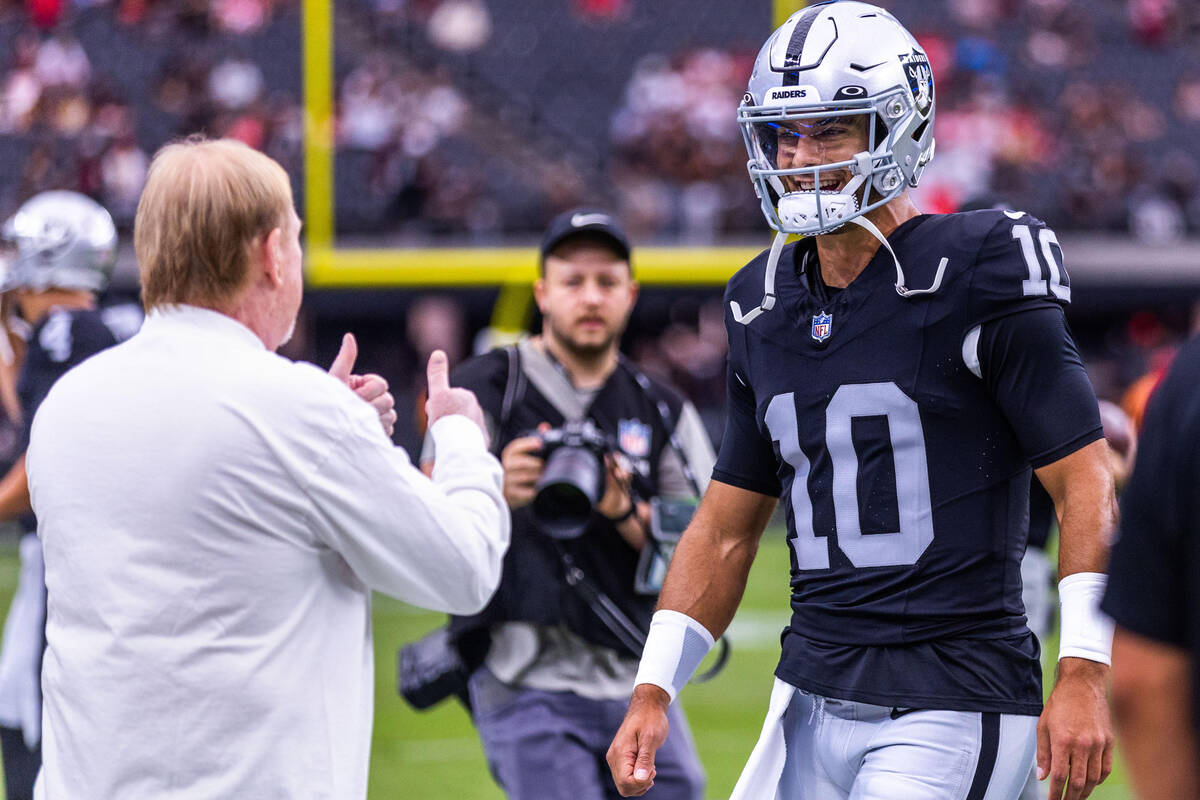 If you're a Raiders fan with DirecTV, you're no doubt sweating bullets right about now.
The team's season opener kicks off at 1:25 p.m. Sunday in Denver, and KLAS-TV, Channel 8, the local CBS affiliate that will carry the game, has been off DirecTV since July 2.
Could DirecTV and Nexstar Media Group, the nation's largest operator of local TV stations and owner of Channel 8 since 2015, reach an agreement on a new contract by game time?
Absolutely.
At the heart of the dispute are retransmission fees, the money local stations charge cable and satellite providers to air the same content that's available for free on apps or over the air via an antenna. And with the broadcast networks having all but given up on their fall seasons, the NFL is the only major impetus to get both sides to the bargaining table anytime soon.
Sunday's game obviously isn't the only one affected. CBS and Channel 8 also have the Raiders' Sept. 17 game at Buffalo, the Oct. 1 game at the L.A. Chargers, and the Oct. 15 home game against New England. The Raiders aren't back on CBS/Channel 8 until Nov. 19 at Miami.
So what's a Silver and Black diehard to do?
Here are some options:
Streaming
Paramount+ subscribers can stream the NFL games carried by their local CBS station. Subscribers to the Paramount+ with Showtime plan can access a livestream of their local CBS affiliate at any time. The basic service is $5.99 a month, while the Paramount+ with Showtime plan is $11.99 a month. The service has a one-week free trial.
Other streaming options include Hulu + Live TV (plans start at $69.99 a month), YouTube TV (plans start at $72.99 a month) and FuboTV (plans start at $74.99 a month), but those are more relevant to people wanting to dump DirecTV for another service. They do tend to offer free trials, though.
NFL Sunday Ticket
The package that offers every out-of-market Sunday game has moved from DirecTV to YouTube and YouTube TV, and it's available starting at $399 a year. The key, though, is "every out-of-market" game, which doesn't apply to the Raiders in Southern Nevada — unless you're able to access some type of virtual private network, which we would never officially endorse.
Digital antennas
There's no one-size-fits-all solution when it comes to digital antennas. They're easy to use — just plug it into your TV, scan for signals, and you can watch dozens of over-the-air channels for free. But good reception depends on how far you are from the local stations' transmitters (i.e., Henderson) and how much the signal path from there to your antenna is obstructed. You'll need to do some research, or perhaps rely on trial and error, to find the best one for you. Enter your address, and this FCC site will show you the signals you should get, as well as their strength.
Sports bars
Plenty of sports bars will show Raiders games. There are a handful of official Raiders bars around the valley, though, where you can watch with other fans — assuming those Raiders bars don't rely on DirecTV. These are the ones that responded to our survey this fall.
Sportsbooks
It's hard to imagine your local sportsbook won't show Raiders games, usually on a massive screen. That's especially true if that sportsbook happens to be the Westgate SuperBook or the Circa sportsbook.
Stadium Swim
Speaking of Circa, its pool shows NFL games on its 143-foot screen. Entrance fees this Sunday range from general admission for $80 to a minimum spend of $10,000 for an owners suite.
Find a friend
Ask around. Send out a Facebook blast. Somebody you know must have access to the game. Worst case, make like that guy in the bushes with Josh Allen, watching his neighbor's TV, in that Verizon commercial. If you want to see the Raiders bad enough, you'll find a way.
Contact Christopher Lawrence at clawrence@reviewjournal.com or 702-380-4567. Follow @life_onthecouch on X.