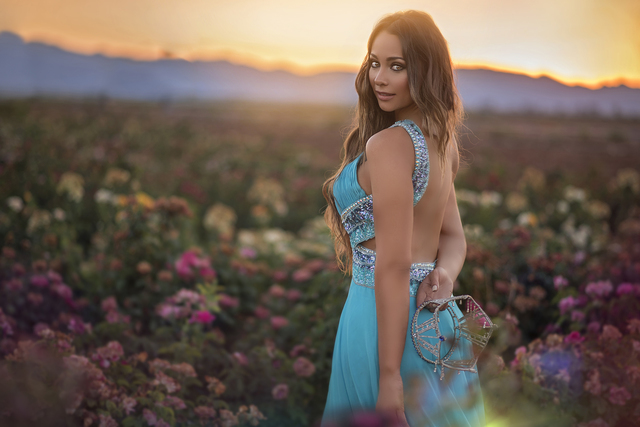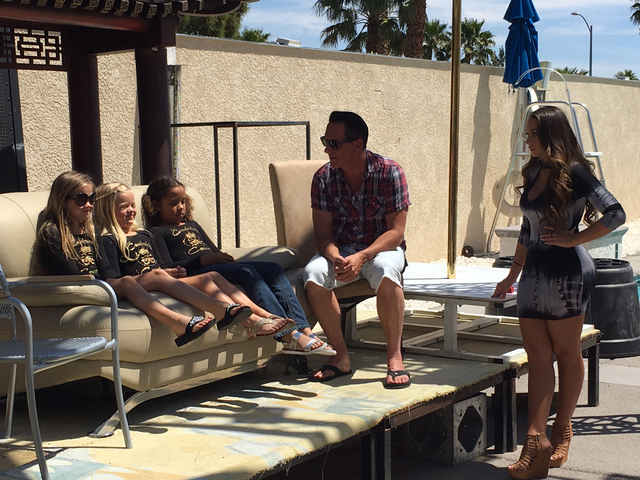 Vegas Voices is a weekly question-and-answer series featuring notable Las Vegans.
Cambrie Littlefield entered her first beauty pageant when she was 2, and she's been a pageant coach since the age of 14. So the 27-year-old former UNLV Rebel Girl, who's called Las Vegas home for the past 17 years, knows both sides of the world of "Toddlers and Tiaras."
The TLC reality series that introduced the world to Honey Boo Boo returns after a three-year absence at 9 p.m. Wednesday with a focus on Littlefield and the girls she coaches, known as "Cambrie's Court."
"I'm not just a coach," Littlefield explains. "Like, I do everything. I do the hair and makeup. I do the coaching. I do design. I do the photos for the girls."
Littlefield charges $100 to $175 per hour for her services, and she currently has a roster of roughly 200 girls. About 30 are from Las Vegas, while the rest live around the world and connect with her through Skype. "Most of the girls I never even get to meet," she says.
Littlefield took time out from a pageant in Arkansas to talk about her career and the escalating world of child beauty pageants, where startup costs alone can surpass $10,000.
Review-Journal: You started in pageants 25 years ago. I'm assuming they were a lot different back then.
Littlefield: Well, they were. We didn't have, like, fake teeth and fake hairpieces, and the clothes weren't as fabulous as they are now. But my mom put me in a pageant when I was 2 years old, and I won. So they kept putting me in pageants. And then they actually made me take a break to where I was old enough to say that I wanted to do pageants. And eventually, I was, like, begging my mom.
R-J: Were you more competitive as a contestant or a coach?
Littlefield: I would say a coach. I really liked competing, and I did well when I did compete. But I didn't compete as much as I really would have wanted to. I did do a few pageants. Like, I was Miss Utah United States 2011, I think it was. So I mean, I have some great titles. And I won, like, a lot. But I think I would say I'm a better coach. And I actually enjoy (coaching) a lot better.
R-J: You say in the first episode, "I can't even keep a boyfriend because I love pageants too much." Is that true?
Littlefield: It's very true. Yes. I would say the last few relationships I was in, I don't think they understood or appreciated all of the time that I was spending on pageants. So when it comes down to it, I usually pick pageants over the man.
R-J: There's no real offseason in the pageant world. Do you ever just take time for yourself?
Littlefield: I mean, if there's a pageant, I'm going to be there. So no, not really.
R-J: You worked on the Johnny Knoxville movie "Bad Grandpa" (transforming 8-year-old actor Jackson Nicoll into a pageant girl). What was that like?
Littlefield: That was really fun. It was different. I don't typically coach little boys. There's not too many boys that do pageants. … Working with Johnny Knoxville was kind of different, because I was expecting him to be really loud and funny and crazy the whole time, and he wasn't. But he got really into the pageant scene. And if you ask me, it was the best scene in the whole movie.
R-J: On "Toddlers and Tiaras," you're spraying collagen on 3-year-olds, having the girls undergo hypnosis and you're saying things like, "You have to have a good body, even when you're 5 years old." Do you think America's ready for you?
Littlefield: (Laughs) I don't know. We'll have to see about that. I know some people think like, "Oh my God, that's so crazy." But it's a lifestyle thing. I want these kids to learn at a young age that they need to take care of themselves. In pageantry, we always have an issue when they hit pre-teens, where they gain a bunch of weight, and all of a sudden they have to crash diet and they're miserable. Where if they learn at a younger age, it's not going to be such an issue when they get older.
R-J: The promos for this season talk about how much more intense and extreme pageants have become in recent years. Is there such a thing as too much or too far?
Littlefield: That's different for every family. Like, some families only like natural pageants, and they don't want to wear makeup. And that's fine. That's what's for them. But some little kids wanna play dress up and have all the makeup, and they wanna have the best, glitziest dress. So it totally depends on the family and the kid as far as they wanna take it.
R-J: Some of the parents on the show talk about how expensive pageants can be. What's a typical amount of money they can spend on a pageant, not including travel?
Littlefield: If you're starting out, getting a new dress, that's going to cost you three or four grand. If you need coaching, that might cost you, let's just say a grand. If you're going to enter the pageant, that's going to cost you $1,500. If you need an outfit of choice that's probably going to cost you a grand. … I mean, if you're starting fresh, you're looking at, like, 10 grand probably to start getting ready. And you need pictures, that's another thing.
R-J: With entry fees that high, how many pageants do most of your girls enter?
Littlefield: I would say 20.
R-J: What's the prize money like?
Littlefield: We've done a lot of pageants that gave out 10 grand. I just had a little girl that won a cruise. I've had a (5-year-old) girl win a car. So if you're good, you really can win money. But it's rare that you win more than you spend.
Contact Christopher Lawrence at clawrence@reviewjournal.com. On Twitter: @life_onthecouch.
Getting to know: Cambrie Littlefield
What's your favorite song of the moment? "Me Too," by Meghan Trainor. "All the kids like to model to that for pageants, so it's, like, constantly stuck in my head."
What's your favorite indulgence? Chocolate
Where's your favorite place to get away from it all? Lake Las Vegas
If you weren't a pageant coach, what would you be doing? Hair and makeup for weddings