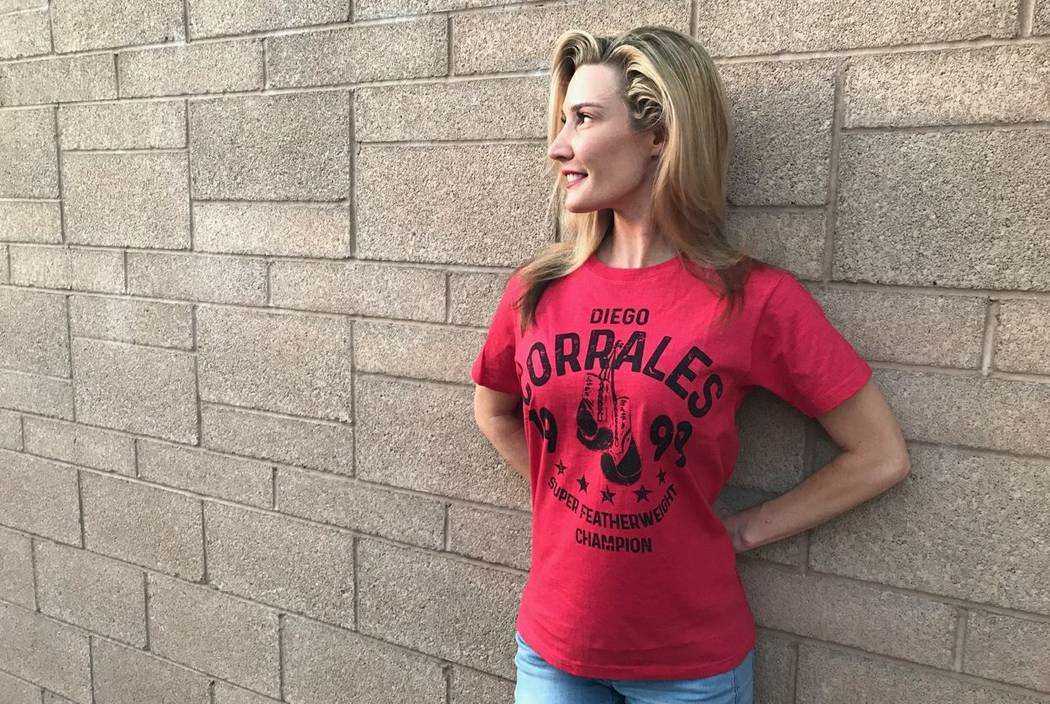 Amber Dixon came to television journalism with a warning. "I got into TV news in 2009, and that's when the economy had just collapsed. … I was warned, 'Don't go into sports. They're cutting sports jobs across the country. Go into news.' "News-wise, she has been there, done that for the NBC affiliate, Channel 3, in Las Vegas and now she's one of the city's favorite on-air sports reporters in a town that is suddenly exploding with scoreboards.
Here's how Dixon's got game in Vegas:
Review-Journal: What's a typical Sunday for you?
Amber Dixon: "I'm usually working on Sundays. So I get up early, walk the dog and then go to work. No Sunday brunches out. I might hit a Taco Bell. If I do get time, I go to Jerry's Nugget, which has a great menu and an old-fashioned bakery."
Time out. You eat baked goods?
(Laughing) "Oh, I do eat baked goods. I have good genes and a great metabolism. My mom grew up with seven sisters. They're all tall, thin and athletic. So, currently, I'll have a cookie and go to Taco Bell, but check back with me in 10 years to see if I'm still saying that."
In the blink of an eye, Vegas has become a major sports town. What do you make of it?
"We have the Vegas Golden Knights. The Raiders are not for a few more years. … What's amazing is I'm getting to see the birth of a team and watch a major team come in. Such a big part of sports is history, and the entire city has a unique view of these two teams while we wait for what's next."
Was it your dad or your mom who got you into sports?
"Both. My mom grew up with seven sisters. They were all tomboys and lived in a big open area with horses, tetherball and volleyball. I grew up in the Phoenix area, Scottsdale and Mesa, where my mom was great at volleyball and softball while my dad grew up playing baseball. He was also a wrestler. It was never dance for me. It was sports."
Where were you before Vegas?
"I graduated from Arizona State University where I majored in journalism at the Walter Cronkite School. My last job was in Brownsville, Texas, on the border next to the Gulf. I did poverty, border issue and cartel reporting. I was a backpack journalist. I'd shoot everything, report on it, edit it and then get it on the air. It was a big workload. I was fed up with it. One day I had my camera set up to shoot a stand-up on deadline and someone honked at me. So I flipped them off."
You gave them the bird?
"Yes, and that person called the station and told on me. It was actually on tape, which proved that it was true and I got canned for flipping them off."
I think Walter Cronkite himself would cry foul.
"I wanted to get out of there, so it worked out. It allowed me to go home to Arizona and hang out with my family for four months. … Every single time I had an interview, I told the same story. I'd say, 'Just to let you know, I got fired for flipping them off.' I got to Vegas and they thought the story was funny. That's when I knew I'd fit right in … in Vegas."
You started out doing news at Channel 3. How and when did you change to sports?
"I did news for three years and the sports job came open. I was 26 and I had just covered a North Las Vegas City Council meeting. They were so far in the red from the hard economic times that they could never balance their budget. One day when they finally balanced it, I cried. I was so happy for them. But I had to look at my life. This was not what I wanted to be doing — crying over a city budget. I wanted to do something that was a bit more fun and the sports job was open."
What was the learning curve?
"I knew sports. I played competitive softball until I was 15. I knew baseball. I grew up watching football. I had to learn about soccer and hockey."
You're one of the few female sports reporters. Any issues with locker-room interviews, prejudice etc?
"I don't really go into the locker room. They bring the guys to you. It's far more controlled these days. And it's been pretty good on all accounts. There has been no prejudice about me being a woman."
I swear, I'd ask a male sports reporter the same question: Single, married, none of my business?
(Laughing) "I'm single. I'm really busy these day. I can't really say I've dated in Vegas.
But there is a man in your life?
"I have my boxer Ernesto. I gave him that name because I got him at the border. I thought, 'What would a large, handsome, Latino man like to be named?' I love him. When I am off work, we like to hike Red Rock and Mount Charleston."
That's why you can eat baked goods.
"I love to hike, but my primary form of working out is boxing. I have a whole setup in my garage for training. … I even trained to do an amateur fight last year. But I could never find an opponent who was appropriate. I was sparring with a girl who was way too experienced for me."
Nobody better ever mug you.
"I took a self-defense class with a UFC fighter. The focus was run and don't engage. Just get away. As much as I'd like to think I'm tough, it would actually be smarter for me to get the hell out."