Lewis gone, but MDA telethon brings in more than '10
September 4, 2011 - 3:44 pm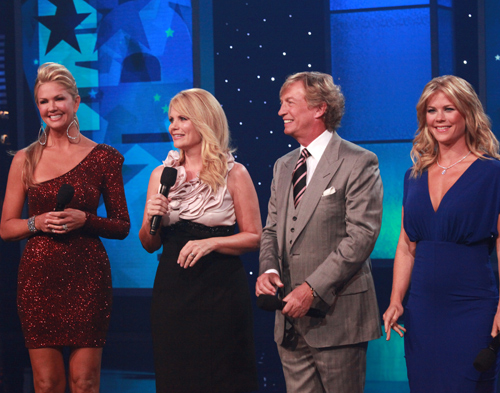 "American Idol" executive producer Nigel Lythgoe said he's sorry that comedian Jerry Lewis didn't participate in this year's Muscular Dystrophy Association telethon, but the organization needs to move on to ensure the fundraiser continues.
The telethon co-host said minutes after the six-hour live broadcast ended on the East Coast that he fully expected the 85-year-old comedian to show up either during the telecast or for a taped segment to film his signature song "You'll Never Walk Alone."
Lythgoe said an orchestra was ready to film Lewis, but he didn't come to the Las Vegas casino where the telethon was filmed.
Lewis publicist Candi Cazau declined comment when reached by The Associated Press.
The hosts of this year's telethon said at the start of the show Sunday that Lewis had retired from the organization and its yearly fundraiser as they solicited donations and trotted out as much celebrity punch as organizers could muster.
The comments about Lewis, whose name was synonymous with the telethon since it started in 1966, were the charity's first since announcing his split from the organization last month.
Inextricably bonded to Lewis, the MDA invoked his name early and often as it sought to raise at least $1 more than the $58.9 million raised last year for neuromuscular research, clinics and summer camp for youngsters known as "Jerry's Kids."
Lythgoe said during his opening comments that Lewis seemed to be passing the torch last year when the comedian offered Lythgoe his seat as Lewis took a break and Lythgoe was coming on the air.
"He made such a big point about it. 'I've never done this before,' he said," Lythgoe said. "I didn't realize then that he was contemplating retiring.
"And Jerry, and I know you're watching, when you gave me that chair I know it's possible to sit on it, but it's isn't possible, Jerry, to replace you, sir," he said. "What you have done for this organization and its families is something close to a miracle and I know that we all want to carry on your legacy."
Later, during the show's first hour, Celine Dion mentioned Lewis again during a taped segment, referring to him as a friend as she introduced a cover performance of Journey's "Open Arms."
"Jerry, you will always be a hero to the MDA families," Dion said.
Other celebrities briefly mentioned Lewis throughout the show during cameos sprinkled between a variety of performances, interviews with people touched by muscular diseases and suit-clad corporate representatives touting company philanthropy and partnerships with the MDA.
As the telethon began, many viewers openly wondered about the split and how the show would be affected.
"I don't know if it's going to be the same," said Denise Miller, 49, of Bloomingdale, N.J., a longtime donor who said she has watched the telethon since she was a teenager.
The MDA announced in August that Lewis would not take part in the annual telethon and was no longer the organization's chairman .
Lewis had been chairman of the MDA since the early 1950s, before the famed telethon began. In 1977, Lewis was nominated for a Nobel Peace Prize for his work with the telethon and the MDA.
The telethon, staged at South Point, was shortened to six hours from 21½ hours last year. It was broadcast live to the Eastern time zone from 6 p.m.-12 a.m. EDT and tape-delayed in other U.S. zones.
Because of the rolling start times, it was not immediately clear how much the telethon was raising during the show. During the show's third hour, a marquee near comedian Carrot Top displayed a total of nearly $46 million.