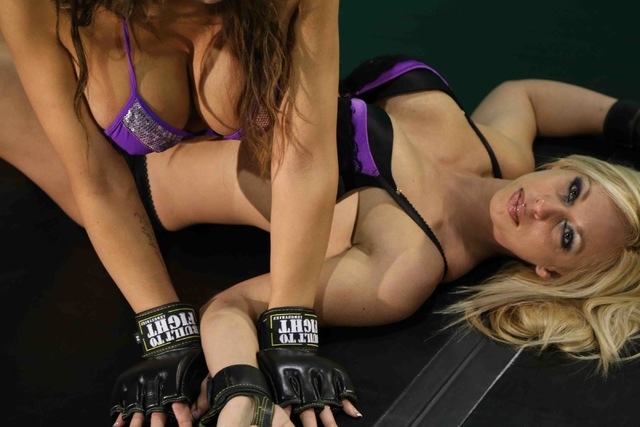 Las Vegas is about to give birth to something called the Lingerie Fighting Championships. You know, women in lingerie wrestling with each other?
Starting Wednesday, cable TV viewers can pay $10 to watch the 90-minute debut episode of "Lingerie Fighting Championships" on pay-per-view and video-on-demand.
It is a four-episode, Vegas-filmed mockumentary — the mock-documentary style perfected by "This Is Spinal Tap" and "Best In Show."
If you watch video clips at LingerieFC.com, you'll see women rolling around on mats, engaging in "booby traps" and saying silly things.
The creator and executive producer of the LFC is, of course, a man. His name is Shaun Donnelly, and he has produced mixed martial arts shows before.
"I do a lot of MMA programs," Donnelly says. "I've certainly seen a lot of 'girl fights.' Even if they start attractive, they tend not to finish that way.
"You'll be watching a fight and you'll be saying, 'This is strangely erotic' — and then suddenly you say, 'This isn't erotic at all' " once the women pound each other.
"That's why we wanted to be erotic from start to finish."
Unlike many things in Vegas, the LFC can be legally viewed by kids. It is rated PG with no nudity and no prohibited language.
"I'd much rather my kid watch this than two people beating the hell out of each other," Donnelly says.
Donnelly kept it PG because cable companies anticipated a lot of interest from kids ages 13 to 17.
OK, so here's the predictable thing. Donnelly — who is based in Vegas and in Edmonton, Alberta — is already fielding requests from promoters to create a real LFC to stage fights around the country, World Wrestling Entertainment-style.
He says odds are "quite good" he will create a touring LFC, because offers are "lucrative."
The LFC Fighting Facebook page already has 50,000 fans — even though the first episode hasn't run on TV yet.
"We probably get 50 requests a day for tickets" to events that don't even exist, Donnelly says. "So certainly the demand is there."
The "LFC" debut doesn't run on DirecTV and Dish until next month. Donnelly also is working on an unrelated film called "Knocked Undead." It's a zombie-MMA movie.
MILEY VS. TWO EMMAS
On occasion, I like to run popularity polls of tabloid stars as a reality check. I hear people say, "Miley Cyrus can't really be that popular, can she?"
Well, yes and no. She has nearly 15 million followers on Twitter, and she sells tickets and songs. But what do Americans at large think about her?
Here are results of nationwide surveys tabulated for the Review-Journal by Repucom's Celebrity DBI (Repucom.net and CelebrityDBI.com).
Pollsters asked Americans what they think about the aspirational qualities of Miley and her peers, based on a six-point scale converted into a 100-point scale.
Most aspirational scores: Emma Roberts, 71.13 out of 100; Emma Watson, 70.77; Selena Gomez, 70.08; Amanda Bynes, 44; Miley Cyrus, 35.3; Lindsay Lohan, 26.59.
That means people think Bynes, who suffered a public breakdown this summer, is more aspirational than Miley and Lindsay. Remarkable.
Doug Elfman's column appears on Page 3A in the main section on Mondays, Tuesdays, Thursdays and Saturdays. He also writes for Neon on Fridays. Email him at delfman@reviewjournal.com. He blogs at reviewjournal.com/elfman.