Longtime CSI expert takes crime-solving skills to TV
August 31, 2013 - 9:01 pm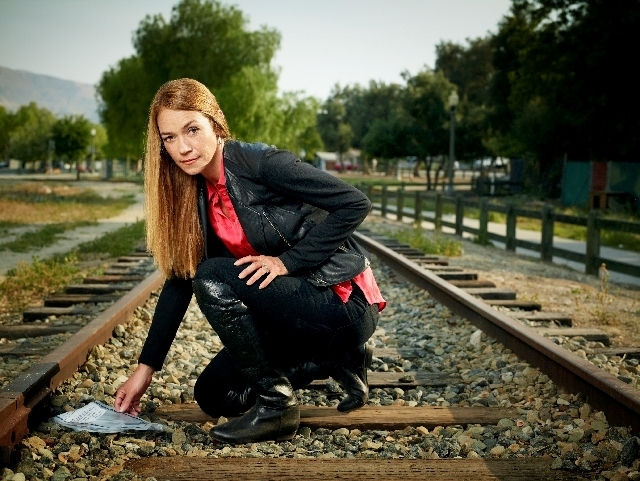 Yolanda McClary was the basis for a longtime TV crime solver.
Now she's looking to become one herself.
The Bonanza High graduate, who inspired Marg Helgenberger's character on "CSI: Crime Scene Investigation," is making a second career out of cracking small-town murders on "Cold Justice" (10 p.m. Tuesday, TNT).
This isn't the first time in front of the cameras for McClary, who spent 26 years with the Metropolitan Police Department, the final 16 of those in the crime lab. ("Without giving away my age too bad," she says, "I've been here for a long time.")
McClary appeared as a crime scene expert on a half-dozen episodes of NBC's "Dateline." As a result, she skipped the audition process for the new show. After being recommended by a friend, she was contacted by the "Cold Justice" producers to gauge her interest in the fledgling project. She told them to let her know when they were serious.
About six months later, they called back. "We're serious and ready to go," she was told. "We need you in L.A. in two days."
Regardless of how "Cold Justice" is received, though, it's going to be hard to top McClary's first TV experience.
During the only year she worked the graveyard shift, a Mirage tram driver named Anthony Zuiker showed up one night for a ride-along.
"When people go on ride-alongs, it's really a lot for the CSI to take them, because you're really entertaining them for that shift," McClary reveals. "You've gotta make it all really fun and explain everything you're doing so they understand. It's a lot of work.
"My supervisor looked at me and said, 'OK, Yolanda, you're gonna take Anthony.' And of course my first thought was, 'What did I do to make anybody mad? Why do I have to take him?' "
The aspiring writer shadowed her for the rest of the week.
"Before he left, he said, 'You know, Yolanda, if anybody will buy my show, I'm gonna make a character out of you.' And I was like, 'Good luck with that, Anthony. Good luck,' " she recalls, laughing at the memory. " 'Cause none of us thought it would go anywhere."
Once CBS bought Zuiker's "CSI" script, Helgenberger rode with McClary six or seven times to get a feel for the job, as well as her personality, to gain insight into her role of Catherine Willows.
"Honestly, I thought Marg was kind of a smartass," she says of her initial reaction to the character during a screening of the "CSI" pilot for local law enforcement.
"And when it was all done, I looked at, like, 50 people sitting in the room, and I went, 'Pffffttt. She doesn't act anything like me.' And 50 people said, 'No, she acts exactly like you.' And I just had to laugh. I was, like, 'Obviously, I need to go back to sensitivity training.' "
Willows even looks a bit like McClary. But the biggest difference between the two is that McClary never was a stripper. It's a part of Willows' backstory that has caused McClary a never-ending amount of grief.
"When they did that, I was like, 'Oh, no!' I had to laugh about it. At first I thought it was funny," she says. "Then it wasn't so funny."
Her colleagues never had any doubts that that part of Willows' life was pure Hollywood. Strangers, though, were another story.
"Obviously, they needed to make her a little bit more interesting," McClary would tell anyone who asked. Still, few believed her denials. "So I finally just started telling people, 'Yeah, I used to strip. And I gave up a lot of money to do this.' "
No one believed that, either.
"People are weird," McClary says with a dry, throaty laugh. "They're weird."
Unlike "CSI," though, there's very little Hollywood about "Cold Justice."
McClary is paired with former Texas prosecutor Kelly Siegler for what's being touted as an "unscripted procedural drama."
Each week, they travel to a different small town where they take another look at a case that long ago went cold.
In the premiere, it's Cuero, Texas, and a suspicious 12-year-old shooting that was ruled a suicide. After that, it's tiny Collinston, La., population 283, many of whom are related to the 67-year-old beating victim who, in 2006, left 13 kids and "umpteen" grandkids behind.
McClary says she tries to study each case file "for at least a couple of weeks." Then, over the course of eight 14- to 16-hour days, the duo will look at the original investigation with fresh eyes.
"The show's a lot of work, which is awesome," she says. "I love it."
One of her main responsibilities is testing evidence in ways that weren't initially available. For instance, Cuero's resources were so limited at the time, the nearest gunshot residue kit was six hours away.
The biggest hurdle, McClary says, is having to use evidence and photographs that were collected by officers who lacked the proper training. Or at least the exhaustive amount of training she received during her decades with the Metropolitan Police. McClary worked more than 7,000 cases but admits she stopped counting a few years before she retired in November 2010.
For "Cold Justice," she's using that training in new and unsettling ways.
In the premiere, she and Siegler take the victim's now-adult daughter to the scene of the crime and seek her help in re-creating the way the house looked a dozen years ago, including how her mother's body was positioned after the fatal gunshot.
It's closer than McClary had ever worked with the families of victims.
"I have to say, it was kind of nice" having some distance, "because these people are so sad, and there's so much emotion going on. And I can't stand to watch people cry. … I can cut into a body, but don't anybody start crying, because that just gets the last of me."
Rest assured, "Cold Justice" includes plenty of tears.
"It's very, very emotional," McClary admits. "And I feel their emotion all the way from my head to my toes.
"It kind of lives with you. When you walk away from them, you're so sad. But at the same token, I'm so happy … that they're giving us the opportunity to look at this case and to see if we can make a difference."
Contact Christopher Lawrence at clawrence@reviewjournal.com or 702-380-4567.