Official Star Trek Convention returns to the Rio
August 1, 2017 - 10:00 am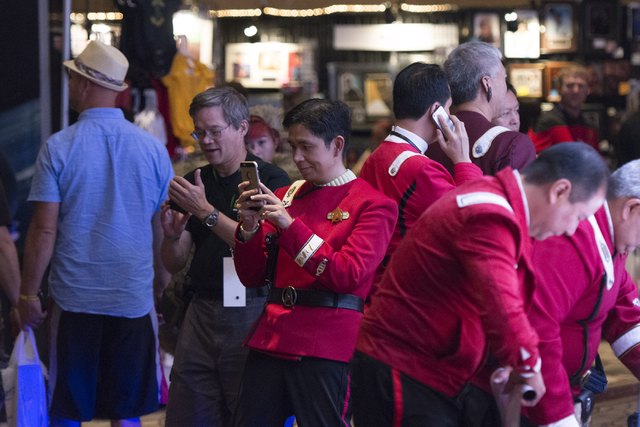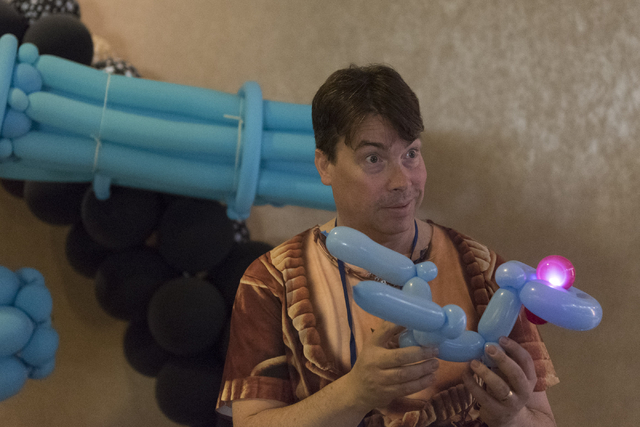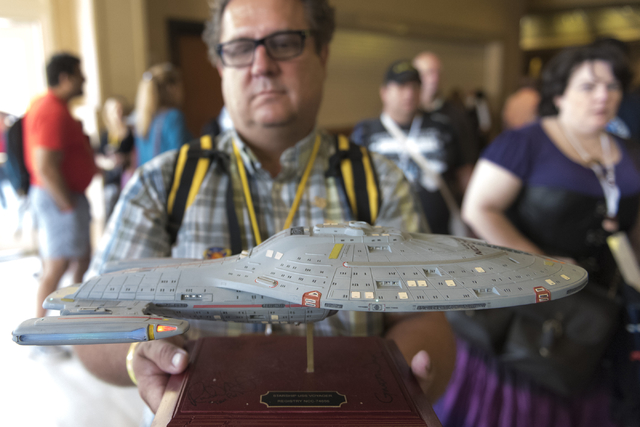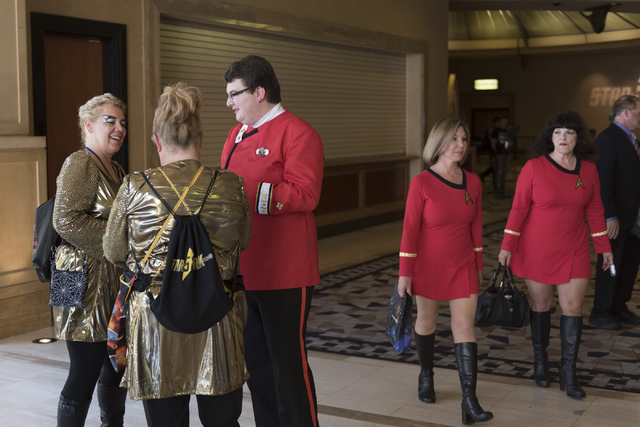 Sure, the Official Star Trek Convention offers fans of "Star Trek" in all its iterations panel discussions and presentations and autograph signings and meet-and-greets with the people who've spent the past half-century bringing the future's favorite starship crews to life.
But it's also a sort of — Trekker reference ahead — a Ten Forward or a Quark's Bar: A central meeting place where fans of the iconic sci-fi series can meet other like-minded fans.
This year marks the 16th edition of the convention, which will be Wednesday through Sunday at the Rio. This year's highlights will include first looks at "Star Trek: Discovery," the latest "Star Trek" series, and a celebration of the 30th anniversary of "Star Trek: The Next Generation."
Organizers say more than 100 celebrities from the "Star Trek" universe are scheduled to attend this year, as are more than 15,000 fans.
Opening day attendees will learn about "Star Trek: Discovery," scheduled to premiere in September, via panel presentations, appearances by cast members and producers of the show, an exhibit and the viewing of props, costumes and art.
On Friday evening, the 30th anniversary of "Star Trek: The Next Generation" will be celebrated with a reunion panel featuring the series' cast members.
Three "Star Trek" captains are scheduled to appear during the event: William Shatner on Saturday, Patrick Stewart on Friday and Saturday, and Kate Mulgrew on Saturday. Among other celebrities scheduled to appear are Karl Urban, George Takei, Nichelle Nichols, Walter Koenig and former NASA astronaut Mae Jemison, who also appeared in a "Star Trek: The Next Generation" episode.
The late Leonard Nimoy will be remembered via a celebration of his life and legacy by son, Adam; a documentary, "Remembering Leonard Nimoy," produced and directed by daughter, Julie, and son-in-law David Knight; and a video presentation of Nimoy's final convention appearance in 2011 in Chicago.
A cosplay competition and costume parade are scheduled for Saturday — organizers expect more than 2,000 guests to arrive in costume — and the convention will include a variety of presentations and panel discussions, trivia contests, collectible auctions and merchants who will offer fans merchandise and collectibles.
A "Star Trek Saturday Evening Gala Celebration," scheduled for 9:30 p.m. Saturday, will feature Emmy- and Grammy-nominated composer Ron Jones and his Influence Jazz Orchestra, with guest performers James Darren, Robert Picardo, Tim Russ, Camille Saviola, Max Grodenchik, Chase Masterson, J.G. Hertzler and Robert O'Reilly.
The original "Star Trek" series premiered on Sept. 8, 1966, and since has spawned more than a dozen feature films, an animated series, four more live-action series (not including the upcoming "Star Trek: Discovery") and a slew of novels, games and allied products.
Conventions offer fans of this sprawling universe "a chance to catch up with people you only see once a year," says Paul Walker, admiral and a founder of the USS Las Vegas, a "Star Trek" fan club.
The event, produced by Creation Entertainment, draws fans "from every corner of the planet," he adds. "We've got people who plan for this all year."
For the USS Las Vegas, the convention also offers members a chance to "introduce yourself to new fans who just moved to Las Vegas," says Walker, who describes the USS Las Vegas as "Nevada's largest and most active independent 'Star Trek' fan club."
The USS Las Vegas, founded in 2005, has more than 100 members, Walker says. In addition to enjoying the convention themselves, members will staff a booth at the event.
USS Las Vegas members also will serve as "goodwill ambassadors," Walker says. "We want people to know, if you're a visitor from out of town and want to know where's the closest Smith's or Walgreens or Walmart, come stop by the USS Las Vegas booth and we'll help you out."
See a full schedule of events here.
Contact John Przybys at reviewjournal.com or 702-383-0280. Follow @JJPrzybys on Twitter.