On 'Bad Ink,' tattoo artists fix body art gone wrong, bantering all the way
August 11, 2013 - 9:17 am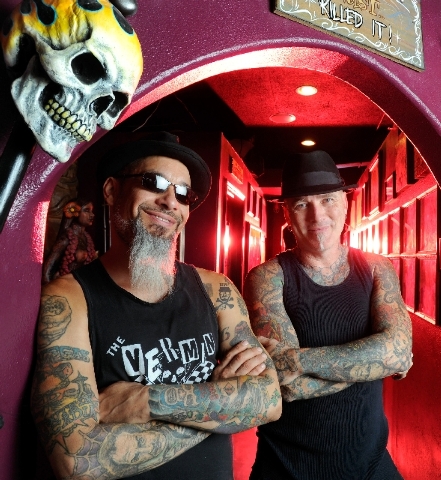 They're professionals, among the best of the best, called in to rescue a damsel in distress at a hotel pool.
After some small talk and plenty of reassurances, they charm the curvy, bikini-clad 22-year-old into letting them assess the damage.
Then Dirk Vermin and Rob Ruckus burst into laughter.
The duo have seen plenty during their decades in the Vegas punk scene. Things that would haunt lesser men. But this is a first even for them: Jacqui, their mortified client, swears she has no idea how a portrait of Pamela Anderson ended up tattooed on what could charitably be described as her lower, lower, LOWER back.
Granted, any tattoo of the "Baywatch" star just above your butt crack is going to be a hard look to pull off. This one, though, more closely resembles a masculine Courtney Love impersonator on a bender.
But it's just another job for the stars of "Bad Ink." (Back-to-back episodes debut at 10 p.m. Sunday on A&E.)
After finding some truly horrible tattoos, then learning the often ridiculous stories behind them, Vermin will cover the lapses in judgment with new works of art at his shop, Pussykat Tattoo, 4972 S. Maryland Parkway.
But that doesn't mean he and Ruckus, who's become a tattoo expert as a result of being covered in them, won't have a good laugh at their clients' expense.
"They're the guys that got the dumb tattoo. I'm allowed to laugh at it," Vermin says. "I'm the one who's gotta fix it. I'll laugh as much as I (expletive) want."
"Like we tell quite a few people on the show," Ruckus adds, "you know, 'We're the last people that are gonna get to bag on this, so we're gonna give it everything we've got.' "
Tattoo reality shows have littered the cable landscape for the better part of the past decade. Then, once seemingly anybody who could hold his hands reasonably still started doling out ink, shows about terrible tattoos began creeping in.
Despite its title, though, "Bad Ink" is about more than just the bad ink.
"It's like a buddy comedy with tattoos," Vermin says, taking a break during the last day of the roughly six-month shoot.
"It was gonna be another tattoo show. And there's nothing wrong with that. It would've still been a good tattoo show. But as Ruckus became a bigger part of it, they realized, 'Oh my God, we have comedy gold here.' And so then it became as much about the comedy as the tattooing."
The gravel-voiced Ruckus is the wacky neighbor in the sitcom of Vermin's life. He carries himself, at least on the show, like the hard-livin' offspring of Maynard G. Krebs and MC Skat Kat.
"Bad Ink" also softens some of Vermin's rougher edges. Much like the "America's Got Talent"-ization of Howard Stern, Vermin comes across as naughty, not dirty, ready to be embraced by urban youths and Midwestern grannies alike.
They've known each other for 30 years and have been playing together for more than 20 — 19 of those in the band The Vermin.
All of that makes them how old now? "Doesn't matter. Next question," Vermin says with a chuckle. "We're old enough to know better."
Given their often riotous onstage banter, finely tuned over many a late night and early morning at the Double Down, they've been training for this moment for years.
They're like a two-man nouveau Rat Pack. The Tat Pack, if you will.
"I think a lot of the chemistry is from the band," Ruckus says. "I mean, we've spent so many hours onstage together over the past 20 years that, you know, we can almost finish each other's sentences." Vermin chimes in: "And we often do."
"There's a chemistry on a personal level. I think whether we had a band or not, I think it would've been there," Vermin adds. "The band just honed it to a pristine whatever it is now. Put a nice word in there. I don't know what the (expletive) to end that with."
Besides Ruckus, "Bad Ink" viewers will get to know the other constants in Vermin's life: his daughters Jasmine, 13, and TigerLily, who celebrates her 10th birthday in the premiere.
"You get a look into my personal life that I, to be honest, wasn't initially supercomfortable with," he says. "But it's been handled with such care and respect to my family that I don't mind opening that up a little bit."
For TigerLily's big day, Vermin didn't hire someone dressed as a clown or even a fairy princess. In front of a crowd of confused elementary schoolers, he enlisted a drag queen to give TigerLily her present.
"I had to explain a couple of things to a few parents," Vermin says, laughing at the memory. "There was a few apologies at the end. But it was all in fun."
"Fun" being the operative word.
For "Bad Ink," Vermin and Ruckus accost strangers on the Strip in their search for ill-conceived body art. Most encounters end with a quick flash. One, though, culminates with the duo on their knees in a public restroom waiting for a stranger to drop his pants. His damage? A heart on his upper thigh with the words "Nina Will You Merry (sic) Me?" To make matters worse, Nina was deported before she could see it.
But it's no match for Vermin and the staff at Pussykat, which he's owned since 1999. He's been tattooing for two decades and says more than half of his jobs these days are cover-ups.
"I would never recommend laser to anyone," he says of his chief competition in the mistake-erasing business. "It just drains your bank account. It destroys your skin. It causes more scarring than a tattoo ever could."
Not surprisingly, given his outsized persona, Vermin isn't shy when it comes to his abilities. "I can cover any tattoo that comes in," he boasts. But that alone wouldn't separate "Bad Ink" from the rest of the cover-up shows, which Vermin calls "really unwatchable. And I say that with a lot of confidence."
"Because to be honest, right now across the country, a lot of people can fix that tattoo for you," he adds. "God bless 'em, that's great. But they're not going to do it with the same humor and heart."
It's that combination that has Vermin predicting big things for "Bad Ink."
"In my estimation, the only way this isn't gonna be successful is if the public's just sick of (expletive) tattoo shows," he says. "Which is completely possible. We'll find out on (Monday)."
Their break's nearing its end, and Vermin and Ruckus are needed back in front of the cameras.
Asked for any parting words, Vermin opens with a declaration so earnest it could only end up twisted into a joke worthy of one of their live shows.
"We love you Las Vegas. Now go (expletive) yourself. We're national now."