PBS airs Smith Center's coming-out party
September 20, 2012 - 1:06 am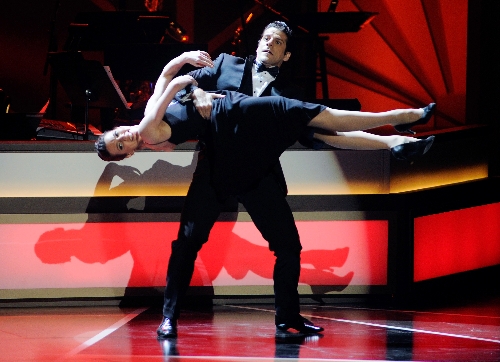 You couldn't find a sitter. You hadn't worn a tuxedo since senior prom. You weren't able to scrounge up the $250 to $1,000 for tickets from in between your sofa cushions.
Whatever your reasons for not attending the March 10 black-tie gala opening of The Smith Center for the Performing Arts, you now have a second chance to see what all the fuss was about.
And you won't even need to leave your living room.
"From Dust to Dreams: Opening Night at The Smith Center for the Performing Arts" debuts at 9 p.m. Friday on KLVX-TV, Channel 10. The special also can be seen on stations nationwide as one of the centerpieces of the PBS fall schedule.
"It is a kind of a love letter that sends a message to the world that Las Vegas is now on the cultural map," says Myron Martin, president of The Smith Center and a co-executive producer of the two-hour special.
Produced by The Stevens Company, creators of the Kennedy Center Honors and the star-studded inaugural celebration for President Barack Obama, "From Dust to Dreams" spans music from classical to contemporary in showcasing the diversity of The Smith Center's offerings.
Hosted by Neil Patrick Harris (as virtually anything of import demands), the special includes performances by Jennifer Hudson, Carole King, John Fogerty, Mavis Staples, Martina McBride, Train frontman Pat Monahan and Arturo Sandoval, who kicks things off by playing his trumpet atop the Hoover Dam.
"I couldn't be happier with it. … I think it turned out great," Martin says of the way cameras captured the opening-night extravaganza. "And I love the fact that there's a little something for everybody in this show."
That something ranges from American Ballet Theater dancers Marcello Gomes and Luciana Paris interpreting Frank Sinatra standards, to selections from classical violinist Joshua Bell, to the teaming of Merle Haggard, Emmylou Harris and Willie Nelson, whom Martin calls Smith Center namesake Fred Smith's "favorite artist of all time."
Sprinkled throughout are Broadway stars Brian Stokes Mitchell ("Kiss Me Kate"), Laura Osnes ("Grease"), Cheyenne Jackson ("Finian's Rainbow"), Sherie Rene Scott ("Aida"), Montego Glover ("Memphis") and Benjamin Walker ("Bloody Bloody Andrew Jackson"). They perform an array of songs, in various combinations, from the likes of "West Side Story," "Guys and Dolls," "The King and I," "Ragtime" and "Rent."
"Each and every one of those people is a star," Martin says. "When they came together and did ensemble pieces and duets and trios, Broadway fans out there are going to love, love, love seeing how they all came together."
(If your theater-phobic eyes glazed over during those last two paragraphs, relax. Stokes, as he prefers to be called, will be familiar to "Glee" viewers as one of Rachel's dads, Jackson has turned up on "Glee" and in a recurring role on "30 Rock" and, since the special was taped, Walker was in multiplexes in the title role of "Abraham Lincoln: Vampire Hunter.")
Other highlights include Staples' "I'll Take You There," which gets the well-heeled heads bobbing as only well-heeled heads can; Fogerty's trio of Creedence Clearwater Revival hits that has patrons dancing in the boxes; and Hudson, who threatens to blow the newly installed doors off the joint with her closing rendition of "Take Care of This House" from the musical "1600 Pennsylvania Avenue."
"If that song were offered as a record today, I would buy it immediately," Martin says of the finale. "I just thought she was spectacular."
"From Dust to Dreams" also is notable for its collaborations, the likes of which are rarely seen outside of awards shows and "American Idol" finales.
In addition to Haggard, Harris and Nelson coming together for "Ramblin' Fever," other pairings include King and Staples on "You've Got a Friend"; King, Hudson and McBride on "Natural Woman"; and McBride and Monahan on "A Song for You" and Train's "Marry Me."
"You don't see these kind of epic television specials much these days," Martin notes.
The Smith Center's national coming-out party likely is only the first of its many national TV appearances.
"We're already getting calls about The Smith Center as a venue for television," Martin says.
And it already has played host to The Canadian Tenors, who taped their upcoming PBS special there.
"I'll bet you, over the next decade, we'll see a number of national television shows coming from The Smith Center."
Contact Christopher Lawrence at clawrence@
reviewjournal.com or 702-380-4567.