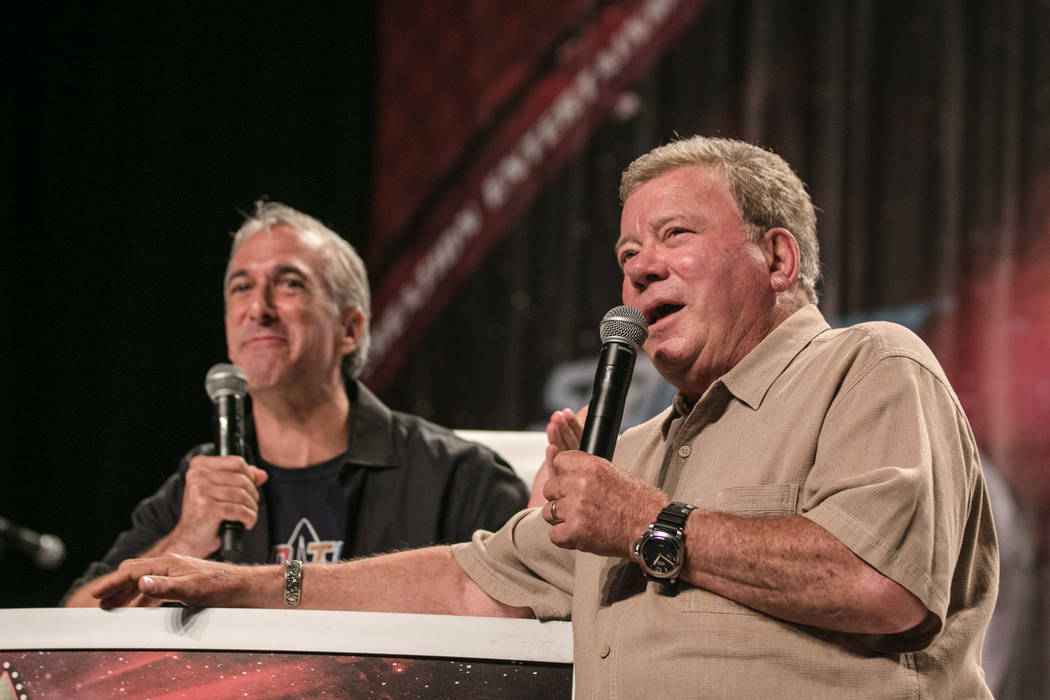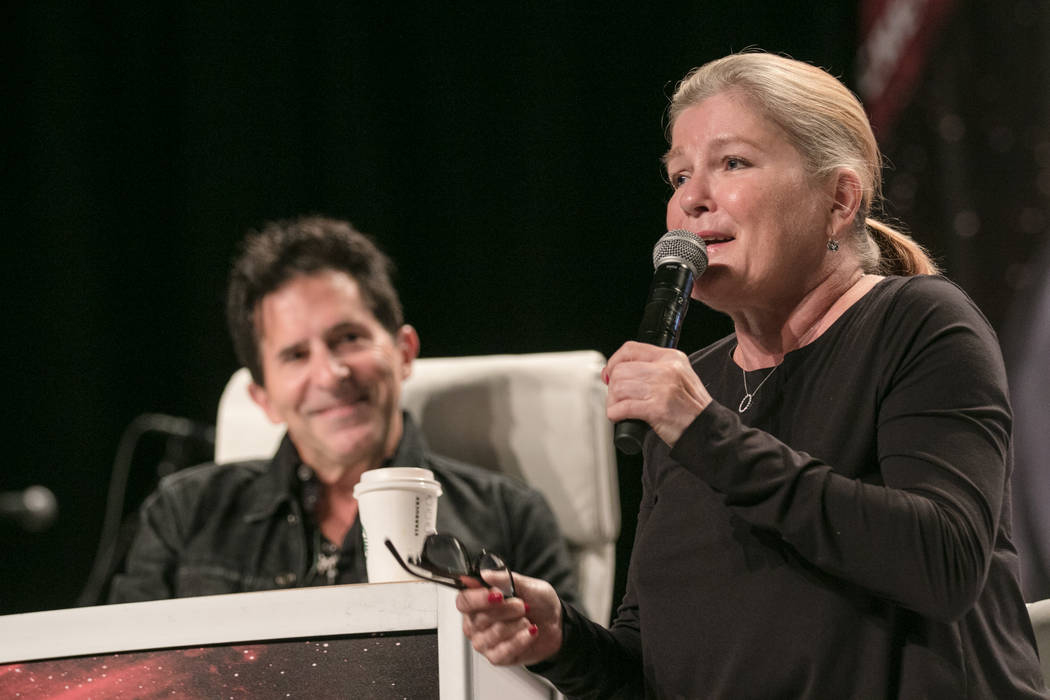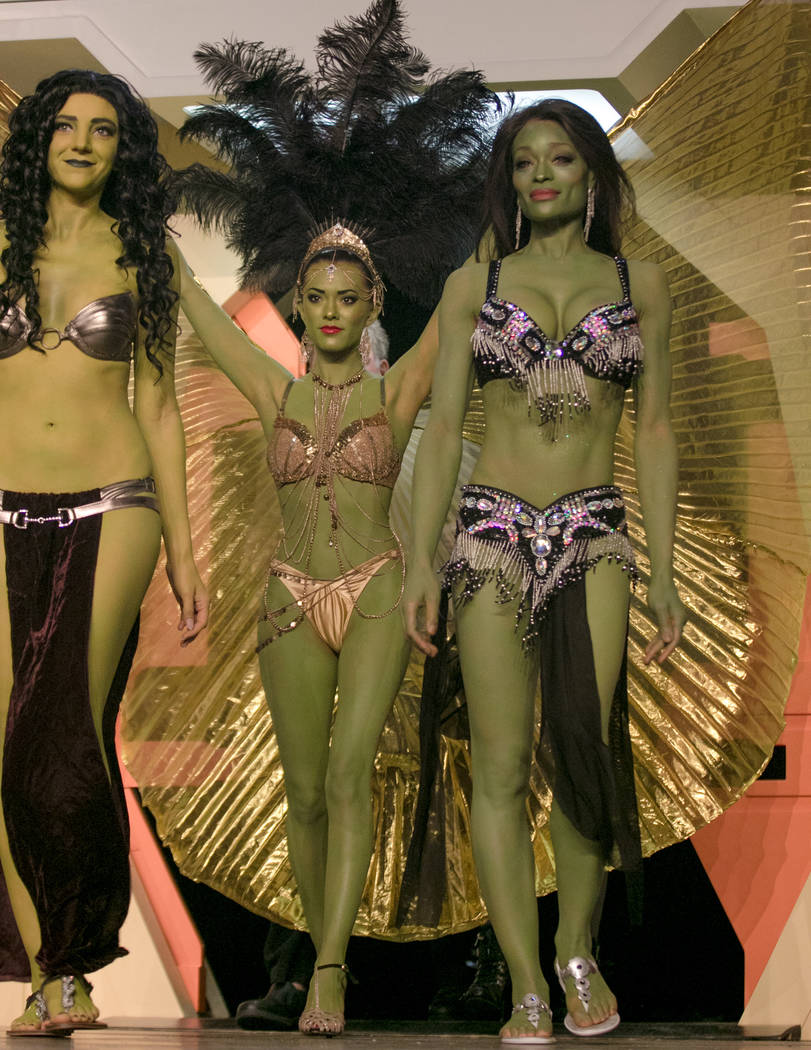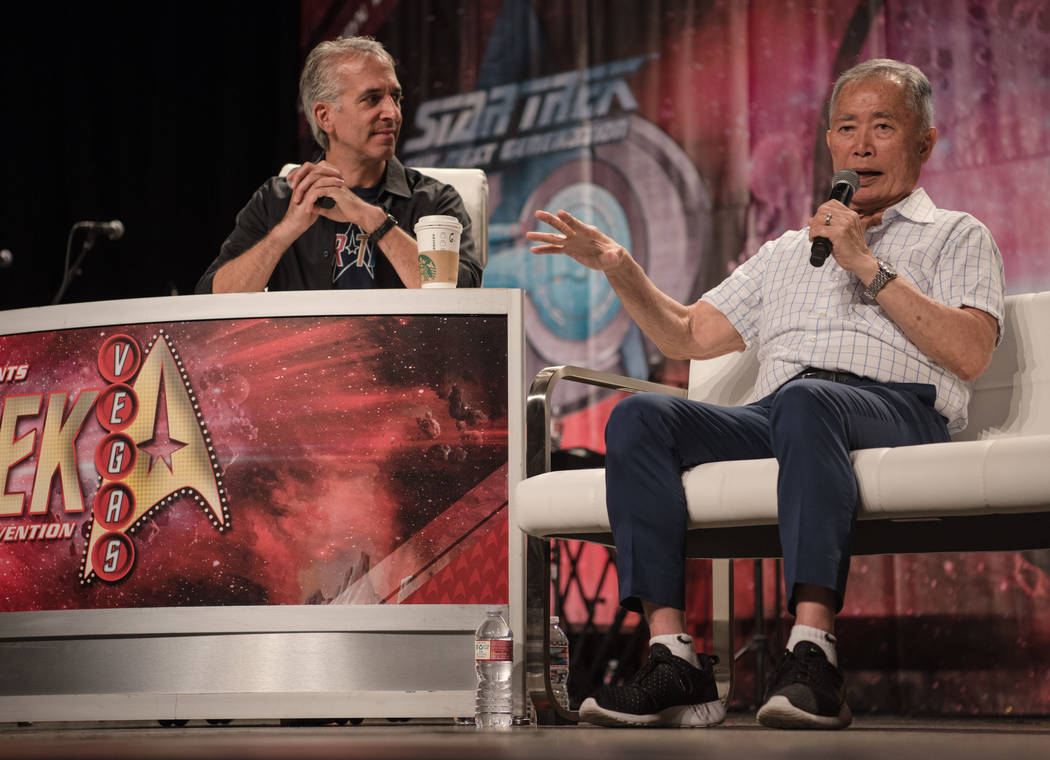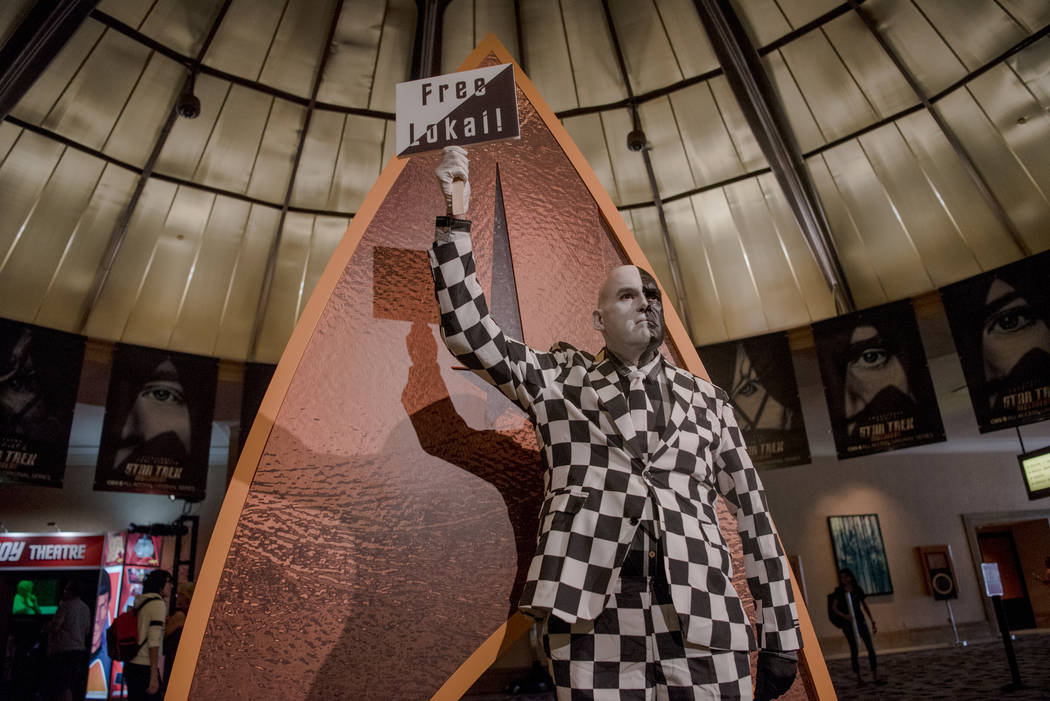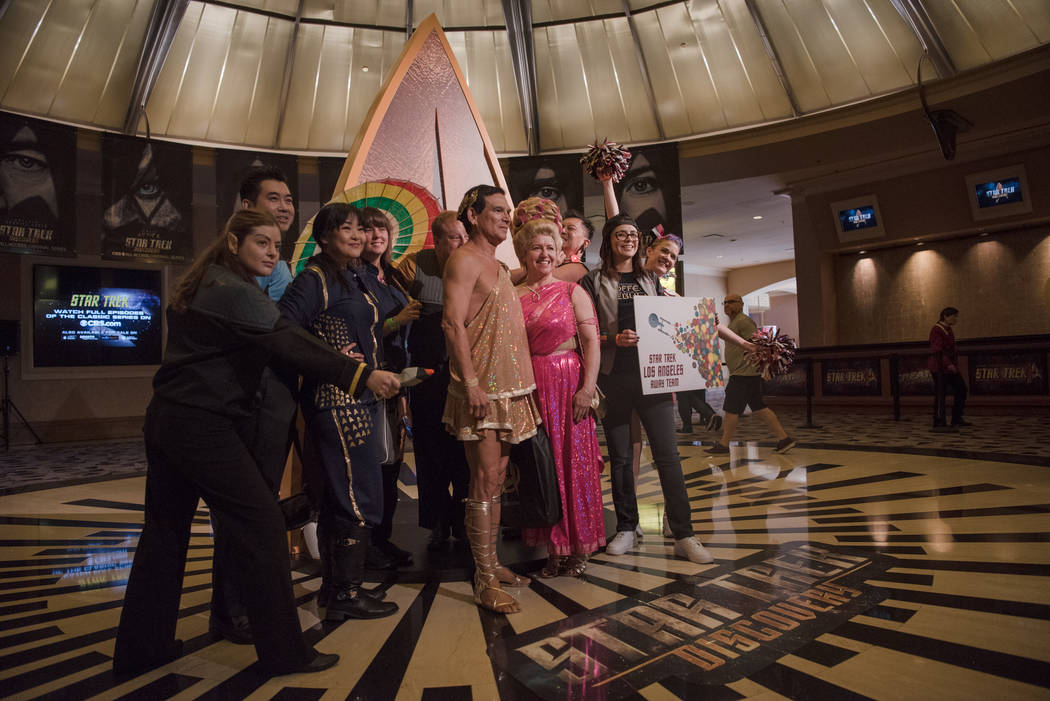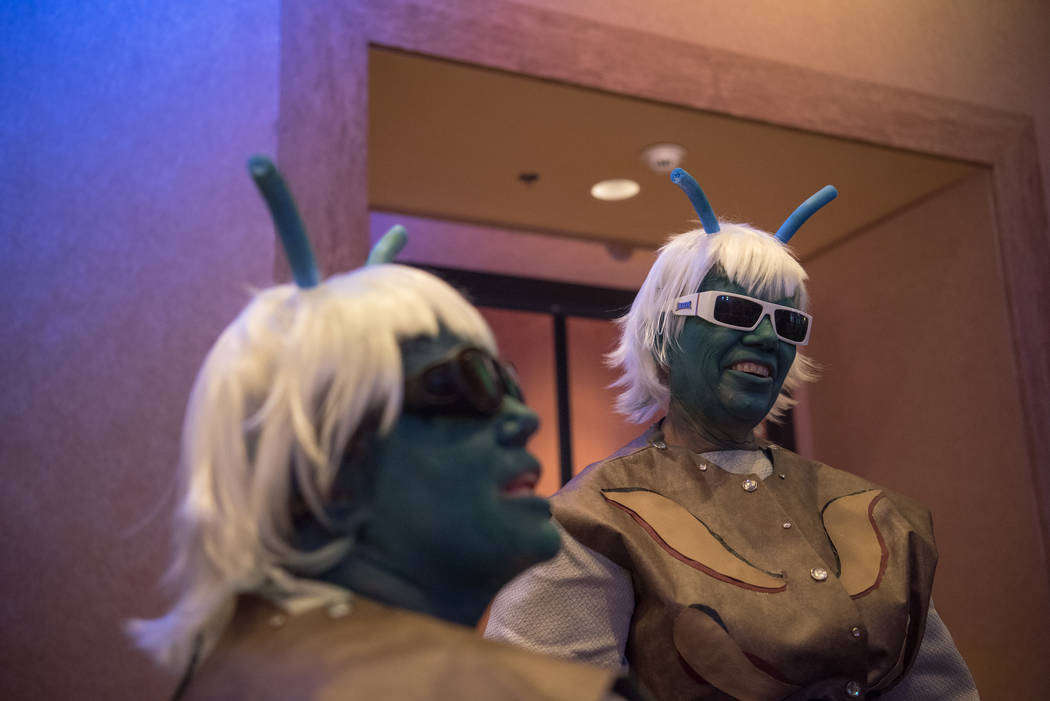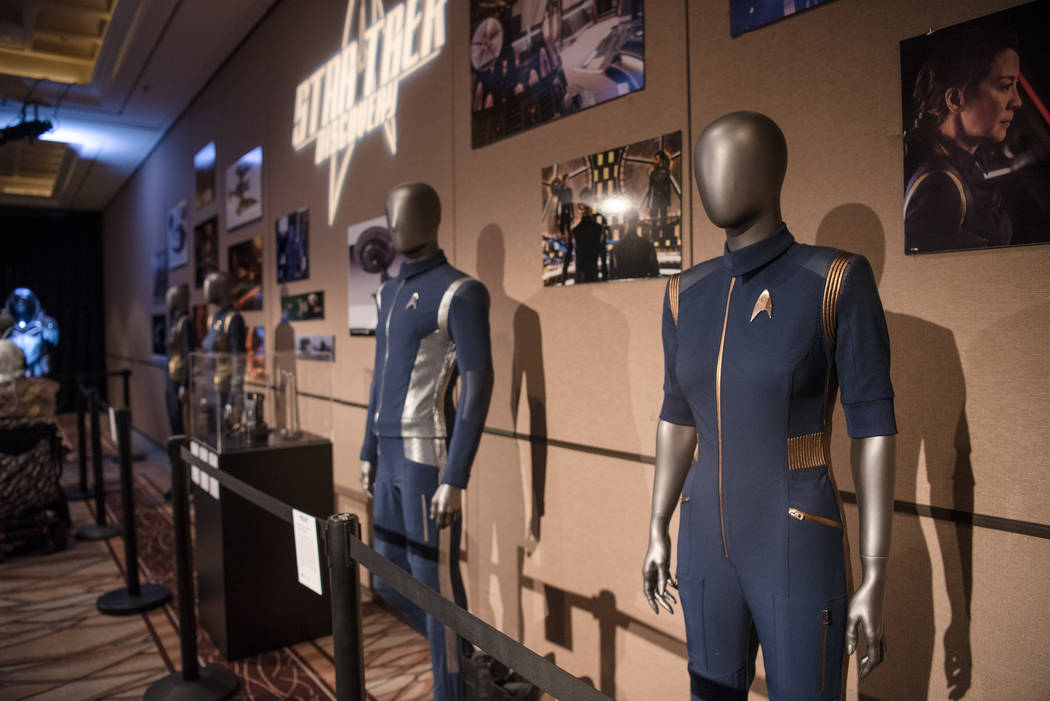 For "Star Trek" fans, Saturday morning started with the traditional interplanetary garb. Then the makeup.
Ed Copley glued pointy ears to his head. He trimmed his beard and stuck the hairs to the end of his eyebrows. That way, he looked like a Vulcan. Michael Malomay and his 13-year-old stepson, Cole, spent an hour on their dark makeup. A piece of a mask with pipes stemmed from Malomay's face. He looked like the Borg Locutus.
Copley and Malomay were right at home at the Rio. Another fan, dressed in a gold bathrobe with the Starfleet insignia on the right pocket, held a cup of coffee as he walked through the hotel-casino to the annual Star Trek Convention.
The convention, produced by Creation Entertainment, started Wednesday and ends Sunday. It lets fans view the props used in the "Star Trek" films, question stars of the "Star Trek" television shows and movies, and meet those stars for photos and autographs.
This year marks the convention's 16th edition. This year's highlights include first looks at "Star Trek: Discovery," the latest "Star Trek" series, which debuts Sept. 24 on CBS, and a celebration of the 30th anniversary of "Star Trek: The Next Generation." Organizers say more than 100 celebrities from the "Star Trek" universe are scheduled to attend this year, as are more than 15,000 fans.
This year marked Malomay and his stepson's fourth time attending the convention; they came from Seattle. Together, they stood under the green light in one of the Borg alcove replicas, flashed the light attached to their hands and posed for photos.
"The Borg alcove regenerates and recharges yourself," Malomay said.
He and his stepson spend about three weeks planning their outfits, which consisted of motorcycle jackets and black pants. They also attached aquarium hoses to their jackets.
"This is like Halloween for adults," Malomay said of the convention.
The original "Star Trek" series premiered Sept. 8, 1966, and spawned more than a dozen feature films, an animated series, four more live-action series (not including "Star Trek: Discovery") and a fleet of novels, games and associated products.
A headliner for the expo was William Shatner, who played Capt. James T. Kirk on the original "Star Trek" series, which aired from 1966 to 1969. He expounded on what he's learned over the span of his career.
"If what I know now, I knew then," he said, "I could have done it better."
George Takei, known for acting alongside Shatner as Mr. Sulu in the original series, joked with the audience. "Star Trek is older than you guys," he said.
"I'm an activist, as you all know," he said. "But I'm also an activist with my own career."
Takei told the crowd how he campaigned for all the "Star Trek" films, except the fifth. When "Star Trek VI: The Undiscovered Country" came out in 1991, and he saw a bigger, better star ship in the USS Excelsior, he knew it would mark his career.
"I was sharper, smarter, younger and ready to go," he said. "It was a moving moment, wasn't it?"
Beyond "Star Trek," Takei addressed Japanese-American history and discussed his role in a new movie playing a 93-year old veteran who chose to volunteer his services in an all-Japanese unit in World War II.
Kate Mulgrew, known for her role as Red on the Netflix series "Orange is the New Black" and Captain Kathryn Janeway on "Star Trek: Voyager" from 1995 to 2001, also did a question-and-answer session and a meet-and-greet for fans.
She saluted the crowd before describing her experience trying out for the role as Capt. Janeway. She remembered when series Executive Producer Rick Berman left her the voicemail saying, "Welcome aboard, Captain."
"I knew it was television history," Mulgrew said. "I was literally shot out of a cannon."
Mulgrew recalled her first time on the set. She was the only woman among 50 men in suits. She remembered looking at them out of the corner of her eye as she sat in her chair and said, "Engage."
"And the next seven years were terrific," she said.
Contact Briana Erickson at berickson@reviewjournal.com or 702-387-5244. Follow @brianarerick on Twitter.
For ticket purchases:
Single-day admission tickets for the Las Vegas Official Star Trek Convention range from $65 to $75 on Sunday, the show's final day.
Any tickets still available for Sunday's events at the Rio may be purchased at the door, according to convention producer Creation Entertainment's website. Autographs and photo opportunities involve separate purchases.
3700 W Flamingo Rd, Las Vegas, NV 89103